Prime Minister Narendra Modi on Wednesday said former Prime Minister Manmohan Singh knew the "art of bathing wearing a rain coat", creating a huge uproar in the Congress benches in Rajya Sabha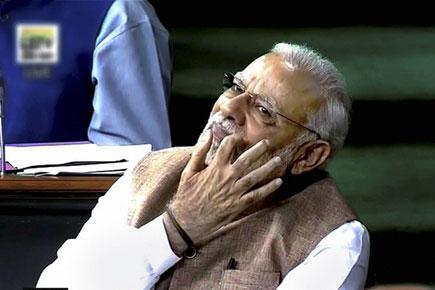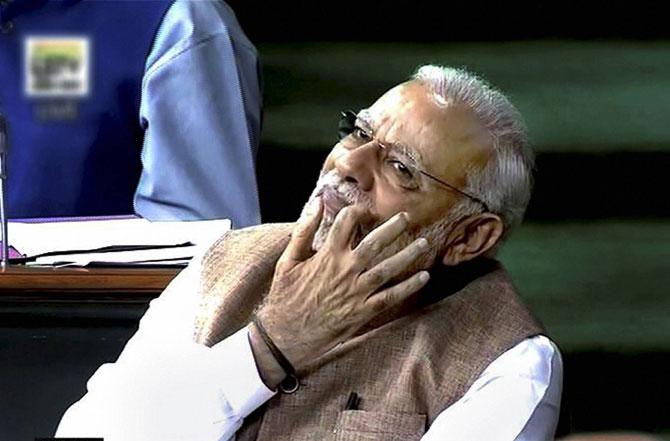 Narendra Modi. Pic/PTI
ADVERTISEMENT
New Delhi: Prime Minister Narendra Modi on Wednesday said former Prime Minister Manmohan Singh knew the "art of bathing wearing a rain coat", creating a huge uproar in the Congress benches in Rajya Sabha.
The Congress reacted sharply to the comment and staged a walk out from the House.
Modi made the comment while responding to the debate on the motion of thanks to the President's address.
Modi said that Manmohan Singh was an economist who has been at the helm of affairs for around 30-35 years.
"For the last 30-35 years, he has been directly involved with India's economic affairs in a decisive capacity... There might not be another person, in 70 years post Independence, he has been at the helm of affairs for half of the time," Modi said.
"There is a lot for us politicians to learn... so much happened he did not get even a taint. Only Doctor Sahab (Manmohan Singh) knows the art of bathing wearing a rain coat," he said in a jibe, resulting to a huge uproar from Congress benches.
As Congress members protested, Union Minister M. Venkaiah Naidu said: "The Prime Minister has been called Hitler and Mussolini... Don't teach us."
Angry Congress lawmakers then staged a walkout from the Upper House.
Singh was the Prime Minister for 10 years and headed UPA-I and UPA-II governments.
During the Winter Session, he made a speech in the Rajya Sabha in which he called demonetisation a 'monumental failure' and 'organised loot'.
Congress has now decided to boycott PM Modi in both houses of Parliament for rest of budget session till he apologises for his remark on Dr.Manmohan Singh.