"Two princes in a week! That's the power of education and young students", said Indu Shahani, former Sherriff of Mumbai, and founding dean of a school of design and innovation, about her extraordinary week in London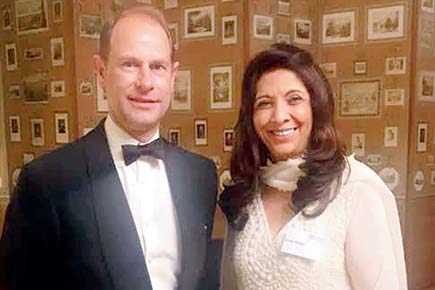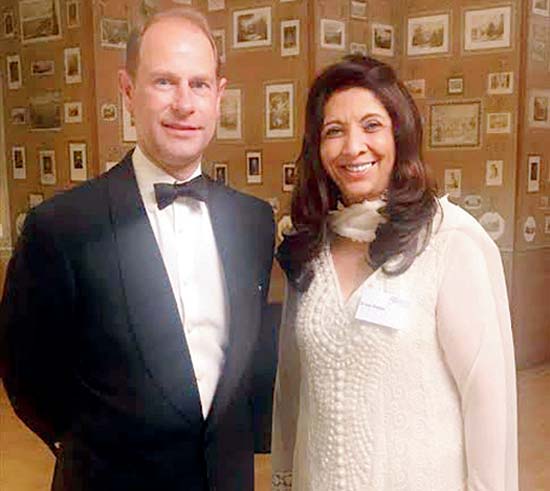 Prince Edward with Indu Shahani
"Two princes in a week! That's the power of education and young students", said Indu Shahani, former Sherriff of Mumbai, and founding dean of a school of design and innovation, about her extraordinary week in London. Shahani had the privilege of being seated besides Prince Edward, the Earl of Wessex, at dinner on Tuesday night, on the occasion of the 50th anniversary of the University of Bath.
The Prince is Chancellor of the university, and Shahani had recently signed an MOU with it and three of her Mumbai-based schools for research, faculty and student exchanges. "The University of Bath is celebrating its 50th year and we had hosted their celebrations in Mumbai, and as a gesture of our friendship, had introduced three scholarships for students of Mumbai University totaling up to Rs 1-cr to pursue their Masters at Bath," she said.
As for the other prince, Andrew, Duke of York, Shahani will be meeting him tonight when he will inaugurate the King's College Institute of Entrepreneurship.
"There is palpable excitement here about our schools back home, and many want to sign MOUs with us," she said adding, "The prince will be visiting us next year."
And it occurred to us that it would perhaps be the only time in our career when we'd get to ask, "Er, which Prince?"
Would that our job always be so heady!
The return of chef Ananda?
We spoke to Ananda Solomon, the legendary former executive chef at the Taj group, on his birthday yesterday. The soft-spoken chef who'd given the group chart-buster restaurants like the Thai Pavilion, Konkan Café, and Trattoria, had been a SoBo high society favourite, with the likes of the Ambani family and Ratan Tata amongst his regular clientele.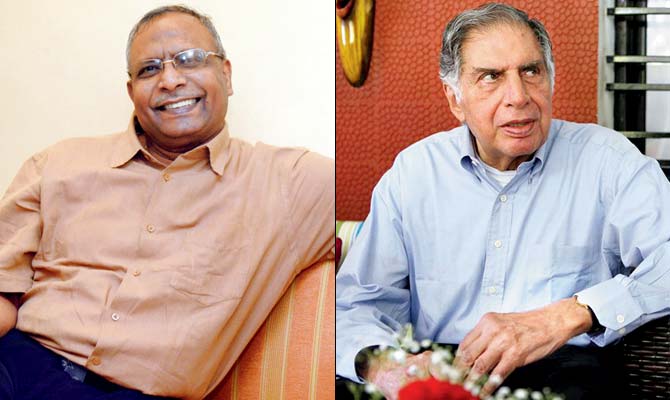 Chef Ananda Solomon and Ratan Tata
(There was a stage when Mr Tata visited the Thai Pavilion for his much loved green curry every single week and would be seen at the same table mostly in solitary splendour relishing his meal!) Since his departure from the group, we were curious about Solomon's future plans. "I'm in Thailand currently," he said cagily, not wanting to reveal further details.
But sources inform that Mumbai will soon see the return of chef Solomon, who like his former counterpart at the group, chef Hemant Oberoi, has plans to open a Thai restaurant in BKC. And though this has not been confirmed by him, if it does transpire, then two of the group's legendary stalwarts will both find themselves helming new ventures in BKC! Forks and knives to the ready!
Magic pills
We had been hearing about Bina Ramani's pharmacist brother, Dr Kartar Singh Lalvani, for the longest time, in contrast to his more flamboyant relatives like Ramani herself, and her daughter, the designer Malini Ramani, or his brother the jet-setting Gulu Lalvani.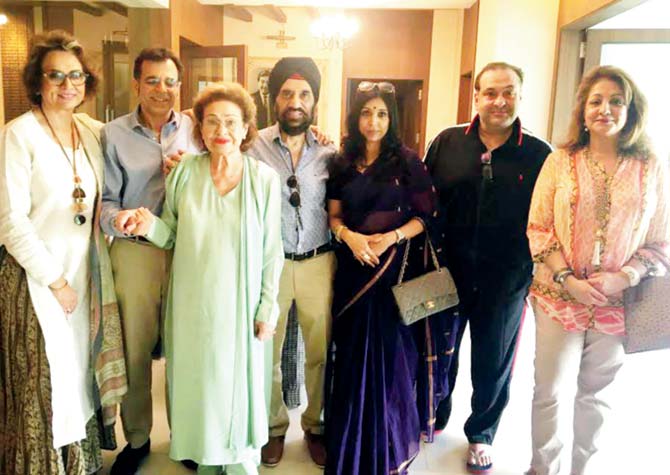 (Left) Bina Ramani with Krishna Raj Kapoor (in green) and Dr Kartar Singh Lalvani to her (Kapoor's) left and friends
Famous for having dated Princess Di, the London-based octogenarian has been renowned as the founder of the Vitabiotics Group, a specialist vitamin supplement company, which produces remedies to treat everything from mouth ulcers to menopause. At many a society soiree we have been witness as Singh, a somewhat dour personality in traditional Sikh attire, became the centre of attention amongst the women, who could never get enough of his wonder pills and potions.
This week, he appears to have scored a more public victory: his £4.50 supplement has been cited in the Daily Mail as the reason why a 31-year-old woman who had been told by doctors that she was infertile, is now having four babies naturally in a year! Ramani had sent us the clipping with understandable sibling pride. 'Bro Kartar's miraculous pill', she had exclaimed. But it was her next sentence that stopped us in our tracks: 'Ask him about the Queen, apparently she loves some of his capsules,' said Bina. The mind boggles.
Travelling on his stomach
Time was when the adage was: Join the Navy and see the world; but it is an indication of how pervasive food has become in our lives, that the saying now goes: 'Become a chef and see the world'. Most chefs we know are world travellers, but perhaps none so adventurous as Chef Prateek Sadhu of Masque, who returns to India after three weeks of intense travelling on his stomach.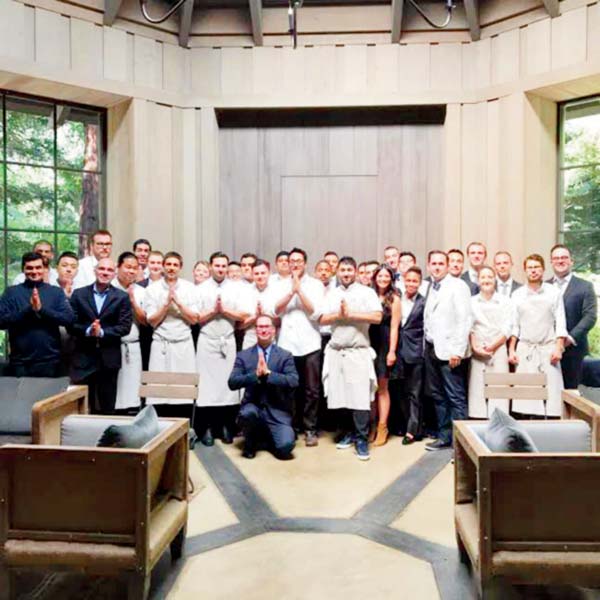 Chef Prateek Sadhu at The restaurant at Meadowood with chef Christopher Kostow and others
" Leg one was when I landed in Mexico City and spent time at Quintonil, rated amongst the top 50 restaurants in the world, to understand Mexican culture, food and cooking in their kitchen," he says, adding, "From there I went to Sonoma County in California, where I spent time in America's most talked about restaurant, Singlethread Farms.
Cooking at this kitchen and understanding their concept of farm to fork was really overwhelming". But that was not the end of it. After Sonoma, Sadhu drove to Napa Valley to spend time at celebrated Chef Christopher Kostow's very cool and very hot (yes, they are complementary) 3-star Michelin 'Restaurant at Meadowood,' where the focus is on what grows in and around Napa.
And what now for this peripatetic soul?
"Now I am looking forward to bringing my experiences at these three restaurants to Masque where we collaborate to deliver an unforgettable experience in Mumbai!"
Yep. Become a chef, see the world.
Just desserts
A few weeks ago, we were the recipient of a cornucopia of Italian desserts so exhaustive, that we had to seek the assistance of friends to do it justice.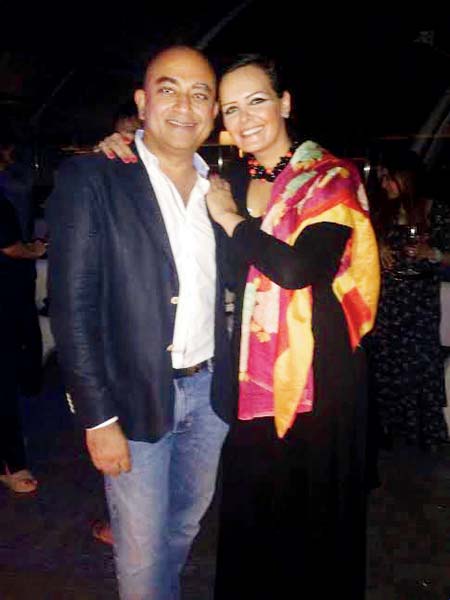 Kaveer Shahani and Mirella Fore
The heavenly repast had been the benevolence of the impresario and entrepreneur Kaveer Shahani, who along with Mirella Fore, a part-Sicilian, part-Venetian former jewellery designer, has launched Dolcemi, a new Bandra-based takeaway dessert service, which has already won itself a place in Mumbai's foodie heaven for its Tiramisu Classico and its Baci di Dama.
Both Shahani and Fore have serious credentials in high end cuisine: Shahani's dad, the late Taro, had been a merchant of fine wines and spirits, a gourmet who'd founded a popular chain of delicatessens at the age of 18; Mirella on the other hand, had honed her palate in the kitchens of her two grandmothers in Padua and Sicily, as they whisked, whipped and created the most glorious confectioneries and baked delicacies.
As they tell it, "The Italian met the Indian, a storm of flavours exploded, and Dolcemi was born." ""I didn't know then, but my assorted years spent manufacturing food packaging for flight kitchens, consulting for a chain of dessert boutiques, travelling the world to curate bespoke lifestyle events with some of the best of chefs, would all suddenly come in handy," says Shahani. To which we say bellissimo!