He may have created India's largest conglomerate and most successful company, but he was also the patriarch of the First Family of India Inc. and doting grandfather to a vibrant brood of grandchildren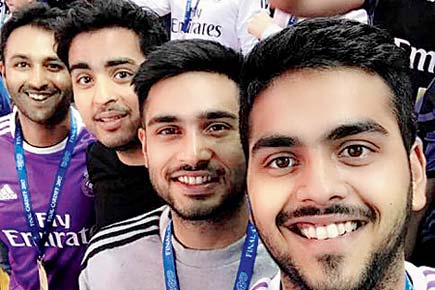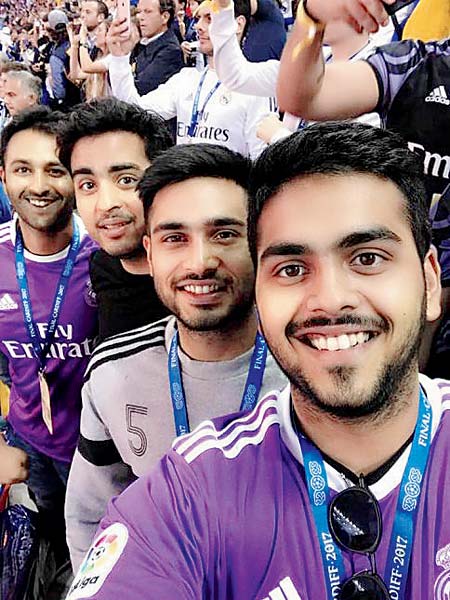 (L to R) Vikram Salgaocar, Akash, Anmol and Anshul Ambani
He may have created India's largest conglomerate and most successful company, but he was also the patriarch of the First Family of India Inc. and doting grandfather to a vibrant brood of grandchildren.
Recently, we came across this delightful photo of a few of Dhirubhai Ambani's grandsons, Vikram Salgaocar and Akash, Anmol and Anshul Ambani, who were snapped together at a football match in Europe last week. Each dashing and well-educated young man is ready to take on the world with the responsibility of a million Indians on his shoulders, and large shoes to fill.
From left to right, meet the Ambani progeny: Vikram, the oldest cousin and the son of Goa-based businessman Raj and Dipti Salgaocar, is a Wharton graduate who shuffles his time between varying business interests in USA and India.
Akash, the elder son of Mukesh and Nita Ambani, is an alumnus of Brown University, who has been given the responsibility of steering the ambitious launch of Jio, and most recently he steered his IPL cricket franchise to its third victory; standing with him are Anmol and Anshul Ambani, the two dashing sons of Anil and Tina Ambani.
Anmol is a Warwick graduate who joined his father's financial arm of the conglomerate and is said to be the behind the scenes, a deal maker with an astute head for numbers and strong business acumen; and young Anshul, currently finishing college in New York, will soon be returning to India to make his own mark in the empire.
We have watched all four boys grow into strapping young men, each ready to be at the forefront of their country's development and to add his own chapter to their grandfather's famous legacy.