Wednesday evening all cars headed to Worli's NSCI stadium for the premiere of Disney India's production Beauty and the Beast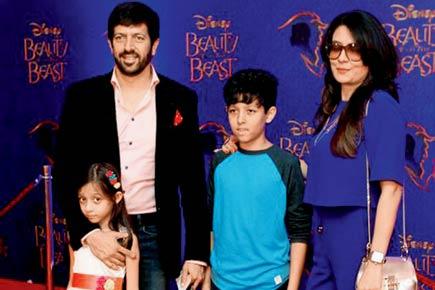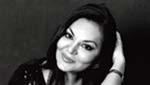 Wednesday evening all cars headed to Worli's NSCI stadium for the premiere of Disney India's production Beauty and the Beast.
Those who attended, commended Mumbai's police's traffic 'bandobast,' which they swear was meticulously organised with cars entering through the side entrance of the stadium, to avoid a traffic build up on the Worli-Haji Ali road.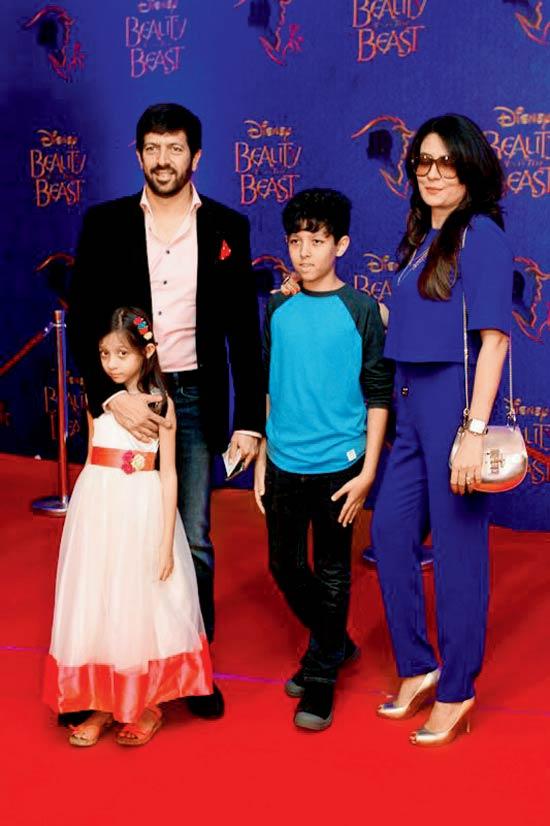 Mini Mathur and Kabir Khan with their kids at the premiere
Disney CEO Siddharth Roy Kapoor stood at the entrance, and personally welcomed each guest to the red carpet, before everyone was ushered into his or her seats.
The 360 degree performance, which had multiple stages we hear, was stunningly curated by the Disney team along with Leslie Lewis (music direction) and Terence Lewis (choreography) and more than up to the pre-launch hype.
Spotted in attendance, was the host of the evening, SRK with wife Vidya Balan, actors Emraan Hashmi, Tabu, Shabana Azmi, Aditya Roy Kapoor, directors Farah Khan, Homi Adajania, Imtiaz Ali, Ayan Mukherjea, Anurag Basu, Vishal Bhardwaj, and representing the business community Adi and Parmeshwar Godrej (who made a very early exit soon after the show began), Hital and Bijal Meswani, Nikhil and Elina Meswani, along with Shobhaa De, Pradeep Guha, Manmohan Shetty and daughter Pooja Shetty Deora, Ronnie and Zarine Screwvala, amongst others.
Though the show ended around midnight and had a delayed start, guests were overheard congratulating the Disney team for pulling off the spectacular event of one of Disney's timeless classics. The musical will open to public today at 8 pm and if the word of mouth is anything to go by, tickets should run out soon. Just saying...
Kapoor's haunting portraits
Shashi and Jennifer Kapoor's London-based younger son, the exceptionally dishy photo–journalist Karan Kapoor, has his photographs on the Anglo-Indian community of India included in an ongoing exhibition titled Origins, being showcased at The Gallery, British Council, in New Delhi.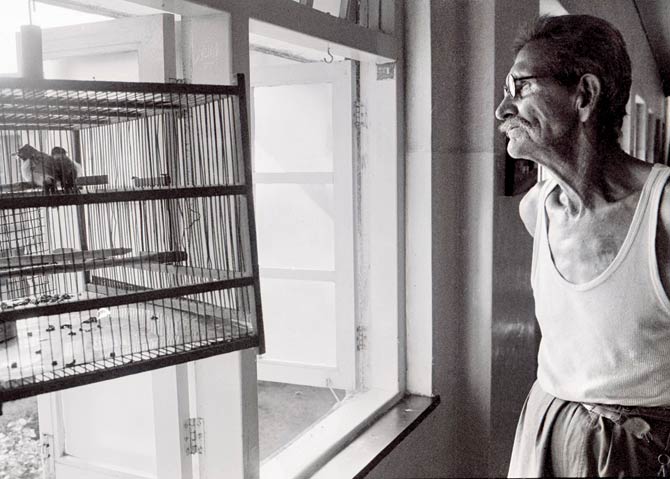 Couple of the pictures from the exhibition, Birdcage — 1981
We had often worked on stories for national and international publications with Kapoor who had begun shooting his series on Anglo Indians in the early eighties. One such assignment we had undertaken together, had been for Dina Vakil on the inmates of Mumbai's Cheshire Home many of whom had been Anglo Indians.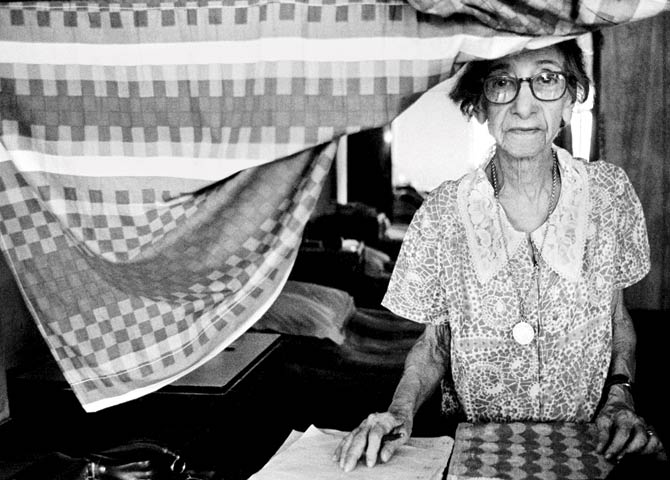 Lady — 1981
Going with Kapoor to those halls filled with fragile and vulnerable senior citizens, each with a past so rich and evocative, had been a deeply moving experience we recall..
About his Anglo Indian series Kapoor has said, "My pictures are of the elderly. I was struck by their extraordinary resilience, their total lack of morbidity, their abundant joy and their zest for living."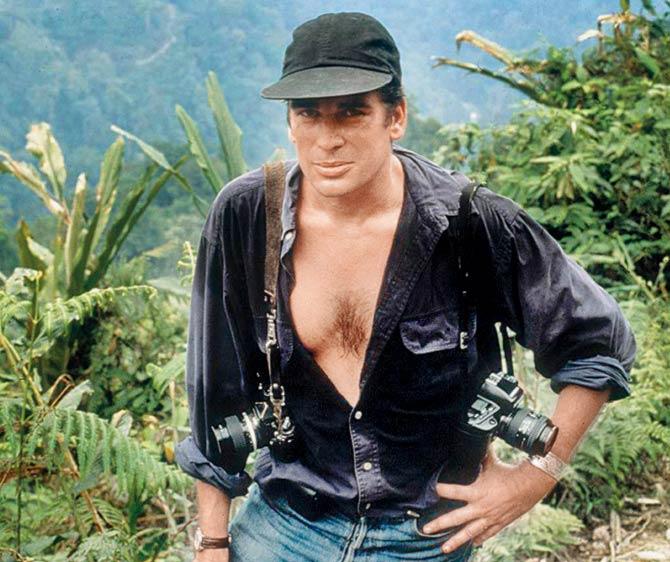 Karan Kapoor
And then he recalled Myrtle who was 71 at the time we had met and interviewed her and who had described herself as 'an outrageous flirt.' "It's impossible to remain faithful to one man," she had said to us.
The story had occupied an entire page of a leading newspaper all those years ago and has remained one of our finest pieces of writing. And learning of these faces surfacing at the Delhi exhibition has brought back all those people and conversations, though the people themselves are no more.
A vibrant art beat
Thanks to the concerted efforts of Shireen Gandhy and Abhay Maskara, Wednesday Art nights, where aficionados hop from one SoBo gallery to another at pre determined time slots, have become a thing of beauty and a joy forever.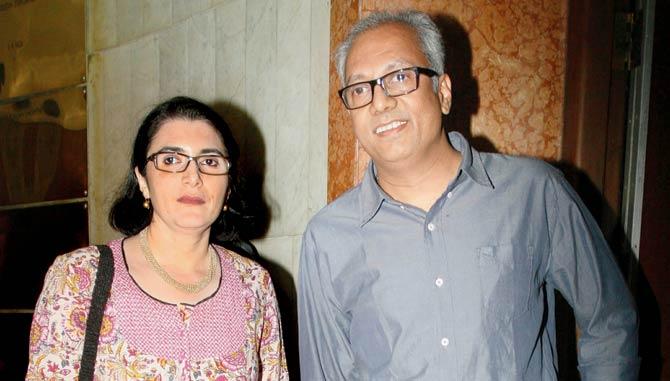 Anju and Atul Dodiya
This week's double (treble if you count Rana Begum at Jhaveri) bill of sculptural installations by Anant Joshi at Gallery Maskara, and Gigi Scaria at Chemould Prescott Road, saw the likes of Atul and Anju Dodiya, Shilpa Gupta, Hema Upadhyay, Bose Krishnamachari, Meera Devidayal, Sharmishtha Ray, Tasneem Mehta, Shanta and Sudhir Patwardhan, Ranjit Hoskote and Nancy Adajania participate in one of the city's most vibrant art initiatives - one where there's love of art for art's sake, and rival gallerists promote each other's exhibitions.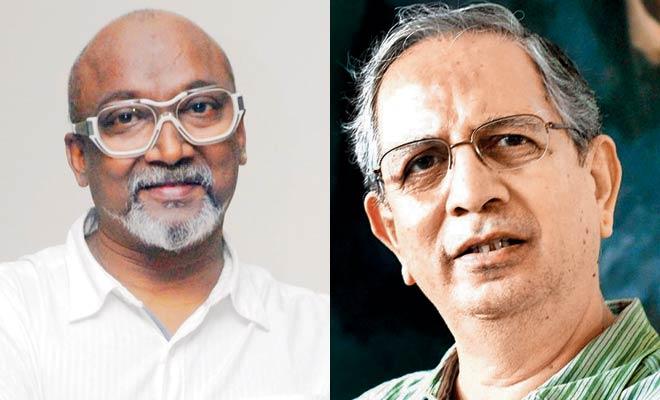 Bose Krishnamachari and Sudhir Patwardhan
And after the visual feast for the eyes, we hear this tight group of artists and art lovers ended up for dinner at Busaba. Nice.
Haikus for Khushwant
Delhi-based poet Sudeep Sen, who had been a fellow participant at the KSLF recently in Kasauli, sent us his haiku triptych on Khushwant Singh. As is known the haiku is a Japanese poem of seventeen syllables. In three lines of five, seven, and five. Not being particularly fond of the genre we leave it to our readers to judge their quality.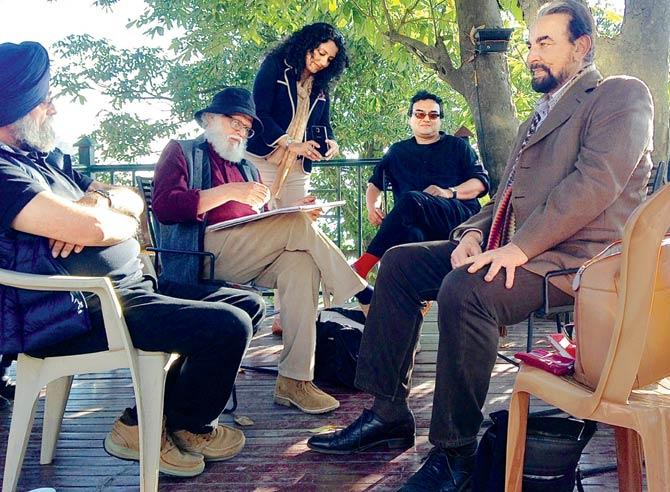 Sudeep Sen (in black) looks on as Jatin Das sketches Kabir Bedi
KHUSHWANT SINGH 100
Haiku triptych
VIGNETTE ONE
Legs outstretched on a murra turned on its axle — creative pose one
VIGNETTE TWO
single-malt in hand — sunlight in Lutyen's Delhi — glass aglow, amber
VIGNETTE THREE
urdu shayari — impeccable melody — Punjabi inflect
There goes the neighbourhood!
SoBo's newest luxury residential complex, which is being touted as being located on the 10th most expensive road in the world (or India's very own Billionaires Row), has got the chattering classes talking.
At one of SoBo's members only club bars, over an after work single malt, a fairly wealthy businessman was overheard announcing that he had visited the upcoming site as a prospective buyer, on the invitation from the builders of the new property.
"It is not the penthouse or a sea view facing apartment that the HNI's are now vying for. The real status symbol today comes if you occupy the range of floors that are parallel to and face the world's most expensive residence. These are the ones most in demand!" he announced. Different strokes for different folks we say. Or as they say: one man's ceiling is another man's floor.