Let's hear it for Zoya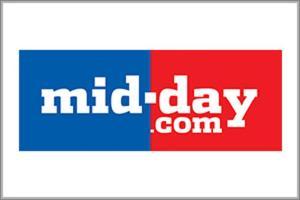 Let's hear it for Zoya

Film: Luck by Chance (Hindi)
Cast: Farhan Akhtar, Konkona Sen Sharma, Rishi Kapoor, Juhi Chawla, Aly Khan, Isha Sharvani
Director: Zoya Akhtar
Theatres: PVR, Fun Fame, Inox, Innovative Multiplex
Rating: JJJ
WHAT'S IT ABOUT: A wannabe actor Vikram Jaysingh (Farhan Akhtar) moves from Delhi to Mumbai to make a career in films. He meets Sona Mishra (Konkona), who has come to the big city from Kanpur again with the same dreams, but as luck would have it, she only gets B-grade films. Their struggle is in stark contrast to the charmed life of super star Zafar Khan (Hrithik Roshan). He gives producer Romi Roly (played by a tubby Rishi Kapoor) sleepless nights with his starry airs. Adding to Romi's woes is ambitious mom Neena Walia (Dimple), who is determined to groom her daughter (Isha Sharvani) into a star. By luck and by chance, Vikram bags Zafar's role. His career zooms while Sona's doesn't seem to go anywhere, putting a strain on their relationship.

What's hot: The opening song sets the mood of what follows. Shot beautifully by cinematographer Carlos Catalan, it highlights the contribution of unsung heroes involved in the craft of filmmaking. Brilliant performances by the lead actors and crisp editing make it an eminently watchable film. The 'special appearances' don't just add star value to the film, they blend well with the story. Javed Akhtar's sharp and witty dialogues are a bonus. And Isha Sharvani is a revelation.

What's not: The pace slackens in parts but the powerful performances make you forgive minor lapses.

Verdict: Go watch it.
V are like this only

Film: Victory
Director: Ajitpal Mangat
Cast: Harman Baweja, Amrita
Rao, Anupam Kher
Theatres: PVR, Inox, Fame
Rating: JJ


WHAT'S IT ABOUT: MANY Indians would pick this moment in cricketing history as one of their favourites, when Kapil Dev walked in and smashed England, four sixes in a row when India was nine wickets down. There are other cricketers like Sir Gary Sobers, Ravi Shastri, Yuvraj Singh and Shahid Afridi, all of whom hit six sixes off one over.

And then there is Vijay Shekawat (Hurman). He does it with a bleeding forehead and double vision, struck by a ball off Brett Lee. It makes you double up in laughter, especially as Viju's final six smashes a bulb in the towering floodlights.

What's hot: The cameos are decent, but the best of the bunch is the irrepressibly kooky Navjot Singh Sidhu. Victory goes the route that Fashion did; a fall from glory and comeback. What we were dreading and didn't rear its ugly head was the betting angle. Instead, there's a Mark Mascarenhas-like agent Andy Singh (Gulshan) who signs up Vijay for big bucks, corrupting him with a bachelor pad, women and wine, while steadily drowning his career.

What's not: The filmu00a0 is boring and predictable. Vijay becomes bad boy, turns his back on his father (Anupam) and god when the crores come his way and his sickeningly sweet 'friend' Nandini (Amrita) sticks by him through a spinal surgery even though he's bedded half the nation in his glory days.
Victory is the worst type of sports film u2014 it lazily uses stock footage and pads up the movie with stock incidents.u00a0

Verdict: Hurman's acting is still rough around the edges and he desperately needs to fix his patchy make-up.

Y-A-W-N

Film: Ambari (Kannada)
Cast: Yogish, Supriya, Rangayana Raghu and Kishori Ballal
Director: A P Arjun
Theatres: Sagar, Uma and PVR
Rating: JJJ
What's it about: Sarasu (Supritha) loves Dhanu (Yogish), a cobbler with a heart of gold. But realist that he is, Dhanu sends her packing, after a few sermons on the class divide. But like all true filmi heroes, he realises that he can't live without her after she runs away to lament her fate. Before the young lovers form a proper escape plan to the Taj Mahal (!) her murderous family steps in.

What's Hot: Rangayana Raghuu00a0u00a0 turns in a superb performance. Harikrishna's music is another plus.

What's Not: The pace of the film flounders after the interval, and the melodrama is uncalled for.

Verdict: Predictable to the point of being boring.

SKIP THE STORY

Film: Bedtime stories (English)
cast: Adam Sandler, Guy Pearce, Lucy Lawlessu00a0
Director: Adam Shankman
Theatres: PVR, Inox, Fame
Rating:u00a0 J


What's it about: If Bedtime Stories were a customer in a line, it would be the one that bored and annoyed the clerk in charge to the point where he yells, 'NEXT!'.

What conspired (as we got tired) was this. Skeeter Bronson (Sandler) now fixes bulbs at a successful hotel, but what runs in his blood is the ability to manage it.

So happens that Skeeter's ends up babysitting his sister Wendy's (Cox) children, Patrick (Heit) and Bobbi (Kesling) he shares his babysitting duties with Jill (Russel), Wendy's friend.

The bedtime stories Skeeter and the kids make up begin to come true.

What's hot: It blurs reality with fantasy, mixes in a love angle, plays the smarmy English-accented villain card (akin to the mess that was Van Wilder: The Rise of Taj) and throws in a couple of cute wide-eyed kids and packages itself for, well, wide-eyed kids.

What's not: This film is cutesy, has no imagination and is aplenty with Adam Sandler's antics, which often swing between fun and feeble from role to role this time settling on the latter.

Verdict: Your kids deserve better and so do you. I say you be the clerk: 'NEXT!'