At the 84th plenary session, the party further noted that Modi's tendency to diminish India's achievements has undercut the country's credibility abroad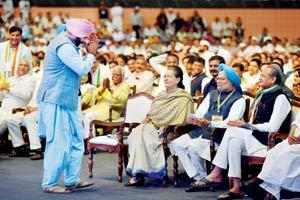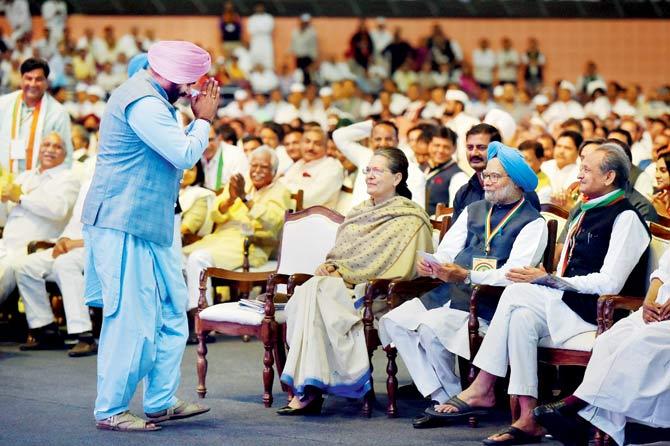 Punjab Tourism Minister Navjot Singh Sidhu greets former Congress President Sonia Gandhi during the second day of the 84th Congress Plenary Session, at the Indira Gandhi stadium in New Delhi. Pic/PTI
The Congress on Sunday attacked Prime Minister Narendra Modi for pursuing a "personalised foreign policy", saying it was "confused and bereft of focus and direction". In its 84th plenary session, the party noted that the Modi's tendency to disparage his predecessors and diminish India's achievements since Independence has undercut the country's credibility abroad.
Moving the resolution on foreign policy, senior Congress leader Anand Sharma said the Prime Minister was known for his "propaganda" and condemned his actions of showing disrespect to the party's predecessors saying, "It is not an insult to the Congress party or its leaders, but an insult to the nation."
The resolution said, "Foreign policy has always been marked with continuity with the backing of a strong national consensus. Unfortunately, the BJP government has disrupted it, and its ill-advised actions have unravelled the national consensus."
"The government is carried away by its own propaganda, and has mismanaged India's relations with major partner countries. Its foreign policy is confused and bereft of focus and direction.""The Prime Minister has pursued a personalised foreign policy. The foreign policy engagements and (Modi's) visits abroad, have been reduced to being purely transactional."
"The discarding of India's historic role in the Non-Aligned Movement, and the continuous dismissal of our past accomplishments in foreign policy, led to the piquant situation of foreign leaders hailing Nehru's contributions at the Indo-African Forum Summit and the 50th Anniversary of the Bandung Conference."
BJP fights for power, Cong for truth: Rahul Gandhi
Recalling the two warring sides of the epic Mahabharat, Congress president Rahul Gandhi said the BJP, like the Kauravas, fought for power, while his party, on the lines of the Pandavas, battled for truth. Gandhi said BJP sought to divert people's attention from issues such as unemployment and farm distress with "fancy events".
Demonetisation the greatest lie: Chidambaram
Congress leader and former Finance Minister P Chidambaram on Sunday described demonetisation as the "greatest lie" and accused the BJP-led government of virtually destroying the economy. "There cannot be a greater lie than demonetisation," Chidambaram said after presenting the party's economic policy at the Congress plenary. He slammed the Reserve Bank of India (RBI) for not telling the nation the total amount of demonetised currency it got back after Prime Minister Nadrendra Modi declared Rs 1,000 and Rs 500 currency illegal in November 2016.
Catch up on all the latest Crime, National, International and Hatke news here. Also download the new mid-day Android and iOS apps to get latest updates
This story has been sourced from a third party syndicated feed, agencies. Mid-day accepts no responsibility or liability for its dependability, trustworthiness, reliability and data of the text. Mid-day management/mid-day.com reserves the sole right to alter, delete or remove (without notice) the content in its absolute discretion for any reason whatsoever