In a video that has been making rounds on the internet, two drunk youngsters, on Monday died after they accidentally fell into a hundred-feet deep gorge in Amboli Ghat in Maharashtra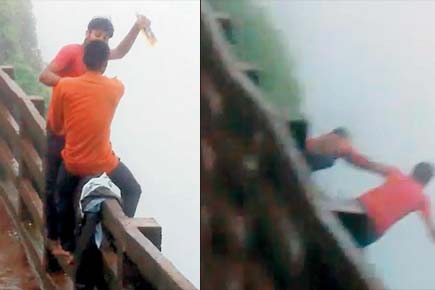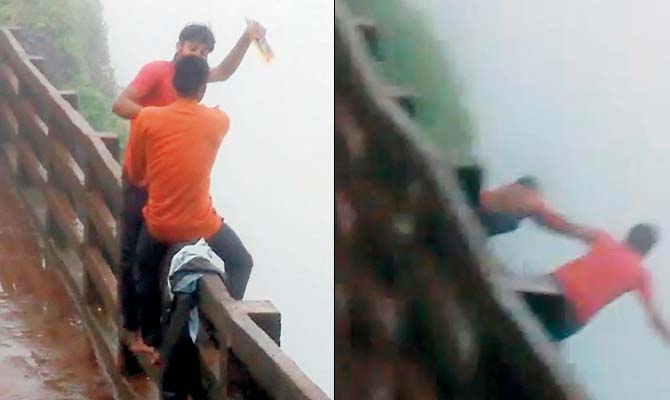 Grabs from the video showing the youths climbing over and falling
Not just driving, you should pretty much not do anything foolhardy when drunk, or be ready for the consequences.
ADVERTISEMENT
Two youths, performing stunts in an inebriated state in the ghats of Amboli, slipped and fell 2,000 feet into the valley, even as their friends, shooting their antics, could do nothing but gape in horror.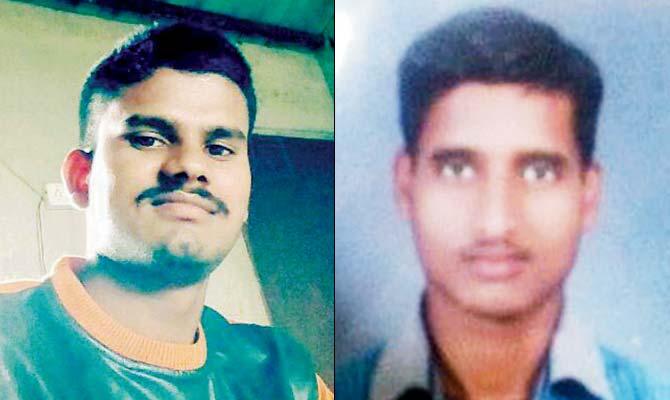 Pratap Rathod and Imran Gardi
Death on camera
The video, which has gone viral on social media, was shot on a bridge in Kavlesad-Amboli, Sawantwadi taluka. The incident happened on the evening of July 31, when the group of youngsters from Kolhapur had come for a picnic at the Kavlesad Point.
The police and hikers still trying to locate the bodies, one of which could be seen amid boulders 700 feet below, but heavy rain and fog made it difficult to reach the spot.
The video shows a drunk Imran Gardi, 26, and Pratap Rathod, 21, climbing over a safety railing, holding onto the bars and facing the gorge below. The clip has both of them laughing and talking, when, at one point, one of them loses
his footing and the other tries to make a grab for him, but both end up plunging down.
Rescue operation on
An officer from Sawantwadi police station said, "In the video, one youth is seen holding an alcohol bottle and the two talking to each other. After a while, one swims in the pond nearby and comes out to join the other sitting on the railing."
"There are others present as the whole thing is unfolding. However, they are at a distance, and none of them tries to stop the two from climbing over," the officer added.
"We got to know about this video on August 1. Since then, the police, hikers and villagers have been trying to find the two."
Hill Riders from Sangeli and Summit Adventures from Kolhapur are carrying out the search operation.
"The search operation, which was stopped on Wednesday evening, resumed on Thursday morning," said Sunil Dhanawade, senior inspector.
"We will also question the person who shot this video; he could have easily saved them."
Warning: The content in the video below is disturbing. Viewer discretion is advised. 
DISCLAIMER:
The content/reporting displayed on this page is user-generated and made available on www.mid-day.com as received by us, without any verification from our end. The readers can rely on the content at their own will. www.mid-day.com accepts no responsibility or liability for its dependability, trustworthiness, reliability, data, text, images, video, messages, or any other material whatsoever or for any claims/loss/action that the reader may suffer as a result of relying on the content on our site. Mid-day management/mid-day.com reserves the sole right to alter, delete or remove (without notice) the content in its absolute discretion for any reason whatsoever.