A mid-day matinee feature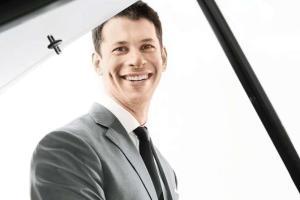 Shayan Italia
Little was known about the ever private Shayan Italia until a month ago, when, on 29 July 2018, he launched his ambitious #IWouldStandForThis global initiative that went on to break records on YouTube. Directed by Dr Farhad Vijay Arora, and garnering over 100 million views, the #IWouldStandForThis initiative honours the Indian National Anthem, performed for the first time ever in 8K Ultra HD by Shayan Italia on the world's grandest piano, paying homage to his mother, who died of cancer when he was just a boy. #IWouldStandForThis sought to bring together multinational cross-cultural music and video production talent from all over the world to inspire patriotism amongst the youth of India in its digital age.
INSPIRING PATROTISM
The young man united India for its 71st Independence Day by bringing millions of young Indians together to be part of his #71for71Challenge. The challenge was simple: from surpassing the French National Anthem's record of 36 million views on YouTube, he imagined to get his Indian National Anthem video to 71 million views by 15th August celebrating 1 million views for each year of India's Independence.
He thus sought India's support. His hashtag #71for71Challenge trended on Twitter for two full days, cementing the fact that the underdog can become an unstoppable force of nature when the public gets behind him or her. And he achieved all this without celebrity endorsement, corporate sponsor or external backing.
MUSIC HEALS
So who exactly is Shayan Italia? Born in Secunderabad India to a simple Parsi family, Shayan lost his mother to Multiple Myeloma (cancer of the bone marrow) at a young age. She bought him a Yamaha Clavinova digital piano as a goodbye present which she never lived to see him play. He lost his father exactly one year after to Multiple Sclerosis.
Italia moved to London after his parents passed on, to study music. It is there, having limited resources at hand, that he ingeniously came up with the idea to auction a portion of his future earnings on eBay to raise money to record a couple of his songs as demos. He raised US$ 18,000 from three individuals across three continents in a week. Studying at the Alchemea College of Audio Engineering in London he used the money raised and access to the college studios and repertoire, to record his demos. This novel concept of crowdfunding was virtually non-existent at the time, at least within the music industry, and Italia perhaps in some way pioneered the same. He soon after got discovered by the late legendary interviewer Sir David Frost who interviewed him on his acclaimed show 'Frost Over The World'.
ACCLAIMED PIANIST
Italia did his schooling at the Doon School in Dehradun. His late father Dr. Fareed Jamshid Italia, his late uncle Lieutenant General Faridoon Bilimoria, and his elder brother Dynshaw Italia all constitute Doon School alumni. He is also the first cousin of Lord Bilimoria of Chelsea and the nephew of renowned architect and philanthropist Ratan J Batliboi. He has a Bachelor's Degree in International Trade Practices and Procedures from Osmania University, a Bachelor's Degree in Audio Engineering from Alchemea College, a music diploma from Trinity College and a Master's Degree in Business Management from the University of Westminster.
A critically acclaimed pianist and live performer, Italia has been part of sold out shows at Royal Albert Hall and other well-established venues across the UK, with Time Out London calling him "a musical superstar in the making".
MUSICAL SUPERSTAR
Italia in his free time helps raise money for Cancer Research and Multiple Sclerosis in memory of his parents. He is receiver of a number of global awards and accolades for his work in music and business. Considered by many in the industry as a brilliant marketeer, he started food delivery company Biryani360 in March 2015 and sold it in March 2016, a year later. His new venture Yogurt360, a flagship probiotic low-calorie savoury yogurt, launches in 2019.
Italia in the past was offered record contracts from some of the biggest music companies but turned down the same for personal reasons. Having an unexploited catalogue of over 100 songs, his first mainstream Hindi song project releases in 2019.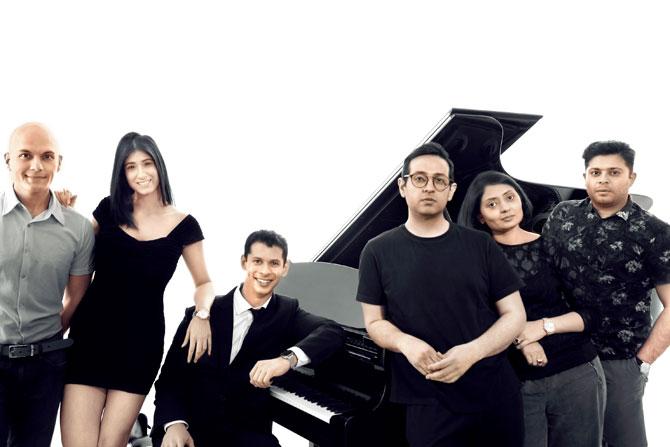 (L-R) Dr. Farhad Vijay Arora, Shanaya Boyce, Shayan Italia, Arshis Javeri, Kinnari Sanghavi, Jeetu Kapadia
THE TEAM
Dr Farhad Arora, Director and Co-Producer of Shayan Italia's National Anthem 8k video, is the son of filmstar Vijay Arora and former Miss India Dilber Debara Arora. Farhad who has promoted Ferrari Maserati amongst other niche brands in India is an actor- producer-director of films, TV serials, ads, music videos, and funded-distributed several Bollywood blockbusters, was brought on board the project by a diehard Indian patriot Nainaz Bhikhaji Shroff of Taylor & Shroff Fine spirits conglomerate UK.
The video also boasts of acclaimed award-winning photographers Jeetu and Kinnari, the Make-up is by Arshis Javeri who is a trainer for celeb makeup artists, and Shanaya Boyce styled the wardrobe and look for Shayan.
Adds Farhad, "Shayan Italia is immensely talented. With this video, he united India to emerge as the Global Envy for National Pride. We used the best of global production technologies to give India the best, and eventually achieved the impossible."
The production in 8K Ultra HD and 9.1.2 audio was supported by VFX guru Shyam Garg, Ramesh Meer, finance expert Amarjeet Dahiya, production expert Rajan Vanmali, creative director Aapar Gupta, DOP Shahnawaz Ansari, codirector Sandeep Khichi, EP Sahil Gulia, mixer Shantanu Hudlikar, recordist Ronan Phelan of James Bond films, and Mastering by Grammy winner Tim Young with an alliance of studios from India, Russia and London.
Catch up on all the latest Crime, National, International and Hatke news here. Also download the new mid-day Android and iOS apps to get latest updates