High drama marks equality for all at Haji Ali day; poster girl Trupti Desai confined to car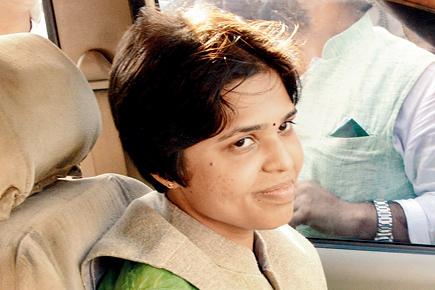 Trupti Desai
The Haji Ali subway was unusually crowded, close to 4 pm, yesterday. Some in the subway were visitors to the dargah, others, though had come to see what they called, the "show". They had heard about a protest or agitation at the site, to press for women's entry to the dargah. "Picnic hai, picnic bana rakhe hain" grumbled some, winding their way through heavy police and media presence. It was battle on for those who were demanding that women get access to the dargah and those who said it should maintain current status.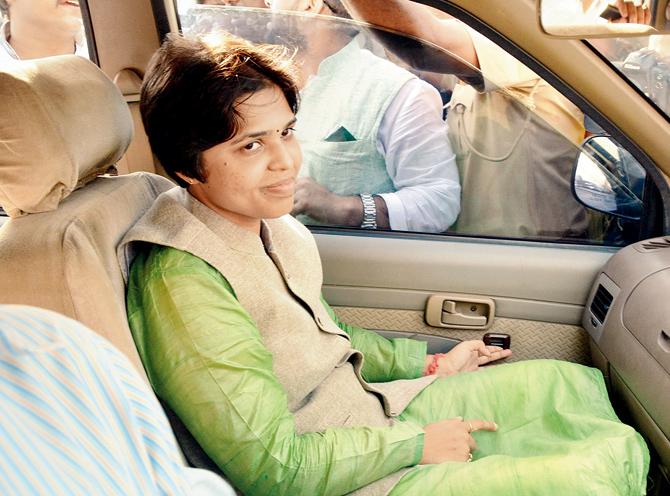 Trupti Desai was not allowed out of her car by protestors and all she could do was smile about it

The main entrance leading to the road in the sea going towards the dargah, had protestors against women's entry into the dargah. These included men and women, twirling green cloths. The women's wing of Awami Vikas Party and Indian Union Muslim League workers were in their element. Target No 1 of their ire and fire was the poster girl of the movement to allow women access to religious places, Trupti Desai. Abdul Rehman CH, Maharashtra General Secretary of the Indian Union Muslim League said, "The Haji Ali dargah entry for women into the inner sanctum matter is in the Bombay High Court. We respect the Constitution and the court of law and will wait for the verdict. Even Trupti Desai and her supporters should honour that. If she tries to enter Haji Ali, our women's wing will stop her."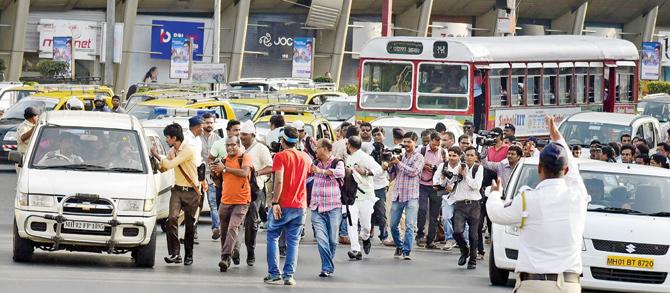 Desai's car chased by media running down the Haji Ali stretch
As the protestors raised their decibel levels and theatrics once media cameras were on them, fledgling organization of activists, 'Haji Ali for All' or 'Haji Ali sabke liye' activists put up posters about how this is not a religious or Islamic issue, but one for equal rights.
Those opposed to them were bent on giving it a communal colour. Akthari Katib, Mumbai President of the women's wing of the Awami Vikas Party said, "How dare Trupti, a Hindu woman speak in Muslim matters? We, Muslim women have no problem worshiping in the space we are allowed in the dargah. Who is she to meddle in our religious issue?"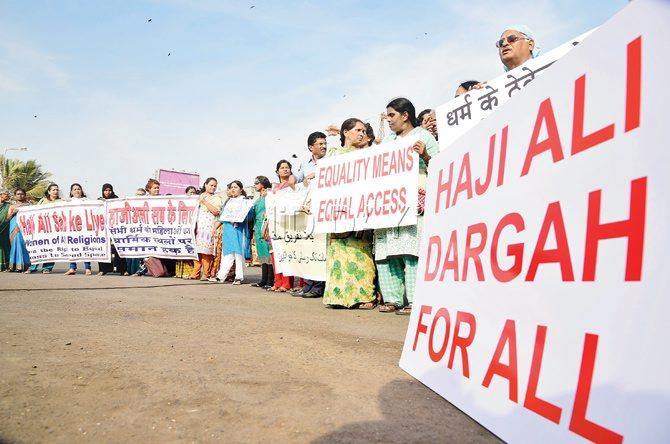 Haji Ali Sab Ke Liye activists make their point. Pic/Shadab KhanN
Firoze Mithiborwala, who was from Haji Ali for All, when told that many Muslim women themselves were opposed to women having equal access said, "That is because of the indoctrination. Many Hindu women too were opposed to women getting access at Shani Shingnapur." Another activist, Nasreen Contractor, stated that she has great respect for the religion but, "It must be open, broad and keep up with the times." Varsha Berry categorically denied that this was an attempt for publicity, but simply, for women to claim public spaces as their own.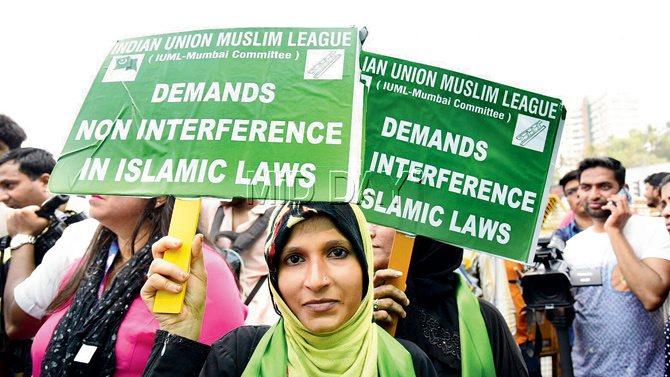 Posters outside the main entrance of the dargah. Pic/Shadab Khan
Fatima Bibi at the site though said, "Even if the court passes an order to allow women to go into Haji Ali, we will not allow it. Our Koran and Shariat law all say that women have a certain limit to their worship, and we follow that."
The verbal wars went on as speeches, songs and slogans were being belted out, yet, there was no sign of woman of the moment, Trupti Desai. All of a sudden, a woman in opposition to the Haji Ali for All screamed, "Dipti Desai hai hai," women joined her, "Dipti Desai mitti mein mil jayegi," when told that her name was not Dipti but Trupti, they shouted, Dipti, Preeti or Trupti, we do not care. She will not be allowed into the dargah. We are different from Hindus."
Samajwadi Party's Ruksana Siddiqui said, "We will use physical force if needed to stop Desai and Co. Women are not forced to stay out of certain spaces. We do it out of our understanding of Islam. Hindu ideology cannot be forced on Islam; we have our own religious diktats which we honour."
There were many men, though, making a case for equality. Dr Vivek Korde said, "I had to be here for equality. The dargah trustees have claimed that they do not allow men and women to access the same space because there may be some misbehaviour from the men. Then, why punish the women? This is like blaming the victim not those that commit the crime." As the clock ticked on, those who were waiting for Trupti were getting restive. A couple of anti-equality supporters were running on the roads, anticipating action. "We will beat her…" they shouted. In contrast, an 81 year-old silver-haired Muslim gentleman A S Uraizee was dignified. He said, "Most Muslim women are totally controlled; they hardly have access outside the home. This movement has come at the right time, only after the path breaking Shah Bano case, was there some debate in Muslim homes about the status of women…"
By now, we could hear somebody giving a speech about how they await a court decision but, they will enter the dargah in June. "Those who have to swim, may even swim their way through," a speaker said dramatically. Just then, a hefty gentleman Shahbaz Khan, with a jaunty French beret sauntered through the crowd, "for equality," he stated as a cop moved aside a little amused. Soon, the 'Haji Ali for All' group started packing up posters by 5.30 pm, with no sign of Trupti Desai. Just as activist Javed Anand was being asked if they had lost face because of Trupti's absence and he was denying it, there was a whirl. Ms Desai's smiling visage was seen through the glass window of a car. This car was chased by media for pictures and anti-equality group gheraoing it and threatening to break it. Police car sirens wailed behind Ms Desai's car. Clueless occupants of other cars on the Haji Ali stretch, looked startled at being caught up in the high-voltage drama. The car was chased quite some distance nearly till the National Sports Club of India (NSCI) with the thrash Trupti brigade screaming victory since she could not alight from the vehicle.
Muslim women against equality said they were ready to shed blood to safeguard the dargah's laws. "Women have to live within their limits. Trupti hasn't learnt it, then we will teach her. We did not allow her to get out of the car; if she comes again we will pull her hair and thrash her," said Zulema Khan.
The Bhartiya Muslim Mahila Andolan, which has filed a Public Interest Litigation (PIL) against the entry of women into the dargah, was conspicuous by its absence. Jyoti Badekar from 'Haji Ali Sab Ke Liye' said, "We are taking their cause. They had some case work that came up in Kolkata and so could not be here." Zakia Soman said, "We were not there as the matter is sub-judice.
"As it neared 5.45 pm, it was evident the cops had done a fine job and most of all, kept their sense of humour too. The protest packed up and Ms Desai's car disappeared from view. The equality activists have pledged to enter Haji Ali on June 26. Both sides departed but the air was thick with the promise that, the two warring groups live to fight another day. Trupti Desai, looks set to return. Some day, some time.