Like Amitabh Bachchan in the 1970s, the middle class Indian has patronised the 'angry young man'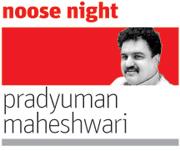 Like Amitabh Bachchan in the 1970s, the middle class Indian has patronised the 'angry young man'. Some six years back, Arnab Goswami transformed Times Now with his primetime show. He asked the tough questions to people who deserved to be in the dock.
There were many who did that in the past. Rajat Sharma ran his 'adalat' on air with much success. Rajdeep Sardesai and Barkha Dutt were adept at it. But Arnab raised the bar to new heights. In 2008, months before the Mumbai terror attack of November 26, I wrote, to the annoyance of czars in the business then, on how Arnab had displaced Rajdeep as the News Anchor #1. He has held that position ever since.
There are many divergent views on how he fares, but Newshour is the most watched show on English news television in India. I once asked former Air India spokesperson Jitender Bhargava why he agreed to be on the show despite being subjected to some rough treatment by Arnab. Bhargava said he didn't mind it because he gets maximum response for his appearances on Times Now vis-a-vis the others.
At a recent event of the media industry in Mumbai, Arnab stole the show. He was being mobbed by the influentials as if he was a film star or politician. In real life, Arnab is a charmer. I know not many of his former and current colleagues will endorse this, but he is a lot humbler off-camera. He listens.
Not so on television. I am particularly unhappy with the way he's been taking on the Aam Aadmi Party in recent weeks.
I am not an AAP fan any longer. Arvind Kejriwal lost the plot ever since he figured he could be Chief Minister of Delhi.
His crusade against corruption has been tarnished by his misdoings first as CM and now in the election campaign.
But if Kejriwal has flown off the handle, Arnab too has done that when on the AAP leader's brand of politics. It's as if he wants to put him in place for something. Sadly it appears as if he's doing this on behalf of significant others.