A group of Khalistani supporters have heckled Congress leader Rahul Gandhi in the United States where he is on a six-day trip. The alleged hecklers raised slogans against him and briefly interrupted his speech during an event in Santa Clara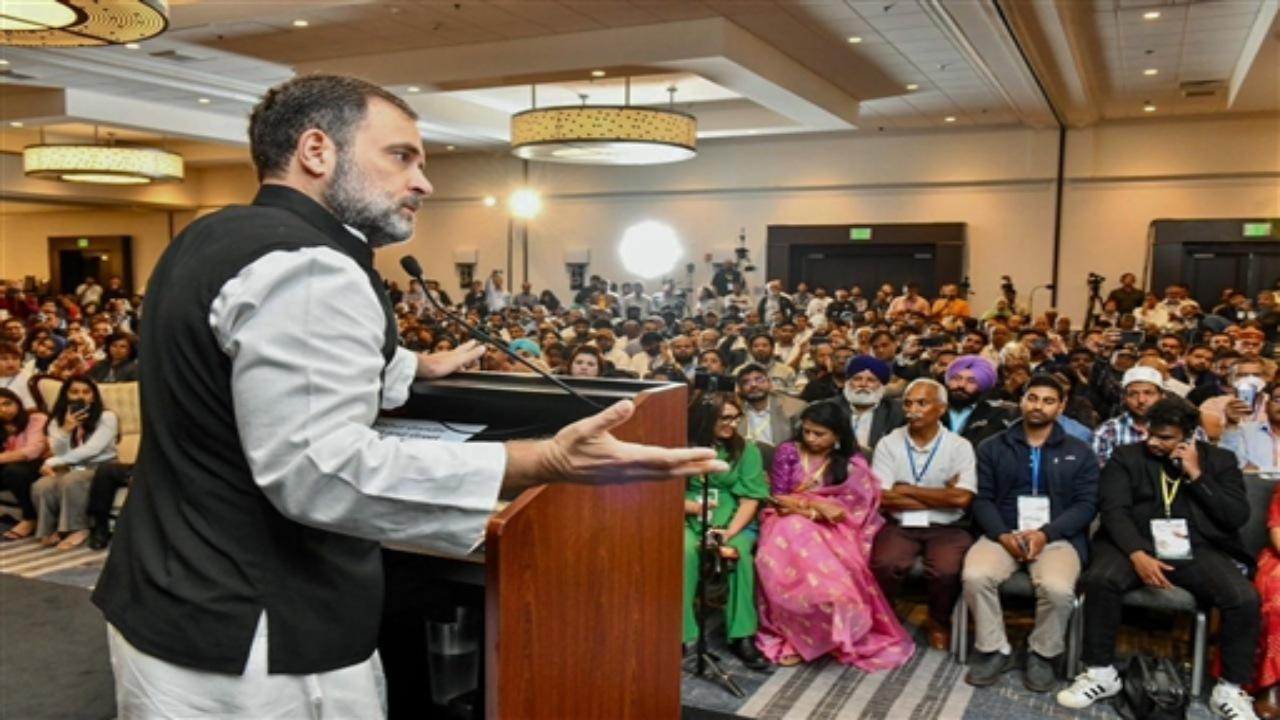 Congress Party leader Rahul Gandhi interacts with the Indian diaspora in San Francisco, California on Wednesday. ANI Photo
A group of Khalistani supporters have heckled Congress leader Rahul Gandhi in the United States where he is on a six-day trip. The alleged hecklers raised slogans against him and briefly interrupted his speech during an event in Santa Clara.
Gandhi was speaking at the 'Mohabbat Ki Dukaan' event organised by Indian Overseas Congress USA in Santa Clara when some people from the audience started raising slogans against him and the Gandhi family in connection with the 1984 anti-Sikh riots.
ADVERTISEMENT
An unperturbed Gandhi smiled in response to sloganeering and said: "Welcome, welcome ... nafrat ke bazaar mein mohabbat ki dukan", PTI reported.
The 52-year-old former Congress president then joined his supporters in the audience and responded with 'Bharat Jodo' slogans.
"The interesting thing about us, about the Congress party is that we have affection towards everybody. If someone wants to come and say something regardless of what they are saying, we are happy to listen to them.
"We are not going to get angry, we are not going to get aggressive. We will nicely listen to it. In fact, we will be affectionate to them, will be loving to them. Because that's our nature," he said.
Speaking at the event organised by Indian Overseas Congress, Gandhi said these people are "absolutely convinced" that they know everything and can explain history to historians, science to scientists and warfare to the army.
"The world is too big and complicated for any person to know everything. That is the disease. There is a group of people in India who are absolutely convinced they know everything. They think they know even more than God.
Also read: In Photos: Muslims in India are feeling attacked, says Rahul Gandhi in US
"They can sit with God and explain to him what's going on. And of course, our prime minister is one such specimen. If you sat Modiji with God, he will explain to God how the universe works and God will get confused about what have I created," he said, evoking peals of laughter from hundreds of his Indian American supporters.
"They think they can explain history to historians, science to scientists and warfare to the army. But at the core of it is mediocrity. They're not ready to listen!" he said.
Gandhi's event was attended by community members not only from Silicon Valley but also from Los Angeles and Canada, said President of Indian Overseas Congress Mohinder Singh Gilzian.
Also read: In US, Rahul Gandhi slams BJP govt, says Muslims are feeling 'attacked'
Gandhi, 52, told the Indian Americans that the idea of India was under attack and is being challenged.
He applauded the Indian Americans for holding up the Indian flag in America, showing the American people what it means to be an Indian by respecting their culture and learning from them while also allowing the Americans to learn from them.
"You make us all proud. When we think of our country, you are all our ambassadors. When America says Indian people are extremely intelligent. Indian people are masters of IT, Indian people are respectful. All these ideas that have come, they've come because of you and because of your actions and your behaviours," he said. (PTI)
"Exciting news! Mid-day is now on WhatsApp Channels

Subscribe today by clicking the link and stay updated with the latest news!"
Click here! Do you like to interpret your dreams?