"The demonetization decision was taken instantly, but the work on Ram Mandir has yet to begun. They (BJP) had said it would happen before the elections - which elections, 2019 or 2050?" Thackeray asked sarcastically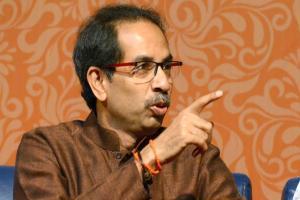 Uddhav Thackeray
Launching a fresh salvo at ruling ally Bharatiya Janata Party, Shiv Sena President Uddhav Thackeray on Saturday asked if the demonetization decision could be taken so quickly, why is the decision on building Ram Temple in Ayodhya still pending.
"The demonetization decision was taken instantly, but the work on Ram Mandir has yet to begun. They (BJP) had said it would happen before the elections - which elections, 2019 or 2050?" Thackeray asked sarcastically.
Talking to media persons here on a pre-election preparatory visit, the Sena chief said the same was the status of the Bharatiya Janata Party's other major policies like Uniform Civil Code, or abrogation of the Constitution's Article 370.
"There is no discussion on these important issues now, they are almost forgotten. You have the majority and should have implemented these... what happened?" he asked.
To a question on the recent controversy over distribution of the Hindu holy book Bhagavad Gita to students in 100 select colleges in Mumbai, Thackeray said "this was being done to hide the mess prevailing in the University of Mumbai".
"The students need to be given education relevant to modern times. The university is ridden with mismanagement, there are paper leaks, examination results are being delayed and other major problems. Instead of concentrating and solving all these issues, the education department wants to distribute Bhagavad Gita," Thackeray said.
Targetting Saudi Aramco's proposed Rs 3 trillion oil refinery and integrated petrochemicals complex coming up in Nanar, Ratnagiri, he reiterated his party's opposition to Chief Minister Devendra Fadnavis' pet project.
"The CM has assured that it will not be imposed if the locals are opposed to it. Whatever he may say, we are with the people of the Konkan region who do not want the project. We shall not allow it to come up," Thackeray declared.
Earlier, meeting with the Sena's Pune party office-bearers, he conceded that the Pune and western Maharashtra region was being ignored, "but that would not happen anymore".
"I have directed all the party leaders to pay special attention to Pune and they will work with renewed vigour. I shall also come here regularly to monitor the progress," he assured.
Catch up on all the latest Crime, National, International and Hatke news here. Also download the new mid-day Android and iOS apps to get latest updates
This story has been sourced from a third party syndicated feed, agencies. Except for the change in headline, the story has been provided "AS-IS," "AS AVAILABLE, without any verification or editing from our side. Mid-day accepts no responsibility or liability for its dependability, trustworthiness, reliability and data of the text. Mid-day management/mid-day.com reserves the sole right to alter, delete or remove (without notice) the content in its absolute discretion for any reason whatsoever.