'From last night. Very nice soulful evening,' said the NYC-based Meera Gandhi in her email, about this picture of the party she'd hosted to bring in Cherie Blair's 63rd birthday this Sunday (where the birthday girl's husband former British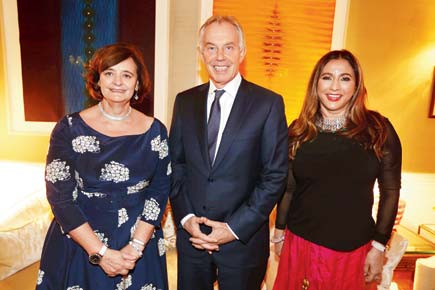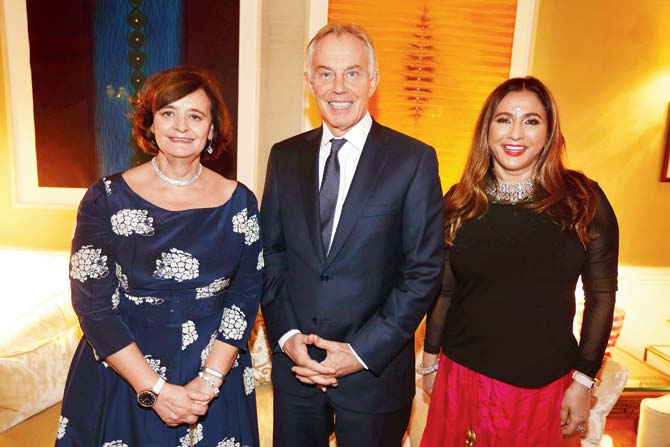 Cherie and Tony Blair with Meera Gandhi
'From last night. Very nice soulful evening,' said the NYC-based Meera Gandhi in her email, about this picture of the party she'd hosted to bring in Cherie Blair's 63rd birthday this Sunday (where the birthday girl's husband former British prime minister Tony Blair had helped blow out candles).
ADVERTISEMENT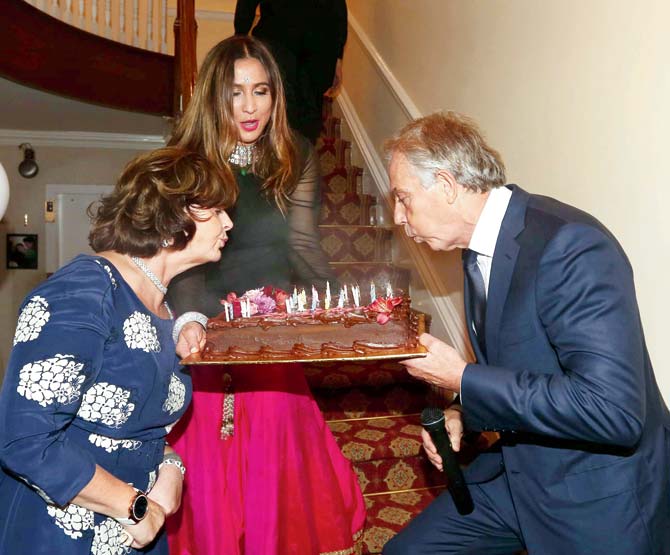 Tony Blair helps Cherie blow the candles. Pics/ Mohammed Jaffer-SnapsIndia
An erstwhile Mumbai chi mulgi, Gandhi is now a determined upper east side Manhattanite, living as she does in Eleanor Roosevelt's iconic brownstone and championing good causes while lunching with the best of 'em. Having left Mumbai for stints in Hong Kong and the Big Apple in the '90s, Gandhi visited the city of her school days as often as she could.
The last time we'd lunched with her was at a tony ladies lunch, where she'd told us about her 'The Giving Back Foundation', and the candle she'd created to raise money for charitable causes. But all work and no play is not the wont of Gandhi and Blair. Though the evening raised money for Cherie's foundation, there was also much dancing and a jiving to the DJ's choice of '80s rock and roll hits. Night Fever.
Sikander's fan boy moment
"The sun was out for a short while, and in that window, I played a round of golf with two football legends…" said actor Sikander Kher about this photograph along with former Manchester United footballing legends Paul Scholes and Ryan Giggs, and Rhodri on the Willingdon Club greens on Monday morning. The superstars were in Mumbai for a football tournament, and had decided to spend their morning playing a game of golf.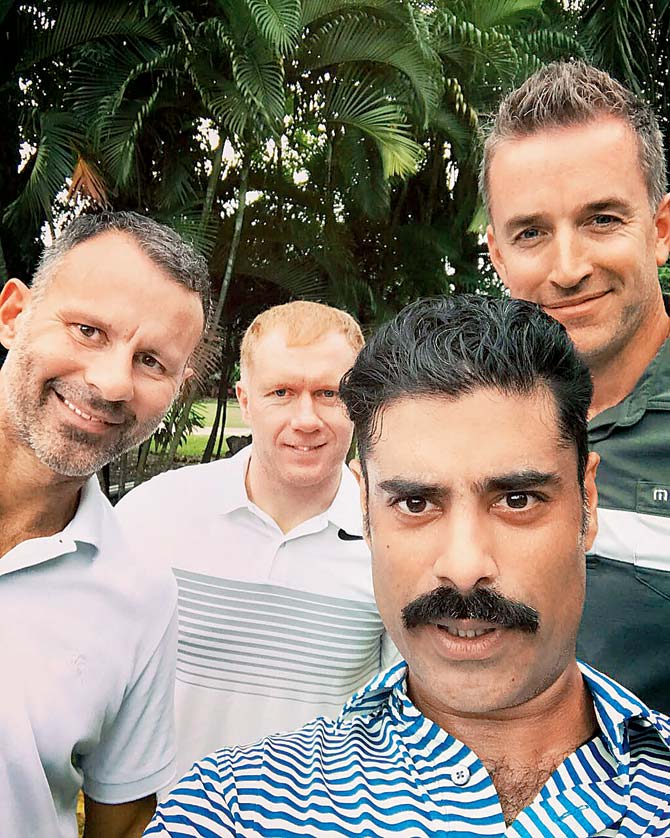 Sikander Kher with Ryan Giggs, Paul Scholes and Rhodri
Kher, the actor son of our dear friend the late Gautam Berry and Kirron Kher, who we have known from his toddler days, is also an avid golfer, and happened to be teeing off at the same time when he bumped into them and a game was suggested. "I spoke to them about almost everything aside from football," he said when we spoke yesterday.
"It was a fun but competitive round, and the high point was that I got to call them 'Scholesy and Giggsy'…" said a delighted Kher. "Also in golf when someone hits a good shot, it's also referred to as "ball", so when Paul Scholes hit a good one, I exclaimed "Ballllll Paulllllll,' and we all had a bit of a laugh..."
Pop-ups and top of the pops
It's raining pop-ups in the city. Yesterday, we found ourselves seated for lunch at Masque restaurant in Lower Parel, the brainchild of entrepreneur Aditi Dugar and Chef Prateek Sadhu. Masque had brought down chef Garima Arora, who shares their food philosophy and focus on fresh ingredients, and has trained under culinary legends like Gaggan Anand and Rene Redzepi during previous stints.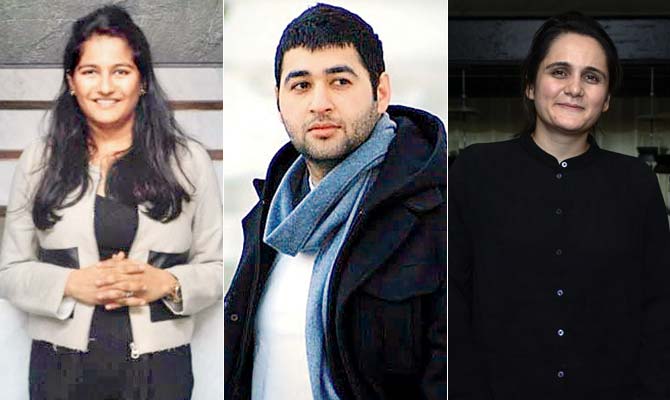 Aditi Dugar, Prateek Sadhu and Garima Arora
The two chefs had put together a 16-course combined menu featuring some of their signature dishes like duck doughnut, keema pao and chocolate paan. Wasn't this a bit too international for the city's palate? Evidently not. The eatery celebrates its first anniversary today, and it's been a year of triumphs.
The next year brings extensive travel and top line collaborations for Dugar, the mother of three, who also runs a top-end catering enterprise. (Phew!) And as if this were not enough, word on the street holds that her restaurant story will soon be on our screens, if plans work out. But more on that later.
The mountains call
It's that time of the year again, when the silly season is well upon us. Double and treble booked days, shopping festivals, card sessions, weddings, fashion extravaganzas, symposiums, opera, ballets – and the social whirl swirling as if on steroids.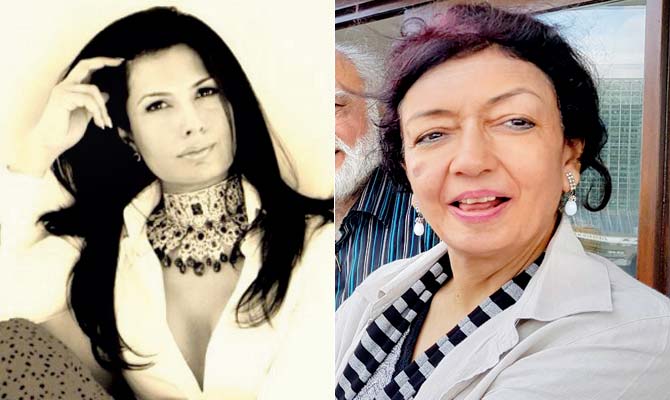 Ritu Beri and Niloufer Billimoria
Ritu Beri's newest instalment of her conclave will soon unspool in Delhi, our friend Niloufer Billimoria informs that this year's avatar of the Khuswant Singh Lit Fest hosted annually in Kasauli will be even bigger and brighter, and running into our friend Superna Motwane yesterday, we learnt that the Magic Bus Benefit fund raiser in support of Mumbai's street children will be even more sparkling and worthy this year.
As our friend, the Oolong tea-serving hostess, remarked through clenched teeth when we ran into her at an art auction. "Bring it."
The return of the prodigal
Unlike others, we have a nuanced view on many issues, predicated on the view that every thing is relative, especially people's moral judgments. For instance, battles ought to be mounted against addictions, not addicts and compassion called for in their handling rather than censure.
It is in this context the news of the substance abuse of one of the most brilliant entrepreneurs in his field, hailing from impeccable city stock had interested us. The young man, was known for his extreme extrovertism after his binge drinking, from going from a soft-spoken gentleman to a raving, dancing on table tops monsta,' especially at out of Mumbai celebrations.
Which is why when word comes in that he's back in town after a three month rehab many celebrated. With one of his enterprises' bigger initiatives around the corner, his return could not be more well timed. But will his business return to its old glory? The jury's out on that one. "Much loss was incurred due to his mood swings." How so? "Well, since his work involved much confidential information, people didn't trust him any more with classified material."
"Exciting news! Mid-day is now on WhatsApp Channels

Subscribe today by clicking the link and stay updated with the latest news!"
Click here!