The first intimation we received of the impending celebrations was a poster outside Antilia on Friday evening wishing Anant Ambani a happy birthday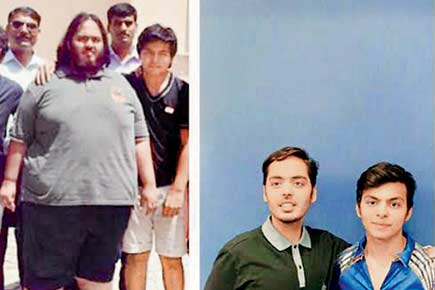 The first intimation we received of the impending celebrations was a poster outside Antilia on Friday evening wishing Anant Ambani a happy birthday. This was no ordinary birthday for Nita and Mukesh's youngest son. It was after all, his 21st, a traditional rites of passage and the official ushering in of adulthood. There was another reason to celebrate.
The young scion had lost a staggering 108 kilos, perhaps the world record in natural weight loss. The combined coincidence of gaining a year and losing kilos resulted in unprecedented celebrations at Mumbai's most famous residence. The speeches began with Aamir Khan, who took the mic and in his celebrated laconic conversational style, spoke about his own tryst with weight loss.
Neuro psychiatrist Dr Rajesh Parikh, a close family friend and godparent to the Ambani siblings, followed him with a short speech; Sachin Tendulkar spoke next and then MS Dhoni fresh from the IPL match and Rohit Sharma, and Salman Khan followed, each congratulating the beaming young man, said to have inherited his grandfather Dhirubhai's legendary grey cells, for his achievements.
The Ambani family was in full force with proud mother Nita and siblings Isha and Akash too taking the stage to deliver heart felt homilies. Father Mukesh's greetings were delivered on an AV, as he met guests like Zia and Jaydev Mody, Tasneem Mehta and Anu and Vidhu Vinod Chopra.
And the icing on Anant's cake? The fact that delighted mother Nita had ensured that the occasion saw the serving of all of the young man's favourite dishes. The reason? "He had achieved this staggering weight loss through 500 days of rigorous dieting with not a single cheat day," Nita explained. "We all ate pizzas in celebration," said a happy guest.
From Lower Parel to the Oscars
One of the wonders of contemporary life is that gowns worn for Oscar night, the world's biggest ball, are often produced in modest workshops in India.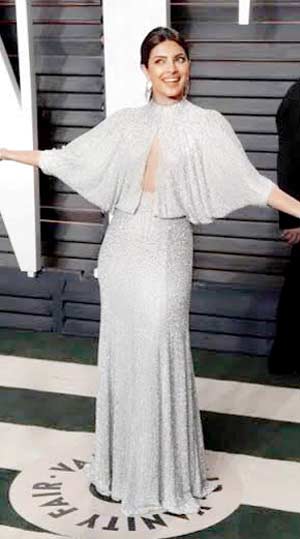 Priyanka Chopra
This was the case when India's very own Priyanka Chopra, who'd worn a Zuhair Murad 'naked' dress for the ceremony, changed into a two-piece pure silk silver gown by British designer Jenny Packham for the after party. "It was cut on a bias and fully studded with silver bugles beads and crystals," said our friend Chhitra Gidwani, at whose Lower Parel workshop the ensemble was worked on.
Incidentally, it is not known if the Duchess of Cambridge, currently in Mumbai will wear a Jenny Packham creation on her visit. She is one of the designer's most loyal clients and chose to wear her on both occasions when she left St. Mary's Hospital after giving birth to her children, Prince George and Princess Charlotte. If she did, it might just be possible that the gown was made in Lower Parel too. Nice!
Now in a perfume near you
The redoubtable Meera Gandhi, whose visit to Mumbai shores is being celebrated with as much gusto as you know whose, was at her feisty best on Saturday evening at the annual awards night held by a popular women's magazine.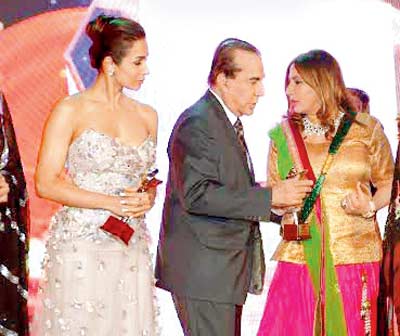 Malaika Arora, Nari Hira, Meera Gandhi
Dressed in peacock shades with a king's ransom of jewels, Gandhi had bounced on to the stage and performed a happy jig when called upon to launch her perfume called 'Giving,' on which she'd personally spent time in Normandy. "I don't believe that philanthropy ought to be a dire and sad affair. It should be celebrated with happiness," said Gandhi who has recently emerged from a divorce. "In fact my quality of life has improved," said the feisty MBA from Harvard who confessed that she'd been head girl of every school she'd attended.
The other confession she made was that her classmate from Cathedral, the dashing and internationally celebrated journalist Fareed Zakaria had harboured a schoolboy crush on her all those years ago. Sweet.
Master class with Khan
'Incorrigible' is a word that best describes Farah Khan. At the master class she delivered at a film festival on cinema on Saturday at the Liberty theatre, Farah was at her irreverent best, even as Osianama's founder Neville Tuli, with exquisite good humour and empathy teased the best out of the celebrated choreographer and director. Khan with refreshing candor, referred many times to her 'troubled childhood' and growing up as the poor cousins to Zoya and Farhan Akhtar, whose mother was her aunt, and who she would be eternally grateful to for their kindness. "I was dying to attend FTII but there was no one to pay my fees. But that meant that I learnt from directors like Mani Ratnam and Mansoor Khan on the job," said the director, who regularly interrupted her speech to point out members of the audience who were asleep. ("It's a free AC auditorium," laughed Tulli, "what do you expect?")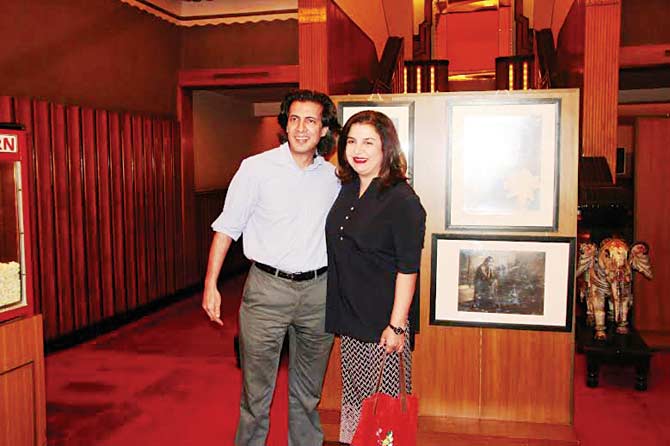 Neville Tuli and Farah Khan
But all this geniality did not stop Khan from landing a few sharp short kicks in the direction of her peers: the unprofessional ethics of another famous choreographer were alluded to, along with her sartorial style (salwar kameez with dupatta tied around her waist), as was the unfairness of directors getting the credit for her painstakingly choreographed dances ("I called up Karan Johar when I saw a list of 36 of his best songs on a recent flight-and all 36 had been choreographed by me.") But the best was when Khan shed light on some of the film industry's most iconic music, like how RD Burman composed the entire music of 1942 a Love Story's Ek Ladki by singing it straight from the freshly written lines presented to him by Javed Akhtar. "He just sang the whole song with not even a pause," said Khan. Of such stories legends are made.