On Rahul's disqualification as MP, Priyanka says Modi's 'arrogant' govt is suppressing voices just to save Adani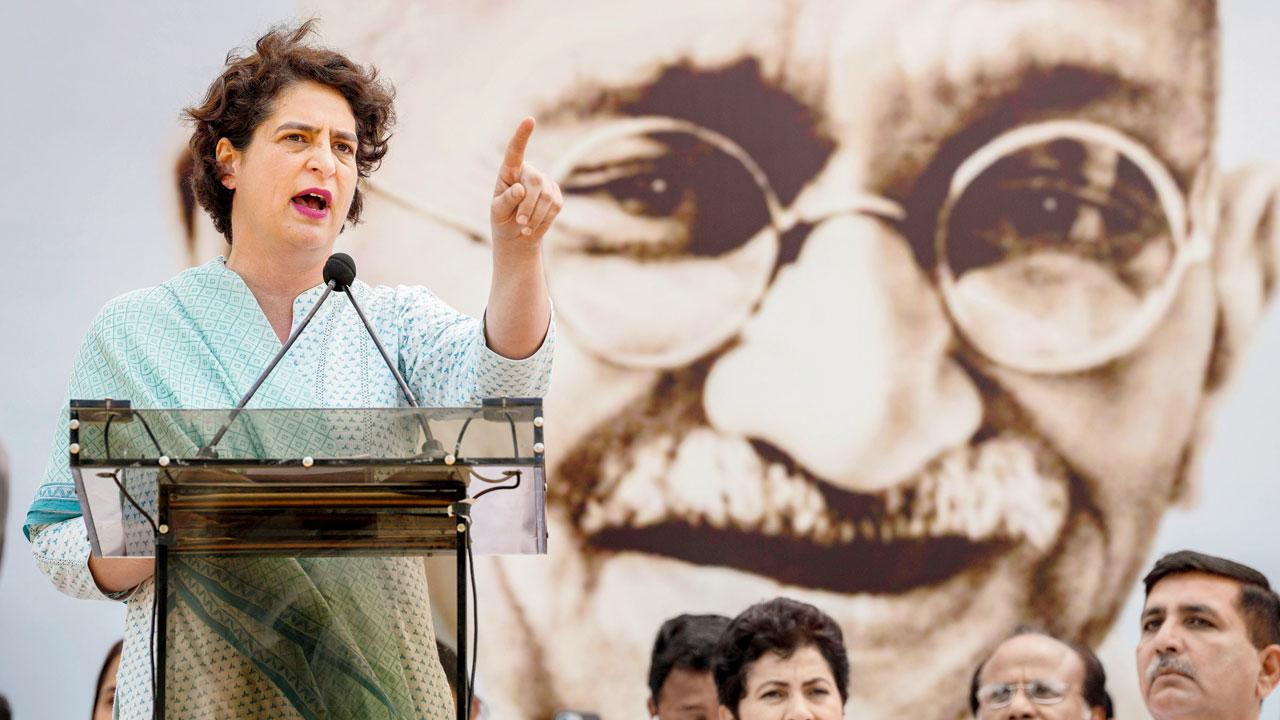 Congress leader Priyanka Gandhi Vadra speaks during the Sankalp Satyagraha against the disqualification of Rahul Gandhi from the Lok Sabha, at Rajghat in New Delhi, on Sunday. Pic/PTI
Congress workers across the country on Sunday organised "Sankalp Satyagraha" to protest against disqualification of Rahul Gandhi from Lok Sabha, with party president Mallikarjun Kharge lashing out at the ruling BJP and asking why it is pained if fugitives such as Nirav Modi and Lalit Modi are criticised. While in Delhi, the police denied permission to the Congress to hold its protest programme at Rajghat, the police in Gujarat detained several party functionaries for holding the stir.
Day-long protest
ADVERTISEMENT
In Delhi, the Congress put up a stage outside Mahatma Gandhi's memorial for its day-long protest programme after the permission was denied. In her address at the protest, Congress general secretary Priyanka Gandhi said Rahul was disqualified for questioning PM Narendra Modi on industrialist Gautam Adani.
"You couldn't answer. You got scared. And when they are unable to answer questions, they try to subjugate the people using their might. They try to crush those who raise questions. Have you ever thought about it? Open your eyes, this entire government, the ministers, MPs… why are they trying to save one man? What is in this Adani that you are giving the entire country's wealth to him? That you get rattled when his name is taken … and the scurry to save him," the Indian Express quoted Priyanka as saying.
Also Read: Gandhi's turn to return the gift
'Insulting the family'
She added that a martyred prime minister's son, who walked thousands of kilometres for national unity, can never insult the country. She was referring to her father and late PM Rajiv Gandhi who was assassinated in 1991. Priyanka said the time had come to raise voice against an "arrogant government" as barring Rahul from contesting elections does not bode well for the country and its democracy.
"My family's blood has nurtured democracy in this country. We are ready to do anything for this country's democracy. Great leaders of the Congress laid the foundation of democracy in this country. If they think they can scare us, they are wrong. We will not be scared," she said.
"My father's dead body was under this tricolour, and my brother was following on his footsteps, you insult that martyr in the Parliament. You call the martyr's son Mir Jafar, you point fingers at the Nehru family. You insult the Kashmiri tradition where a son uses his father's surname," she added. In February, PM Modi took a dig at the Nehru-Gandhi family over a large number of schemes named after its members and asked why they are "scared of keeping the Nehru surname".
23
Day in March Rahul was convicted for defamation
This story has been sourced from a third party syndicated feed, agencies. Mid-day accepts no responsibility or liability for its dependability, trustworthiness, reliability and data of the text. Mid-day management/mid-day.com reserves the sole right to alter, delete or remove (without notice) the content in its absolute discretion for any reason whatsoever