The children, identified as Pradeep (12), his sister Divya (8) and Janvi (6), hail from Mahad. While the father is a drunkard, the mother has moved in with her boyfriend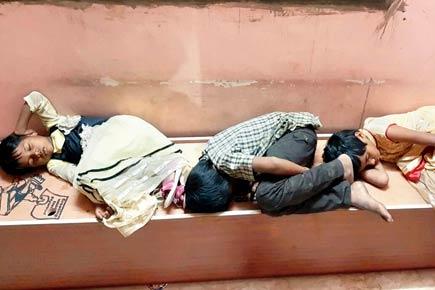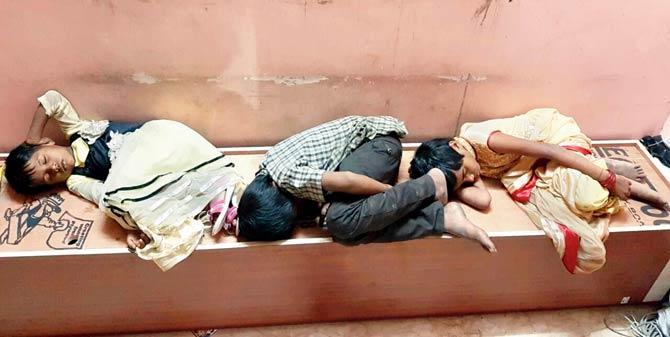 An officer rescued the kids when he found them begging at the station
After being abandoned by their parents, these kids must have never thought that a policeman would come to their rescue.
While on patrol duty at the Khadki rail junction, senior inspector of Khadki police station Rajendra Vibhandhik spotted a 12-year-old boy begging, and later, noticed that he shared the food he got with two girls, one of whom was physically challenged.
Sensing that something was wrong, he immediately took the children to the police station. On talking to them, Vibhandhik found out that their parents had left them at the railway station, saying they were going out in search of food and a place to stay. But they never returned, the children told Vibhandhik.
The children, identified as Pradeep (12), his sister Divya (8) and Janvi (6), hail from Mahad. Their parents took them to Pune eight months back for better educational prospects.
Left helpless
Pradeep recalled, "My father was an autorickshaw driver, but he also used to work as a farmer to sponsor our education. Eight months back, our parents brought us to Pune for better job and educational prospects. After we reached the station, they told us that they would go out in search of shelter and food and promised to return soon. But they never turned up."
He also mentioned that his father had a drinking habit and his mother was having an extra-marital affair.
"For two days I did not eat anything. When I contacted my mother, she said that we would have to manage our lives on our own, as she will not return. Even her boyfriend abused me. Thereafter, I started begging and cleaning the platforms, so that I could get some money and look after my sisters. We even got beaten up at times for begging," Pradeep added.
Speaking to mid-day, Vibhandhik said, "When I approached the children, they were very scared as I was in uniform. Just to make the situation comfortable for them, I gave them some food and clothes. After Pradeep spoke to me, I tried contacting their parents. We could trace his father, but he was in an inebriated condition. For a day, the children stayed with me, as they did not want to go to their father. I approached a social worker, Yogesh Malkhare, who has agreed to sponsor their education."
Return to safety
Malkhare, who is a banker and also runs Smile Plus social foundation in Pune, said, "The children do not want to leave each other. But it is not possible to keep them together as Divya is physically challenged. At present, they have been put up at an Alandi-based NGO."