Fireworks? Maybe. Drama? Definitely. Confessions of being a criminal? Not on the list when Ram Gopal Varma and Vivek Oberoi got together for a face-off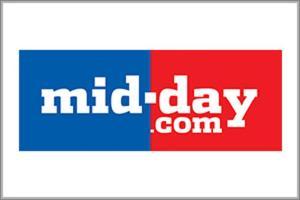 Fireworks? Maybe. Drama? Definitely. Confessions of being a criminal? Not on the list when Ram Gopal Varma and Vivek Oberoi got together for a face-off
It took seven years for Ram Gopal Varma and his discovery Vivek Oberoi to get back together for Rakht Charitra. After launching Vivek in Company (2002), Ramu quickly wrapped up two other films, Road and Darna Mana Hai with Oberoi before sending him out of his factory,u00a0 to make his own inroads into the industry. The buzz was something had soured between the two; but Ramu has another story to tell. The two came to face-to-face at a suburban club. Oberoi wolfed down an entire chocolate bar, while Varma
relished taking potshots at him. Excerpts from their chat:




Vivek, you said you wanted to play Ram Gopal Varma in a film.
V ivek Oberoi: What fascinates me is his mind; the ability to notice things which I wouldn't notice in a 100 lives. That is reflected in his cinema too. He looks at even stereotypical characters differently and gives them a unique colour.
Ram Gopal Varma: But that doesn't explain why you want to play me.
VO: Isn't it fascinating to play someone who looks at things differently?
RGV: But you can't put the camera in the mind, no? I'm also curious to know how you would play me.
VO: I don't want to reveal the details (laughs). I'm very happy for society at large that Ramu Sir chose to be a filmmaker and not a criminal.
RGV: Thanks. But he knows that I'm a soft-hearted guy.
VO: That reflects in your films (laughs uncontrollably).
RGV: Vivek is laughing; what can I do? I can't even kill a mosquito. When a mosquito is biting me, I gently brush it away.
ADVERTISEMENT
Ramu, would you create a character on Vivek's real life persona?
VO: It would be so boring!
RGV: No way! He is the most boring guy I have ever met. He's into philanthropy and building schools for kids. Whatever he does, I'm not into it. I'm highly anti-social while he is the opposite.
VO: But he is very gentle with mosquitoes.
RGV: It is true. I'm anti-social in theory, not in practise.
Would you say Rakht Charitra is a biopic of Paritala Ravi?
RGV: I don't think it is a biopic. A biopic would be a true-life depiction of a person. My film is inspired. I have tried to catch the spirit of what the person stood for; rather than a true depiction of what he was. The original story happened over a span of 20 years; but we are telling the story in less than two hours.
Why did you choose Vivek?
RGV: He is (violent). He does all this philanthropy to redeem himself. I know for a fact he does all this to hide; or else people will realise what his true nature is.
Vivek, do you agree?
RGV (interjecting): I know of his crimes, which the Mumbai police have told me about on a one-to-one basis. If he gives a different answer, I'm going to bring out the records.
VO: Mere pass file hai!
RGV: Unke pass maa hai toh mere pass file hai!
Seriously, Vivek, would you call yourself a violent person?
VO: I don't believe in violence. But, unlike Paritala Ravi, we live in a world which gives us the luxury of choice ufffd whether to be violent or not. But life doesn't give this option to some people; they need to be violent to survive. This is how it is in some parts of our country.
Is either of you capable of violence?
VO: I don't think he is physically violent, but the violence in his mind scares me.
RGV: Thanks for the compliment. I don't think Vivek is violent; I don't believe anyone is violent. I'm primarily a psychologist; I like to study extreme people. I like to learn why they did what they did. In school, I was fascinated with bullies who pinched and pulled hair. I graduated to studying gangsters. Studying people who are violent doesn't make you violent. A zoologist can study snakes, but that doesn't make him a snake. I have seen Vivek shout, get angry and want to beat up somebody. Have you ever seen me do that?
VO: Never.
Vivek was your blue-eyed boyu00a0 after you launched him in Company.
RGV: I'm not a launching pad. I was making a film and he was fantastic for the part. Later, I did intend to give him a more complex, more challenging role in Rakht Charitra.
Vivek, did you decide to part company with RGV?
VO: No, I was always waiting to work with him.
RGV:u00a0He is lying. I don't have a problem with anybody. I'm too busy. But Vivek had a problem with me.
VO: (laughing) Absolutely untrue.
RGV: Uski hassi chilla chilla ke bol rahi hai ke yeh jhooth hai. He was looking forward to working with me, I was looking backward to work with him. Now, you read between the lines.
Why do you think Vivek's career didn't take off?
RGV: No one can predict what will work. It is very easy to advise but only the person going through it understands it best. I would like to see Vivek in intense, hard-hitting roles. But when Kyun Ho Gaya Na didn't work, I didn't say 'I told you', because I had told him the same thing about Saathiya, and Saathiya worked.
Vivek, what has changed since the heady Company and Saathiya days, when girls went bonkers over you?
RGV: Girls are still mad. I saw that in Ranchi, and now that Bengaluru girl (Vivek's fianc ufffd Priyanka Alva is from Bengaluru) has also gone mad over him. What about that? She is my latest patient; I would like to analyse any girl who falls in love with Vivek. We will make a film on her.
VO: Sir! Sir! Mind blowing! See, each of us has a journey. Unless you make different choices, you won't know what is going to work. I came with a lot of
passion and enthusiasm or over-enthusiasm; and tried to grab a bite of everything from the buffet, which often leads to food poisoning.
Ramu, do you think Vivek is marriage material?
RGV: I'm not a girl so I can't see him in that light.
Vivek, do you recommend marriage to Ramu?
VO: You want me to recommend him to a girl for marriage. That would be really inhuman.
RGV: Superb! Inhuman is the right word; for a change you gave the right answer.
Do you think the fact that Ramu makes so many films dilutes his talent?u00a0
VO: I'm very happy that he is constantly pre-occupied with films.
RGV: Because he thinks I would be a gangster otherwise.
VO: You would be the first nuclear terrorist. He is very dangerous, so it's good he is occupied in making films.u00a0

If Ramu came to you with a script like Kuch Kuch Hota Hai, would you do it?
VO:God, I would pay big money to see that day.
RGV: I think it is a great idea, thank you for giving it. My next film will be Kuch Kuch Hota Hai ...Vivek, will you do it?
VO:Of course, sir!
So, who has the best moustacheu00a0-- Ram Gopal Varma, Vivek Oberoi or Shatrughan Sinha?
RGV: Shatru sir doesn't have a moustache in the film. I like Vivek's moustache because it has an attitude and it makes a statement. Mine is very informative.
VO:I think I like my moustache the most.
Bollywood News Service
"Exciting news! Mid-day is now on WhatsApp Channels

Subscribe today by clicking the link and stay updated with the latest news!"
Click here!