On Veerappan's 13th death anniversary today, we look back at the dacoit's active years as a notorious criminal, sandalwood smuggler and a poacher in the jungles of Karnataka and Tamil Nadu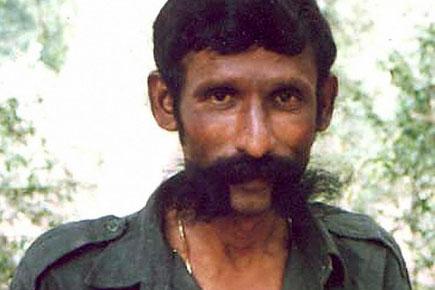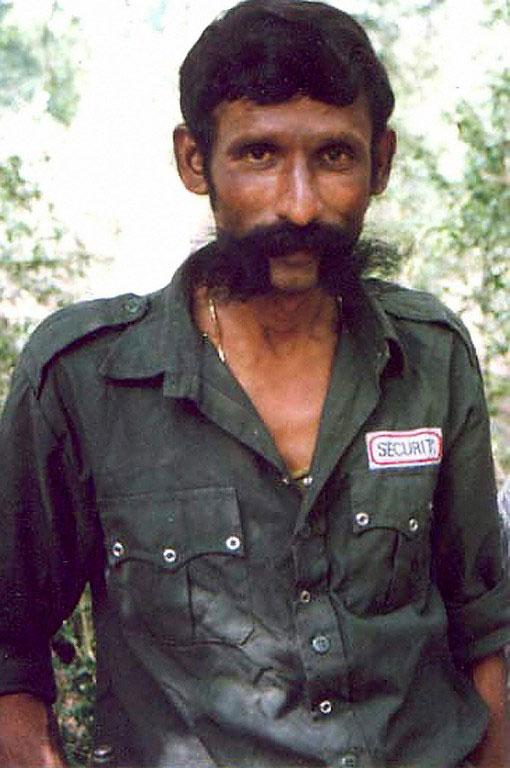 Veerappan. Pic/AFP
Veerappan was born in Karnataka's Gopinatham village in a Tamil Vanniyar family of cattle-grazers. He started as an assistant to his relative Sevi Gounder, a notorious poacher and sandalwood smuggler and began his career in crime in 1970.
At first he started as sandalwood and ivory smuggler, killing elephants for ivory poaching but later started killing those who opposed his activities. His first murder was committed at 17 years of age and his victims included forest officials, police officers and informers.
When the forest laws were tightened, Veerappan took to hostage-taking for ransom and used the funds to keep him going.
He was active for years in the forest lands of Karnataka and Tamil Nadu. In 1987, Veerappan kidnapped and murdered a forest officer from Tamil Nadu, which first brought him government's attention. His well-known killings included a senior IFS officer in 1991, and an ambush of a police party including a senior IPS officer. In 1990, the Karnataka and Tamil Nadu governments formed a Special Task Force to catch him and in the year 1992, his lieutenant Gurunathan was killed by the Karnataka task force.
Initially, the bandit commanded a gang of over 100 persons. But, over the years, due to the frequent police operations it was reduced to somewhere between four and six.
On 30 July 2000, he kidnapped Rajkumar, the famous Kannada actor and three others from a village near Tamil Nadu-Karnataka border. Negotiations were conducted but later the actor, held for 109 days, was finally released without harm in November 2000.
For over a decade, Veerappan defied the state governments of Karnataka, Tamil Nadu and the Border Security Force. He was wanted for killing approximately 184 people, including senior police officers and forest officials. He was also wanted for poaching about 200 elephants and smuggling ivory worth 2,600,000 dollars and about 10,000 tons of sandalwood worth approximately 22,000,000 dollars. A reward of 50 million rupees was offered for his capture, yet he dodged arrest for 20 years until killed by police on 18 October 2004.
Veerappan and two of his associates were killed by the Tamil Nadu Special Task Force in Dharmapuri district of Tamil Nadu. He and his men were lured into an ambulance by an undercover policeman under the pretext of taking them for medical treatment. The police surrounded the ambulance and the bandits were killed in the resulting gun battle.