Farooq Abdullah also said the Kashmiri Pandits need a balm on their wounds which is possible when love replaces hatred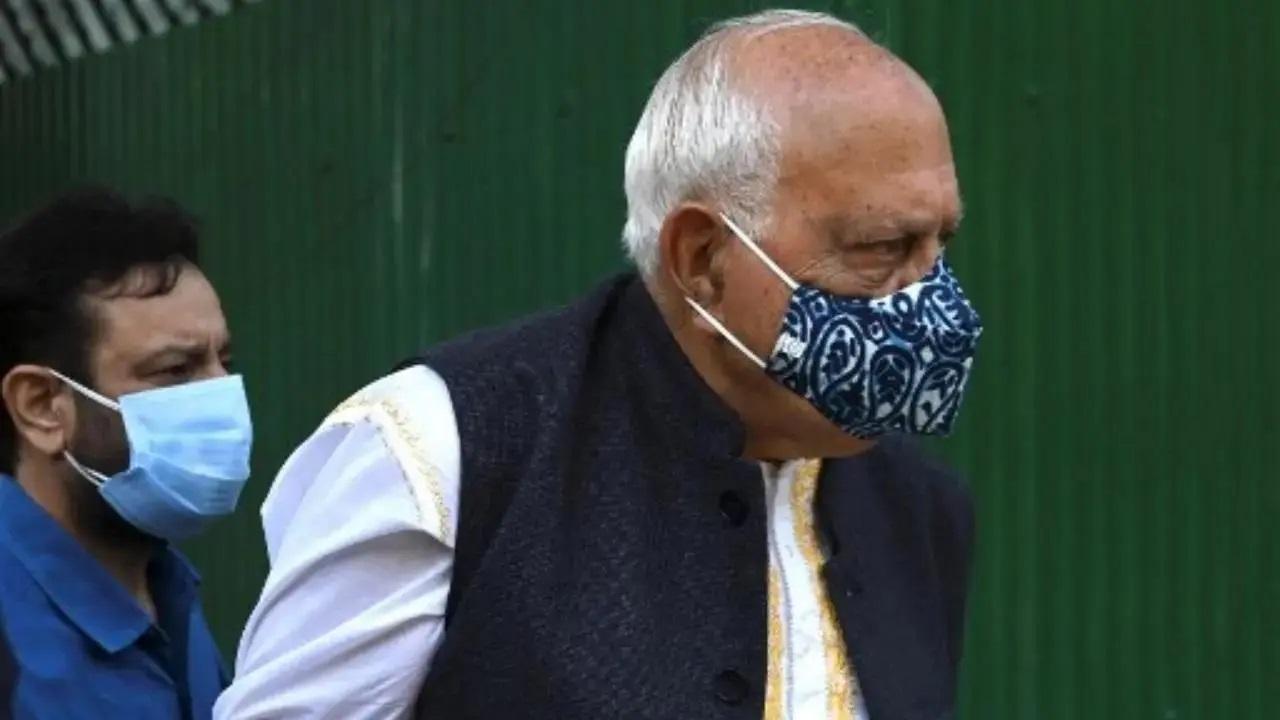 National Conference president Farooq Abdullah. File Pic
Terrorism is alive in Jammu and Kashmir and can only be ended by holding dialogue with Pakistan, National Conference president Farooq Abdullah has said, lashing out at the BJP for "spreading hatred" which is a danger to the integrity of the country.
He also said the Kashmiri Pandits need a balm on their wounds which is possible when love replaces hatred.
ADVERTISEMENT
"I am going to give you in writing with my blood that terrorism is alive and it will not end till you start talking to Pakistan. When you can talk to China which has entered our borders and land 16 times, why are you shying away from talks with Pakistan," Abdullah, a former chief minister, told reporters here on Thursday.
He reached Kathua from Jammu by bus and participated in the Rahul Gandhi-led Bharat Jodo Yatra which entered this entry point via Pathankot in Punjab Thursday evening to start the last leg of his foot march from Kanyakumari to Kashmir.
Also Read: Not ready to accept India is communal; fight for Article 370 will continue: Farooq Abdullah
Asked whether talking to Pakistan will end terrorism in Jammu and Kashmir, he said, "We have to make an attempt but they (BJP government) are reluctant. They have to spread hatred to pitch Muslims and Hindus against each other for their vote bank."
"They are spreading hatred without caring for the safety of Hindus who are living in Pakistan and the Muslims of our country," he said, adding, "If hatred is not removed from the hearts of the people, there is a threat to the integrity of India."
"A film (The Kashmir Files) was released to spread hate and use their plight to garner votes. They (BJP) have been shouting for their return and rehabilitation but what happened? Even those who have been given jobs under the Prime Minister's package in Kashmir are facing threat to their lives due to terrorism but they do not see the danger to their lives," he said.
Abdullah said both Kashmiri Pandits and Muslims suffered and even his workers and ministers were killed in large numbers since terrorism began in Kashmir Valley. "One of my ministers was blown to pieces by a bomb planted in his car. They were killed for upholding the tricolour. We had a choice to choose between India and Pakistan in 1947 but we preferred India as we believed that we will live honourably and with rest in the country."
"The more they spread hatred, the more they are moving towards getting engulfed by it. We need a balm and to spread the message of love," he said, adding the lord lives in the hearts of everyone and not in mosques and temples alone and "we need to respect and honour each other." 
This story has been sourced from a third party syndicated feed, agencies. Mid-day accepts no responsibility or liability for its dependability, trustworthiness, reliability and data of the text. Mid-day management/mid-day.com reserves the sole right to alter, delete or remove (without notice) the content in its absolute discretion for any reason whatsoever.