If such a term could be used for an event this well-heeled, there was a virtual stampede last evening at Asia Society India Centre and Brookings India's launch of 'India Transformed: 25 Years of Economic Reforms,' by distinguished economist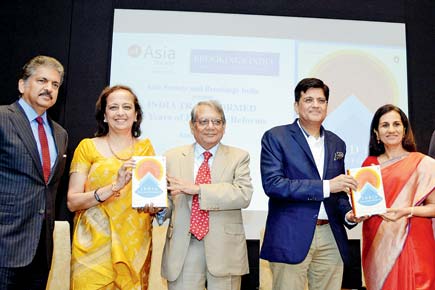 Anand Mahindra, Piyush Goyal, Chanda Kochchar, Viral Acharya and others at the launch of Rakesh Mohan's book
If such a term could be used for an event this well-heeled, there was a virtual stampede last evening at Asia Society India Centre and Brookings India's launch of 'India Transformed: 25 Years of Economic Reforms,' by distinguished economist and civil servant Rakesh Mohan. Earlier this month, the book had been released by former PM Dr Manmohan Singh, followed by a keynote address by Fin Min Arun Jaitley, with a panel discussion between Arvind Subramanian, Pratap Bhanu Mehta and Uday Kotak, moderated by TN Ninan.
ADVERTISEMENT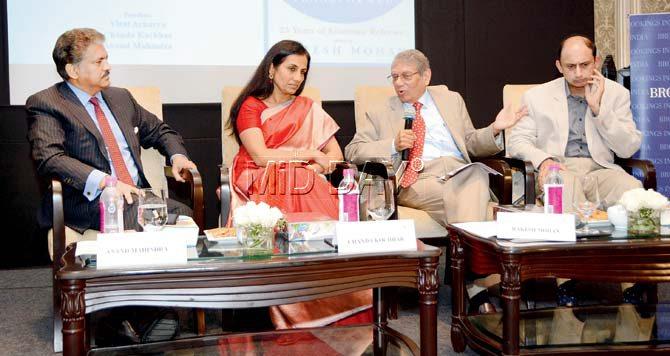 The panel discussion. Pics/Sneha Kharabe
Mumbai had not done too badly either with Minister of State with Independent Charge for Power, Coal, New and Renewable Energy and Mines Piyush Goyal delivering the keynote address, followed by a panel discussion with Chanda Kochhar, Anand Mahindra, Viral Acharya and Mohan himself.
As is known, the former Deputy Governor of the Reserve Bank, had played a significant part in Indian economic reforms in the 1990s, and the book, marketed as a 'ultimate compendium on the 1991 reforms' with contributions from the likes of Montek Singh Ahluwalia, Mukesh Ambani, Sanjaya Baru, and R Gopalakrishnan, had been described as 'low-decibel and deeply analytical'.
No surprises then, that last evening, for a certain kind of Mumbaikar, all roads had led to a Colaba five-star, where according to insiders, 400 people had earlier RSVPd their attendance confirmations. Spotted on the occasion were the likes of Rajiv Lall, Nadir Godrej, Hemendra Kothari, Sunil Alagh, Mihir Doshi, Camellia Panjabi and a host of Mumbai's money men and women.
According to attendees, the highlight of the evening was when Mohan, a Senior Fellow at Yale, quoted Manmohan Singh citing Victor Hugo's famous, 'No one can stop an idea whose time has come,' to describe the events of 1991.
The next big ticket gathering of this nature of course will be at the launch of the book that everyone has been waiting for. Former Governor RBI, Raghuram G Rajan's 'I Do What I Do', on his stint at the RBI, and will be published exactly one year to the day he exited his high-profile position, on September 5! Meanwhile, the best takeaway line from last evening's event? 'The RBI panelist arrived late, like the reforms.'
Upwardly mobile humour
Self-styled humorists often forget the cardinal rule of the game — that it ceases to be humour if it is self-serving. Nowhere is this more apparent than on social media, often a platform for self-promotion.
One is reminded of this socialite, who, while commenting on a friend's travel pictures, included her entire itinerary of future travel unasked. As in: "Next week, I go to Zurich, then Budapest, then Milan, then Rome, then Venice, then fly to LA…" A bit like the down and out but upwardly mobile film hack, who'd once posted that he was on the verge of 'flying by plane to Chennai' for an interview.
Much in the same vein are the attempts at humour by the self-styled humourist whose every gag quite pointedly makes sure to promote an idea of his exalted status and status symbol as someone who's 'arrived'. Tch Tch.
The travelling chef
We endorse anyone who has the confidence and ability to get out of the rat race, and take a sabbatical pursuing education, travel and new ideas. And chef Vicky Ratnani appears to be doing exactly this.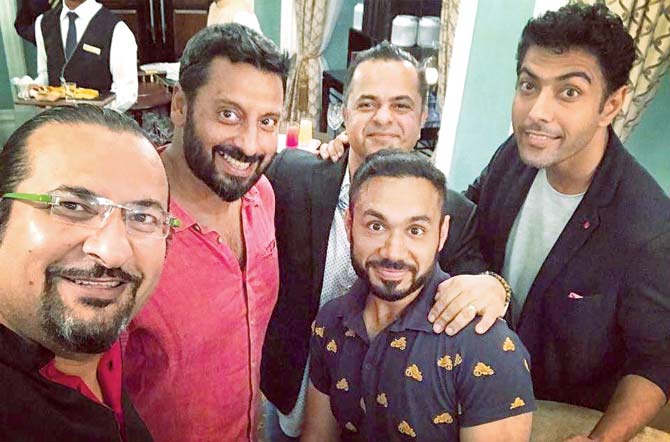 Vicky Ratnani with Rocky and Mayur along with Ranveer Brar and Saransh Goila
The winner of a best Indian Chef award in 2015, whose cooking show was delightfully called 'Vickypedia,' is currently involved with providing nutrilicious food (healthy salads, power pack meals, etc) for a popular app, and also fronting a boutique tea cafe with light vegetarian food in Ahmedabad and Mumbai, having launched the high-end menu at an upscale multiplex chain. And of course, there is travel for his popular web-based food shows.
"Currently, the cuisine of Peru is on, and I was in Australia researching it, and the next halt is the US and the Caribbean Islands," he said. This picture of a slew of chefs at a recent tourism event in Mumbai includes TV anchors Rocky and Mayur, and chefs Ranveer Brar and Saransh Goila.Have a ladle, will travel.
As he lived, so he dies
This is not necessarily relevant, but news that brilliant and socially responsible entrepreneur and socialite David Tang, who has been given a month to live by his doctors, has invited his friends to the Dorchester hotel for a "farewell party," has moved us no end.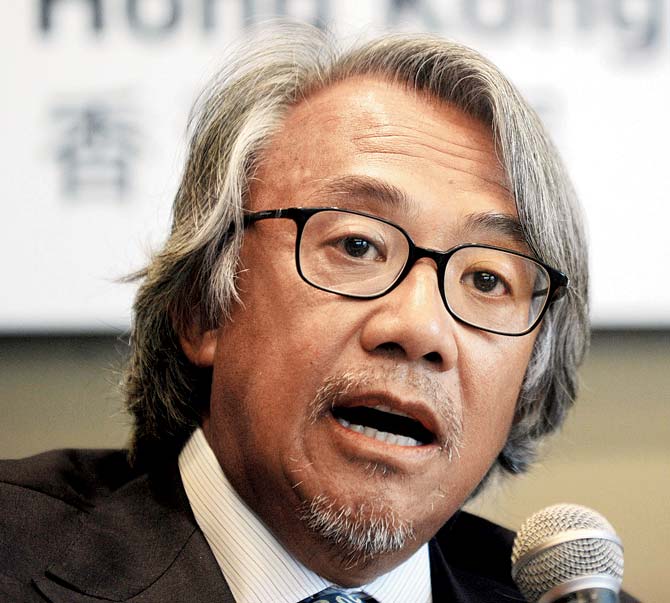 David Tang
The 63-year-old billionaire, who once taught philosophy at Peking University, and who set up a series of clubs, restaurants under the label Shanghai Tang, and had been fighting cancer and other health problems, recently promised his guests 'jolly merriment' and 'a lot of embraces'. "I thought the best way to go would be to give a party where we can see each other at least one more time, rather than at a memorial service where I shall be dead as a dodo," he said.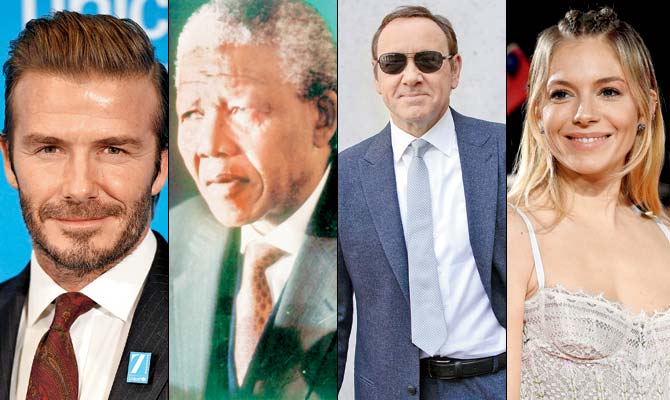 David Beckham, Nelson Mandela,  Kevin Spacey and Sienna Miller. Pics/AFP
We cannot think of a more graceful way to bow out. Incidentally, Tang's highly evolved nature has been evident through his sterling acts of philanthropy and kindness throughout his life and has raised large amounts of money for a diverse number of charities. He is also said to have employed a vast number of differently-abled people in his businesses. With friends like Nelson Mandela, the Beatles, Jude Law, Sienna Miller, Kevin Spacey and David Beckham, it could be said that Tang died as he lived. In grace and style.
"Exciting news! Mid-day is now on WhatsApp Channels

Subscribe today by clicking the link and stay updated with the latest news!"
Click here!