Soon after the news of demise of yoga guru Bellur Krishnamachar Sundararaja Iyengar aka BKS Iyengar went public, his students, politicians and celebrities expressed their disbelief and grief while offering condolences to the Iyengar family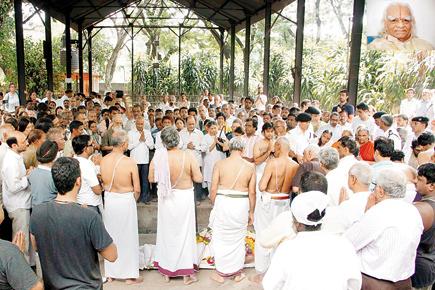 Bellur Krishnamachar Sundararaja Iyengar Farewell
World-renowned yoga guru and founder of the Iyengar School of Yoga, B K S Iyengar breathed his last in a Pune hospital around 3.15 am yesterday. The 95-year-old Yogacharya was put on dialysis since Sunday after suffering renal failure, but failed to respond to the treatment due to heart problems. Iyengar was admitted to hospital after he complained of acute breathlessness and palpitation a week ago. He is survived by five daughters and a son.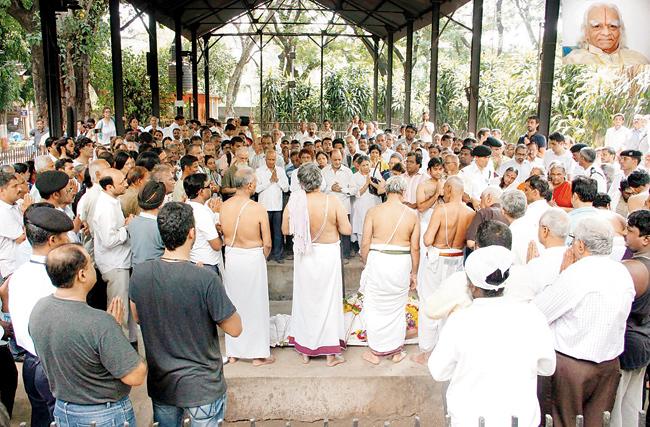 Final Farewell: Last rites being performed on BKS Iyengar's body at the Vaikunth Smashan Bhoomi in Navi Peth yesterday

Students speak
Gabriela Corsico, one Iyengar's Italian students who attended his funeral, said he had learned yoga from him in 1990. "I lost my father. I can't express my loss in words. But I'm sure that he will always be with me through his teachings."
French national Juliette said, "Attending the funeral is his final gift to us. A lot of other students and yoga gurus wanted to come here, but couldn't because in India cremation is done on the day of the person's demise. We are sad, but are sure that his teachings will be passed on one form one generation. His work is immortal and will remain with us."
Nici from Germany said, "We will continue to tread the path of his preaching and spread his traditions. He bonded well with all his students, irrespective of their age. Lots of yoga gurus will come and go, but for met the void he has left behind can be filled by none."

Politicos speak
State BJP chief Devendra Fadnavis said, "He was the person who took yoga to the West and became the Yogacharya. The recovery he made from his ailments in the past were all due to yogabhyasa. He helped a lot of people lead disease-free lives by teaching yogavidya. Iyengar Yoga has different methods and style."

BJP MP Anil Shirole said, "Padma Bhushan Yogacharya made immense contributions to the city as well as the society. He lived what he preached. He will always remain one of the pioneers of yogavidya."

Former Congress MP Suresh Kalmadi said, "It is not only a loss for the nation, but an irreplaceable one for the world too. He was one of the 100 most influential persons in the world, and we are proud that he was from Pune."

Celebrities speak
Noted actor Dr Mohan Agashe said, "He was my neighbour. So apart from being my yoga guru, we shared a wonderful personal bond. People like him are born once in centuries. He followed what he taught. He used to say that the body will die, but the Atma (soul) will survive, and his soul will survive in this world for sure. He has helped a lot of people through his work. So he will always be there with us." Ratna Pathak Shah said, "He was a great yoga guru. I liked his eyebrows a lot." Rajiv Bajaj, MD, Bajaj Auto said, "I feel like I have lost my mother." Rev Dada J P Vaswani, spiritual head of Sadhu Vaswani Mission, said, "Shri B K S Iyengar was a yogi par excellence. His body appeared to be made of rubber. He could mould it, as he liked. His faith in the Guru was great. His Guru (in the South) had charged him with the task of spreading yoga in Western countries. He was the first to carry the message of Yoga to Europe. They came in batches to him and they called him their Guruji. He believed that the true test of civilization was not the census, nor the size of the cities. No, but the kind of man the country turns out. Fragrant be his memory."

Familyspeak
Geeta Iyengar aka Geeta didi, his daughter and a yoga teacher, said, "He had told us a few days ago that 'you can treat my body, but my soul is happy and fine. I have done all the work that I was supposed to do'. He will be alive though his teachings, the entire family as well as his students feel the same. His Sadhana, we will continue till the end. I'm glad that we will have his spiritual knowledge with us always."
ADVERTISEMENT
"Exciting news! Mid-day is now on WhatsApp Channels

Subscribe today by clicking the link and stay updated with the latest news!"
Click here!