Parsi museum caretaker at Udvada, who lost both legs in Sept, will be getting permanent prosthetic legs in a fortnight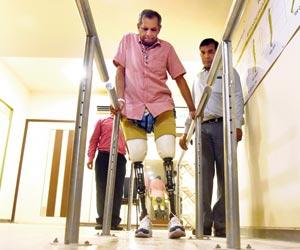 Forty-six-year-old Aspi Sepoy, caretaker of the Udvada Parsi Museum, who lost his legs in a train accident on September 16, is already learning to walk again – this time, with a pair of prosthetic legs. Sepoy came under a train at Udvada station while trying to get on board.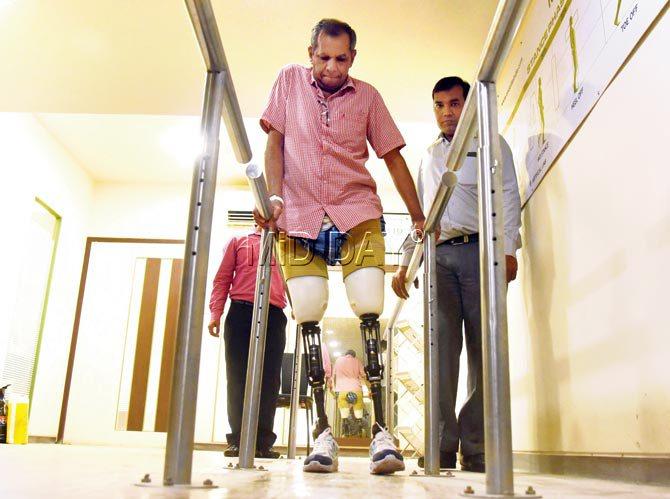 Aspi Sepoy seen practising to walk with prosthetics at Endplate Prosthetic and Orthotic Centre in Mahim. Pics/ Nimesh Dave
He has been receiving treatment at the Parsi General Hospital ever since, with the generous Parsi community having footed all his medical bills. The next step in his treatment, which is finding him a pair of prefect prosthetic legs, has already been set in motion.
'I am confident of walking again'
For the past two weeks, Sepoy has been visiting the Endolite Prosthetic and Orthotic Centre in Mahim, where doctors have been trying different prosthetic limbs on him in an effort to find the perfect match. "In the beginning, the artificial legs used to cause me a lot of pain," said Sepoy, making it clear that the pain didn't dampen his optimism. "During the first couple of sessions, there used to be 4-5 doctors around me when I would try on both the legs. They would make me stand without any support, to see if I could balance myself. This was the first thing I was taught – to balance myself. As both my legs are missing, walking on these prosthetic limbs is, for me, like learning to walk all over again, just like an infant."
Also read: Udvada Accident Victim Says, 'I Will Stand On My Feet, Take The Train Again'
Now, Aspi has progressed to walking with his new legs with the help of parallel bars. "I have not been given permanent prosthetic limbs yet as I am still learning how to use them. Also, my thigh muscles are compacting and reducing, so doctors have to keep making last-minute alterations to the fitting of the limb."
Aspi's sessions last about 90 minutes each. "During this time, I have to take four rounds with the help of the parallel rods, and then am given a rest time of 15 minutes. I was nervous earlier, but now I am confident that I will easily be able to do so soon."
Dinshaw Tamboly, whose ceaseless efforts to raise funds for Aspi's treatment are worthy of praise, and who is currently keeping a track of his health, said, "The limbs are not yet permanently given to him because the alignments need to be fine-tuned."
'His willpower is great'
"Aspi is currently under fitness training and is learning how to walk," said Dr. Abhinav Tripathi, prosthetist and orthopist at the Endolite Centre. "We have taken measurements of the shape of his legs and have made him a socket, and finally the leg was made last. But now, we are training him on how to use those legs."
Pointing out that Aspi's case was a bilateral amputation one, where both limbs are amputated, Tripathi said such conditions are tougher for patients. "His willpower is great. He motivates other patients at the centre too."