Babloo! We are killing their livelihood with these demolition drives!"'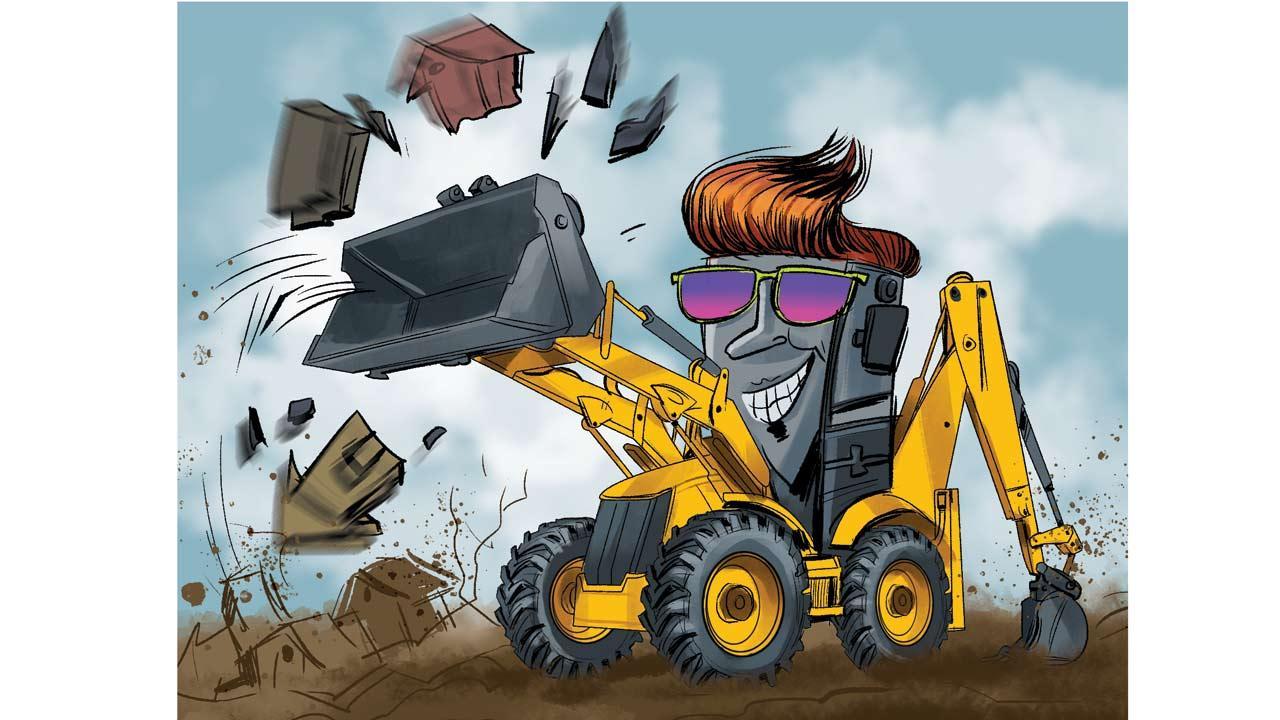 Illustration/Uday Mohite

Babloo Bulldozer was 'chai and kheema paoing' at the same cafe he had frequented since his college days. 
This morning he was miffed with his uncle, the owner of their family bulldozer business. He said, angrily to his college friend, Laloo Loudspeaker, "Chacha Bulldozer calls me his troublemaking bhanja—'Because of you, I want to shut the family road repair business! In the locality where I have lived 40 years, they are now calling me Bulldozer Raja, they are pointing out my house, and pelting stones… bahuth insulting hai, and all this is because of you, Babloo'," he tells me.
"Arrey chacha, tension mat lo…", I told him. 
"Tension mat lo, pagal ho gaye ho… they think I am a bigot, they think we are responsible for Jahangirpuri, for any demolitions that happens anywhere, they think we are behind it! I didn't begin this business to get into anything but road repair! We are hurting people, 
Babloo! We are killing their livelihood with these demolition drives!"'
"Arrey Laloo, I wanted to tell him, 'Chacha, bigot kya hota hai? We have to move with the times, na?  If these people encroach then we must stop them na? Also we need some mazaa in life… You've been doing same job for 20 years, boring ya! You break up one road here, shovel some dirt there, what is the mathlab in that? I will not spend my whole life doing that ok? I want to spread our dhandha, find new avenues, modernise, keep up with the times'.
I wanted to tell him, 'What you have done for so many years, is chai paani money, Chacha… all this road todna, and road banana… how much money you can make… We have to expand the family business. I want to take the profits to a point were Elon Musk wants to buy us out.' As it is all these years of putting up with complaints, corruption charges. Every citizen thinks that we make money on the side, when we dig up good roads, they give us gaalis!'
Arrey Laloo, that uncle of mine he's not taken one rupee... where has honesty got him all these years. He stays in the same slum, eats same dal-chawal, doesn't ever take a holiday, has not sent his kids abroad to study!"
"See boss, main saaf saaf batata hoon, earlier bulldozers were just a machine, now we are a metaphor… pehle we were just a machine for digging, now we are a metaphor of destruction… we are the force of change… 'Bulldozer Raj' apna time aa gaya. In fact, when people pass my house they should say with respect, 'Babloo Bulldozer udhar rehtha hai'.
Laloo, whatever the courts want to pass as their judgements, we know our judgement is supreme, samjhe! I have my own definition of law and order, mathlab... there is law and I have orders. These people 
they are rioters. They have also encroached… we have to destroy them. 
See boss main ek gaana likha hai… Spotify and  Saavn are fighting over the copyright. Suno Laloo, you can play this on your loudspeakers, spread the message of 'Bulldozer Raj'." 
These are the words:
I am bulldozer, Call me 'Bully' 
I tod-phod the road, tod-phod the road, tod phod the road,
I'm a Demolition man, bulldozer man,
Super hero, your house will be zero,
You encroach, we will tod-phod, tod-phod, tod-phod
Bulldozer mama, bulldozer baba, bulldozer chacha,
Excavate encroach, please leave, Or we demolish,
Crush your shop, your hut will drop, your house we raze
Try to encroach, crush you like a roach, 
Rioter, rabble rouser, you rabble rouse, we rubble your house, rubble trouble,
Law and order, there is law, and I have orders,
If you encroach, mere dost, crush you like a roach, 
Aaj aaj, bulldozer raj, aaj aaj, bulldozer raj
I have two fundas, I believe in the jhanda,
And 'break in India', to make in India,
You first, 'break in India', break in India,
Break in India, bulldozer raj, to make in India,
You first 'break in India'.
Rahul daCunha is an adman, theatre director/playwright, photographer and traveller. Reach him at rahul.dacunha@mid-day.com