Wicketkeeping roles over the years have given rise to controversy, heated debates and even fun trivia in Indian and world cricket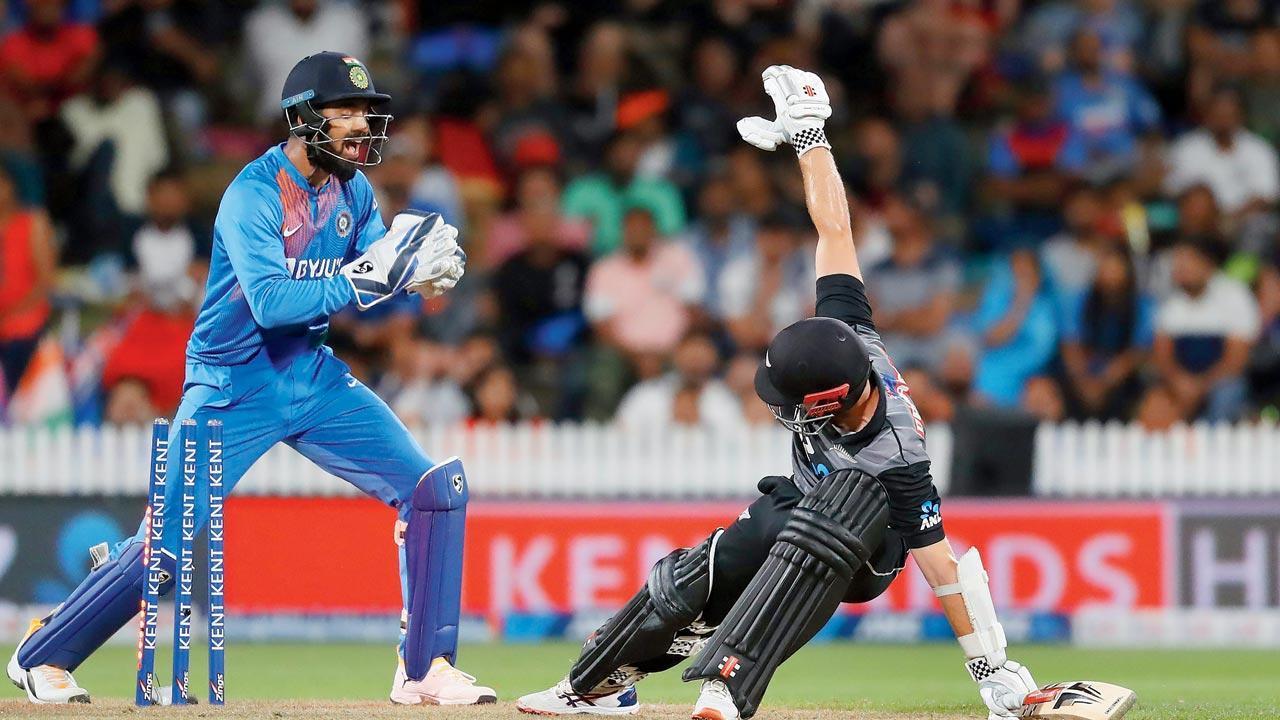 India's wicketkeeper KL Rahul tries to stump New Zealand's Kane Williamson during the third Twenty20I at Seddon Park in Hamilton on January 29, 2020. Pic/AFP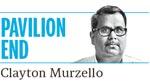 Perplexing decisions by selectors or team management are hardly rare, but somehow wicketkeepers in particular are the ones who have been at the receiving end of some notable omissions, inclusions and exit orders.
The recent decision to release the seemingly unfit Rishabh Pant from the ODI squad in Bangladesh, with no detailed explanation given, and have KL Rahul keep wickets for the series, is yet another wicketkeeper-related call which the BCCI don't believe it is our business to know more about.
That Rahul himself told the media that he had no idea what was wrong with Pant, is testimony that BCCI's opaque ways are not only restricted to the media, but also to players.
The case of Rahul, who also said that he was ready to don the big gloves whenever needed, provides an indication that he is being considered for the dual role at next year's ODI World Cup in India.
This reminds me of how present head coach Rahul Dravid started keeping wickets in one-day cricket regularly in 2001-02 and did so during the 2003 World Cup in South Africa too.
This move, albeit extraordinary, didn't attract too much chest-beating. But there have been decisions regarding wicketkeepers which either became burning issues (like Dinesh Karthik or Pant in the playing XI for T20 World Cup games) or sources of trivia like India's 1971 team in England having three wicketkeepers – Farokh Engineer, P Krishnamurthy and Syed Kirmani.
I'll provide you instances in both cases (controversy and trivia), while it is hoped India can solve their wicketkeeping conundrum.
For starters, a famous case of non-selection. Budhi Kunderan opened the batting and bowling (in the first innings) of the Edgbaston Test, while Farokh Engineer kept wickets against England in 1967, only to find himself dropped for the 1967-68 tour of Australia. The selectors opted for KS Indrajitsinhji as Engineer's understudy and Kunderan's international career was over. Even Hanumant Singh was shockingly not included in MAK Pataudi's side that lost 0-4.
Four years later, Bihar's Daljit Singh was primed to go on the West Indies tour, but his junior East Zone colleague  Rusi Jeejeebhoy was picked by Vijay Merchant's committee.
By the way, did you know that India had three different wicketkeepers for the first three Tests against the 1959-60 visiting Australian team? They were Nana Joshi in Delhi, Naren Tamhane in Kanpur (where India won their first-ever Test against the Australians) and debutant Kunderan for the Mumbai Test. Kunderan told me on one of his visits to the city that he didn't have a decent pair of gloves for his debut. He went from maidan club to maidan club to check if he could borrow a pair and found luck only when Tamhane offered him his. Talking of gloves, John Arlott, the distinguished English broadcaster and writer, once told the story of George Brown, who used to drive around the country on a big motorbike. He decided to practise for the final Test of the 1926 Ashes series at The Oval with his motorcycle gauntlets which Arlott said "proved inadequate" as he broke a finger. He was out of the Test and Herbert Strudwick continued to keep wickets for England in the series.
England's Bob Taylor had to wait for eternity to become the regular stumper for his country. He did so only when Alan Knott signed up for World Series Cricket. Taylor was the selectors' choice for England's victorious tour of India in 1976-77 but captain Tony Greig wrote in My Story that he pressed for Roger Tolchard and got a fair share of criticism for it. Greig knew that the Leicestershire man was not the best stumper in England, but he wanted to use him as a batsman, which he did for four of the five Tests.
India's Kiran More and Chandrakant Pandit were part of the Leeds Test XI in 1986 with Pandit playing as a batsman. They also featured in Tests against the visiting Australians in 1986-87 as well as Down Under in 1991-92.
More recalled on Wednesday being part of the Indian ODI team in the 1986-87 series against Pakistan without playing any of the games which featured Chandrakant Pandit and Sadanand Viswanath behind the stumps in two and four games, respectively.
Pandit, it can be recalled, played as a batsman in the 1987 World Cup semi-final against England, when Dilip Vengsarkar had to withdraw due to an ailment.
Meanwhile, Nayan Mongia, who now aspires to be a national selector, will remember how he was not taken to Australia in 1999-2000, after MSK Prasad did duty in the home Test series against New Zealand. Chandu Borde, the then chairman of selectors, had to face a flurry of questions from the media over Mongia's exclusion. And if the media thought it was the end of the Mongia-Australia tour saga, they were mistaken. For, Mongia was summoned to Australia when Prasad was injured. In a stunning development, Mongia was sent back without playing a game and Mumbai's Sameer Dighe was sent as India's wicketkeeper for the triangular one-day series, which began in January 2000.
India have had plenty of wicketkeeper options in their history. One can also say they have had a plethora of curious cases and controversy surrounding the men who don the big gloves.
mid-day's group sports editor Clayton Murzello is a purist with an open stance. He tweets @ClaytonMurzello
Send your feedback to mailbag@mid-day.com
The views expressed in this column are the individual's and don't represent those of the paper Will you be changing your home decor this winter?