Don't be bogged down by detail: look at the big picture, be open and accepting of what life brings, and celebrate life's many joys.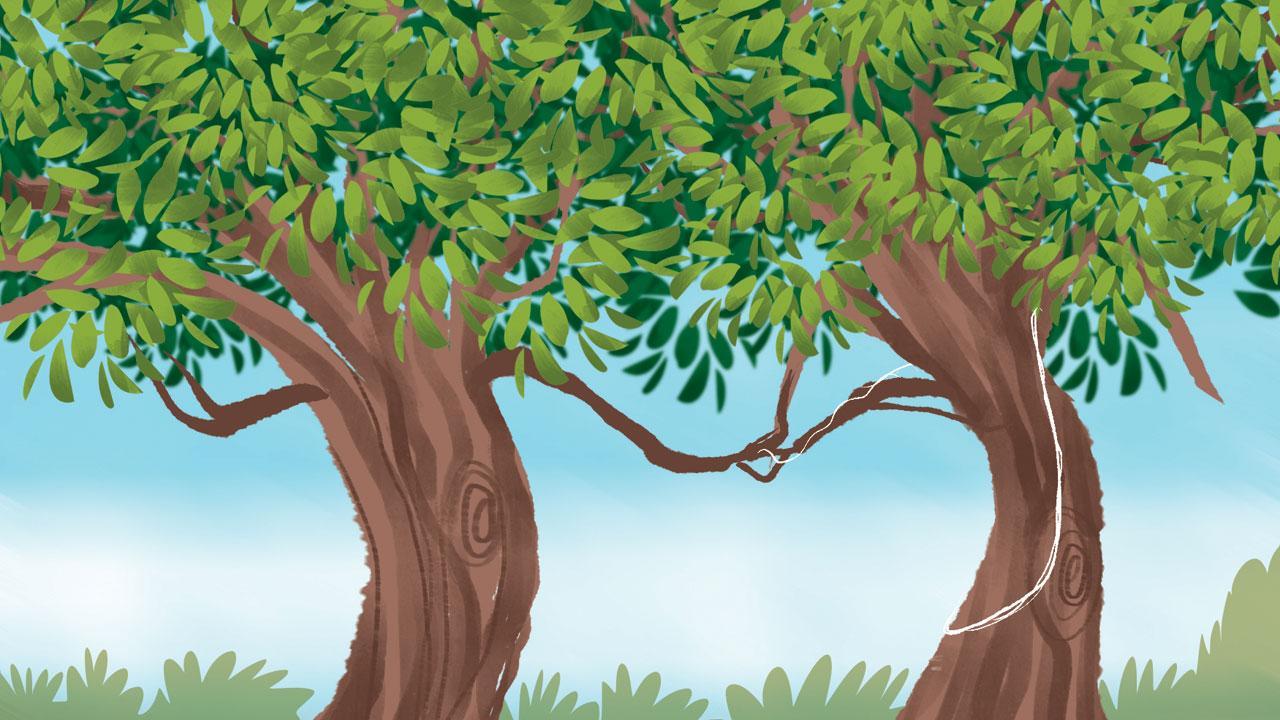 Illustration/Uday Mohite
I recently met three magnificent peepal trees who are to be married. The peepal/peepul is also called ashvattha, Bodhi tree, sacred fig or ficus religiosa. They were not your hormone-fuelled adolescents, checking out Tinder for Trees, giggling as they compared the bust and waist measurements of a girl tree's trunk, or gossiping about whether she was wheat-complexioned or "haal-thy," Indian mummyism for fat offspring. They simply threw their open arms wide towards the gloriously blue, sunny skies. It struck me as a great attitude for a successful marriage or bride-hunting spree. Don't be bogged down by detail: look at the big picture, be open and accepting of what life brings, and celebrate life's many joys.
The old lady who introduced me to the trees and updated me on their current relationship status, said she was "looking out for suitable bel trees for them." In other words, three bel brides for the three peepals. Triple shaadi and all. (Bel/bael is also called Bengal quince or Aegle marmelos). The idea of trees marrying is so typically Indian, magnificent and endearing, it seemed too petty to bother with mundane practicalities like how would the trees live together. I assume a long-distance relationship is a given, no saas-bahu crap, so there. The lady informed me, by way of recommendation from the boy's side, that all three peepals had their munjis done in grand style many years ago. The munji or upanayan ceremony, usually performed for adolescent Hindu Brahmin boys, includes wearing of the janve/janeu or sacred white thread across the torso, in a sacred ritual. The peepals, which had a large platform around them, had janves tied around their trunks. Swamijis had come from far and wide to do an enormous puja; there was a havan kund or homa—ritual with fire and offerings, and the peepals had their munjis done.
ADVERTISEMENT
Indians are big on anthropomorphology—giving human attributes to other beings. In Aparna Sen's powerful film Sati (see YouTube), Shabana Azmi puts in a magnificent performance as a mute, orphan woman with a star-crossed horoscope: she is predicted to become a sati, i.e. her husband will die, and she will mount his funeral pyre and die as well. Her closest friend and confidant is an enormous banyan tree, to whom she is "married" to diddle fate, and with whom she shares her joys, sorrows and desires. Fate rescues her from the Brahmin men who have exploited and raped her: struck by lightning, the tree is uprooted in a climactic storm; she rests in its branches, her forehead stained with the sindoor of her own blood, a sati, yet in the arms of her beloved—finally united in death. It's an extraordinary image.
Some years ago, the media was awash with stories alleging that Aishwarya Rai was a "manglik" (Mars-influenced), and in order to avert nasty horoscopic predictions about her then-impending marriage to Abhishek Bachchan, she first married not one but "two trees," just to be doubly sure of neutralising Mars. Indians love to believe in kismet, destiny, karma; then we spend our lives doing jugaad to trick destiny and do whatever we want to anyway. We are like that only.
Years ago, when I worked with a national broadsheet, I once interviewed Liv Ullmann, the extraordinary twice Oscar-nominated Norwegian actress, who has a remarkable body of work as an actress and director, including with Ingmar Bergman (Autumn Sonata, Persona, Face to Face), and with whom she has a daughter. Given the themes she has addressed in her films—love, unfaithfulness, loneliness—I dared to ask her, "Have you, even at this stage in your life, discovered what love is all about?" "Someone put it nicely," she answered, quite unperturbed by the question. "He said 'Love is like two trees growing alongside each other, but not intertwining.'" What could be a more poetic description of love, than two trees growing side by side?
Meenakshi Shedde is India and South Asia Delegate to the Berlin International Film Festival, National Award-winning critic, curator to festivals worldwide and journalist. Reach her at meenakshi.shedde@mid-day.com
"Exciting news! Mid-day is now on WhatsApp Channels

Subscribe today by clicking the link and stay updated with the latest news!"
Click here!