The people and history of a little lane in Fort that has long batted for woman power from its buildings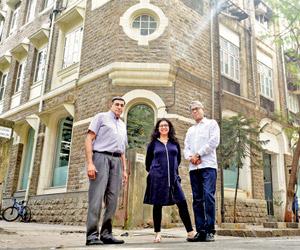 I am keeping a years-ago promise to myself. From 1990 when I dropped off articles for Parsiana and Voyage magazines at Jehangir Patel's publishing offices at Fort, within the indolently named Parsi Lying-in Hospital. I should profile the eight edifices flanking this lane, I'd thought, admiring the 19th- century example hugging Prescott Road's north tip. Years on, I explore these beauties dating well over a century, some with more prominent entrances on parallel Murzban Road. Why was this stretch, now Ghanshyam Talwatkar Marg, initially Prescott Road? Sailing to India to start a school for girls, prim-looking Mary Prescott held progressive views. The Englishwoman established JB Petit High School for Girls, facing Prescott Road, in 1860. Called Miss Prescott's Fort Christian School, the school's current name owes to Jehangir Bomanji Petit providing timely financial aid in 1915 when it might have fused with the Cathedral Girls' School.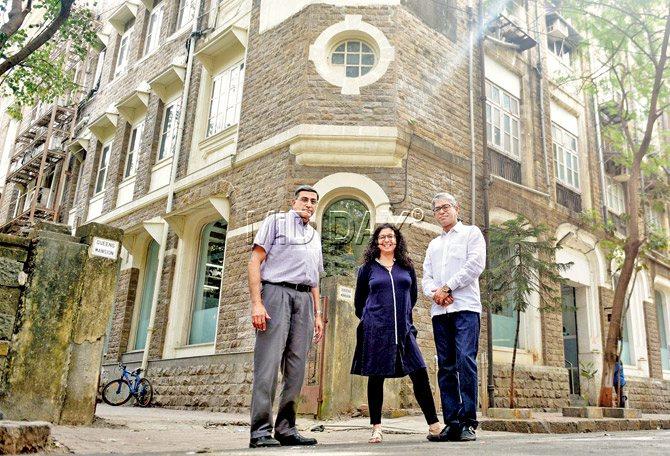 Advocate Erach Kotwal, gallerist Shireen Gandhy and media consultant Vivek Suchanti outside Queens Mansion on Prescott Road. Pic/BIPIN KOKATE
Everything began in the 1860s with Bishop Harding and the Chaplain of St Thomas' Cathedral mooting a Grammar School in the city. This and two other Anglican institutes comprised the Fort Christian Schools, supervised by Prescott. While the School of the Cathedral supplied the church with choristers, the Bombay Scottish Education Society christened its institute for John Connon, Chief Registrar. At a 1922 Town Hall meet, the Cathedral Boys' School headmaster suggested merging to form The Anglo-Scottish Education Society. On an all-women website, CatGirls 66, I discover the last batch to leave when the sexes schooled separately. Co-ed from 1967, the boys' building became Senior School, the girls' turned today's Middle School. Right-angled on Prescott Road, the latter got a glowing makeover in 1994 by ex-student Brinda Somaya, who sparklingly reworked the school's eponymous 17th-century cathedral too. "Up for any excuse to visit the boys, via Prescott Road, we jumped to carry teachers' messages between schools," laughs Tarifa Tyebjee from Class of '66. "Girls opting for science could go to the boys' lab. I wasn't among the chosen few!"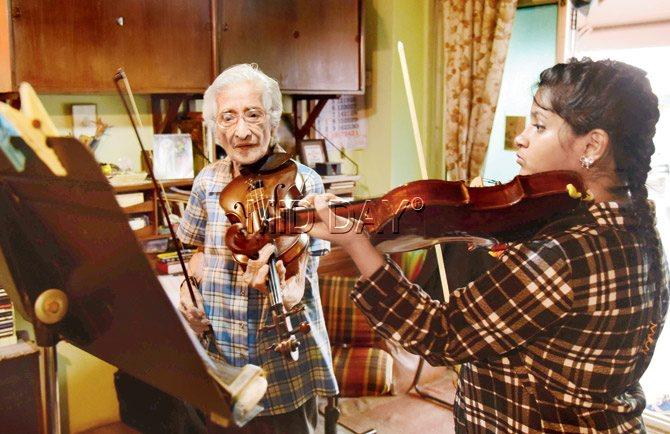 Jini Dinshaw, founder trustee of the city's longest running ensemble, the Bombay Chamber Orchestra, with a pupil at Venkatesh Chambers where she has taught music for 55 years. Pic/SURESH KARKERA
In one of the school's earliest carpools, art doyen Kekoo Gandhy's father ensured his sons covered the miles from their Bandra bungalow with friends in a 1927 Austin. Ten years ago, at Queens Mansion next door, the Gandhys' gallery embraced the streetscape. Renamed Chemould Prescott Road, shifting from Jehangir Art Gallery brings the family full circle here. "Chemould Prescott did have a small situation," confesses Gandhy's daughter Shireen. Shiv Sainiks asserted the road name had formally changed. "When explained that Miss Prescott pioneered girls' education, they understood." Across from her, the Jnanapravaha centre offers quintessential courses on Indian culture.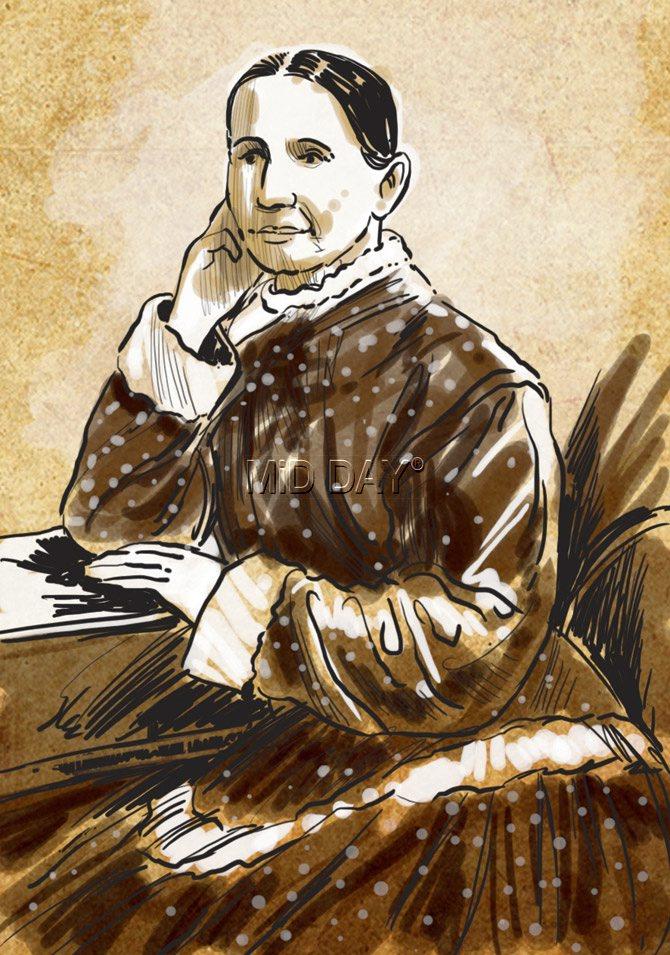 Mary Prescott sailed solo to 19th-century India to pioneer education for girls in the Esplanade area. Imaging/ravi jadhav
Advocate Erach Kotwal's south wing office maintains the original layout. Broad stairways usher me into high-ceilinged premises with tall teak windows vaulting back to 1902-04, when the building was leased to Robert Laidlaw of the colonial emporium Whiteway and Laidlaw. Ringed by nine-inch thick walls lined with legal tomes, Kotwal says, "The building had 12 residences, each allotted a servants' room on the terrace." That arrangement for a dozen Englishmen's chefs and chauffeurs has since crammed innumerable kholis — the spiral steps leading to them so dinky that, a la Alice, I imagine they beg "Climb me". Interestingly, the British military FIU (Field Intelligence Unit) operated from Queens Mansion through the 1939-45 War years.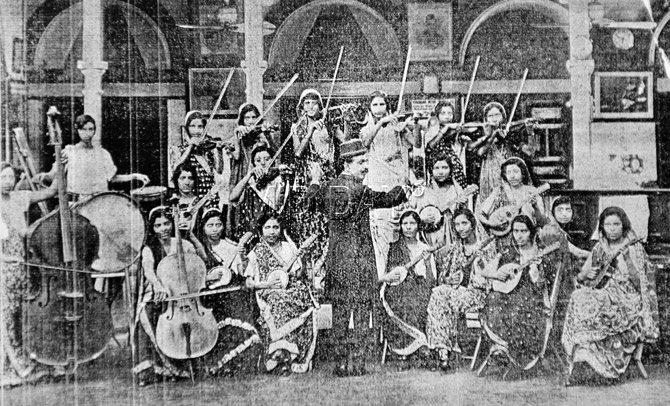 Members of what is supposed to be India's first all-women symphony orchestra, started at Young Ladies High School, Fort, in the early 1900s, conducted by pianist Jehangir Khodaiji. Pic COURTESY/ADI J DESAI

Opposite Kotwal, architect Deepali Hadker's father Kamal set up Sterling Engineering Consultancy in 1978. Six years prior, her grandfather NB Hadker launched Hadker Prabhu and Associates at the spot Lillian Bonall's dance studio stood till 1958 (its wooden floor is intact). Lauding Queen Mansion's solid steel columns, jack arches and chowks for natural ventilation, Deepali says, "The building an equal walk from Churchgate and VT stations, everyone reports punctually." An engineer, draughtsman, administration assistant and office boy from the 1970s continue with the company. At Concept Communication's bright headquarters, managing director Vivek Suchanti reiterates the convenient location. He also cheers what most of Prescott Road agrees on: a lot less cars honk and kids holler because school-bus travel is mandatory. Above Suchanti, The Meeting Room has thrived all the Easters from 1938 when Brother Hanley Bird spread the Gospel in this space. "Our group hails humanity saved by Jesus' return," says KV Simon, an elder of The Christian Brethren Assembly which invites Sunday evening public gatherings.
Back to base, cocooned in cool familiarity from those rookie writer years, I retread the worn floorboards of Parsi Lying-in Hospital. They take me to Jehangir Patel who has edited issues of Parsiana from 1973, Signature from 1977 and Voyage from 1990 (Parsiana alone survives). Mooting a feminist idea which would win Miss Prescott's approval, Patel's mother Makki organised a crèche here in 1969 — "She was determined to offer women working in the Fountain area a safe environment for their children," says Patel.
Where better to do this than in a building which welcomed babies into the world for a hundred years? Gothic Revival buff walls embellished with carved stone screens, Parsi Lying-in Hospital was conceived by civil engineer Muncherji Cowasji Murzban. His other 1890s facilities for women were the Albless Obstetric Hospital and Cama Hospital for Women and Children. The first such exclusively for the community, this had delivering mothers lie languidly in crisp beds for 40 recuperative post-natal days. The hospital was led by luminaries like Sorabji Shapurji Bengali, Nusserwanji Jehangir Wadia, Jamsetjee Tata and Dr Tehmulji Nariman. In her DPhil dissertation, "Cultural Intermediaries in a Colonial City — The Parsis of Bombay, c 1860-1921", Patel's daughter Simin cites from physician Nariman's January 1895 inaugural address:  "I recommend those who can afford commodious rooms free from sewer contamination, not to take advantage of this institution but reserve it for poor and lower middle classes at the mercies of landlords."
The genius behind Parsi Lying-in's magnificent masonry, the PWD's blue-eyed boy MC Murzban lived up the lane in Gulestan, confirms Professor Rashna Poncha. On the plot leased to him in 1883, a year ahead of being appointed Executive Engineer, Presidency, he designed this as a two-storey structure for himself. Redone by Gregson, Batley and King in 1922, Gulestan wears the dreary air of three LIC branches within. Krishnalal Joshi, a canteen hand of 40 years, has a theory: "People didn't rent residences this side of Khadi Bhandar." Could that be because of spooky ghost stories going around? Beside Gulestan is "the eyesore of our lovely lane", as a neighbour describes Venkatesh Chambers, once identical looking to Victorian-inspired Trafford House beside. Outshining its dullness, luminous-at-87 Jini Dinshaw has taught violin, viola and cello for 55 years. Founder trustee of the city's longest running ensemble, the Bombay Chamber Orchestra, she spryly attends 6.30 am rehearsals at Alexandra School behind. Born when the building was Sorab Mansion, with a garden scented by roses, mogras and mangoes, Dinshaw says rents dipped because the building was rumoured haunted. "My father had priests bless our home. But it was eerie. Windows would fly open suddenly and the Kiefers below us saw a shadowy Parsi couple come praying at the building well at midnight."

Rowed close, DBS Heritage House is the building Shamsunder Aggarwal took over in 1987, Diners Club, powering Bombay's premier business centre. Sandhya Sawant's restoration freed its pointed bricks from multi-coated paint, her effort earning a UNESCO award. Aggarwal shows me fragilely taped parchment pages, revealing JN Tata signed the property lease in the 1890s. Changing hands often, it converted in the 1960s to offices. The surprise on the block is probably Prescott Road's oldest structure: Bombay Gymkhana's squash courts producing national ace Misha Grewal at the Victorian Gothic-meets-late Colonial building from 1882. In 1875, Bombay Gym extended Cathedral sportsmen food, fields, coaching and competition, causing Principal Savage to rue a rash of "muscular Christians but average scholars" in his school whose motto declared "Clarum Efficiunt Studia – Studies maketh famous". One massive raquetball court measuring 1,800-2,000 square feet was converted to the first three squash courts.

Entered from Prescott Road (its main gate falls on Murzban Road), the 1889-constructed Trafford House presents fine shopping ops. Furniture and interior designer Sam Maneckshaw's ZJM Exports, Nilofer and Reshad Rustomji's Colonial Collections and Aadore Sayani's Sleight of Hand confectionery share the ground level. Storeys above house 128-year-old Young Ladies High School, which moved in from Hornby Road. It is said to have struck up the country's first women's symphony orchestra in the early 1900s, president and managing trustee Adi Desai's headmistress aunt, Soonabai Desai, on bass violin. Conducted by Jehangir Khodaiji, ladies playing mandolins, double bass and drums in grand silk gaara saris were invited to perform for Lord Willingdon, then Viceroy of India.

Marvelling how red, blue and green stained-glass leitmotifs yet trail the facade top to bottom, I talk to Nasrin Hassan. As her 94-year-old father Abbas Zumkhawala rests, she says his father Nooroodin Shaikhadam acquired the building in 1917 from the eminent landowner on the Esplanade, Joseph G da Cunha. Tomorrow, December 11, marks exactly 100 years of the Zumkhawalas' association with Trafford House. Happy anniversary!
Author-publisher Meher Marfatia writes fortnightly on everything that makes her love Mumbai and adore Bombay. You can reach her at mehermarfatia@gmail.com
Catch up on all the latest Mumbai news, current affairs from Mumbai, local news, crime news and breaking headlines here
Download the new mid-day Android and iOS apps to get updates on all the latest and trending stories on the go