"Uhm… Lobo Lobo, thanks, but you are aware that two men wishing each other on a romantic day like today… it's odd na?  Shouldn't you be cooing sweet nothings to Myrtle?"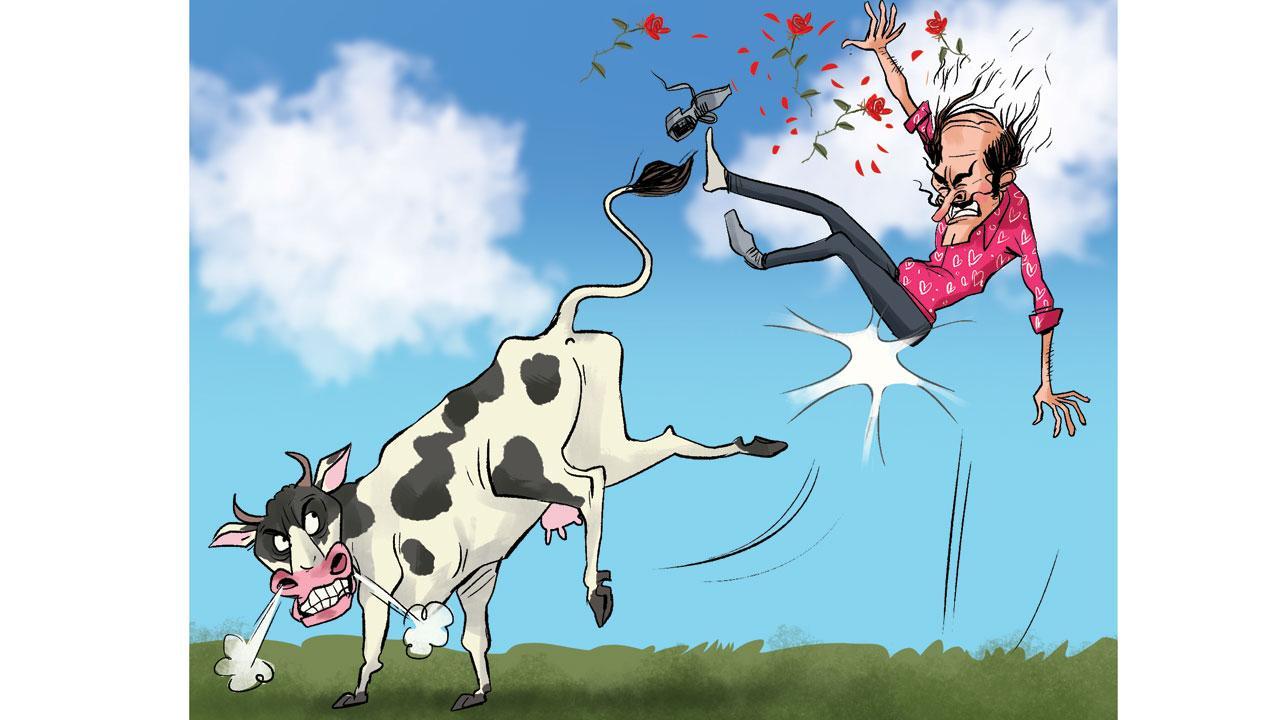 Illustration/Uday Mohite

Lobo Lobo came over last Tuesday.
There was a pronounced limp in his walk, accompanied by a grimace, like a drunk Keshto Mukherjee in a 70s movie.
ADVERTISEMENT
"Happy Valentine's Day, Dikuna men," he said gloomily.
"Uhm… Lobo Lobo, thanks, but you are aware that two men wishing each other on a romantic day like today… it's odd na?  Shouldn't you be cooing sweet nothings to Myrtle?"
"Oh foe, Dikuna men, you are kaali peeli being 'sexist' chhe. Don't take it so literally, everybody wishes each udder dese days, except dose spoilsport hooligans who try to stop couples kissing-wissing in public, some good-for-nuttings who tink dey can todo-phodo greeting card shops, frustrated bunch dey are, whole bleddy year dey sit on dere fannies and do nutting useful, and on February forteenth dey, come out wid dere stupid rage and regression and display dere 'panga' wid our western customs. Deere fadder wot goes wid us celebrating, just imagine dis fictishus conversation, one of dese ruffians comes home and his kid akses him…
"Papa what did you do at work today?"
"Oh beta, I did great work for our society... I smashed up some gift shops… and slapped around a few teenagers who were 'making out' in a park, I have preserved our culture."
I smiled internally. He continued.
"I tell you… we should rename V Day… as Vandalism Day!" Lobo Lobo shouted.
"Point taken. But may I ask you why your back seems out of shape, that's the oddest limp I've ever seen, what happened?"
Lobo Lobo went momentarily quiet.
"Okay. So Boss, someone called Animal Husband and Wife dept," he began.
"Uhm Animal Husbandry Ministry," I corrected.
"Ya men same ting. Anyway dey announced dey were banning Valentine's Day, and replacing it wid  'Hug a Cow Day' to boost 'emotional richness'."
"Yes, Lobo Lobo, but they had to withdraw it after a series of memes and cartoons broke out; one TV anchor even said, the cows need to give 'consent'!" I laughed.
"Dats all very well, but nobody informed me dat dis cow hugging bizness was cancelled. No one tolded me dat dis stoopid ting, 'Cow Hug Day' has been widdrawn… so, I tought dat I should hug one-two cows men.."
I feared the worst.
"Dis morning, I went in search of a cow… carrying one red rose."
"Why?"
"Arre obviously, I tought I should fust hug de cow den offer him a rose."
"Indeed."
"Dere is one cow in our naighberhood onlie. He's got no kaam danda, goes around chewing cud… so, I tried to hug de bugger, damn rude cow, he just ran away in fear… some local ruffians came treatningly at me, but I did not lose heart. I went furder to look for more cows, but every cow I saw, eider resisted me hugging dem or dey ran away. I tink word had spred among de cow community, dat dere is one mad fellow looking to hug dem, so dey all went into hiding. I was about to go home when finally my eye caught one cow, big bugger men, looked like a bull, aggressive. He gave me one 'khadoos' look, I tried to hug him, he got solid ragged and he came charging at me, you know like dat place in Spain. I felt like one of dose bullfighters, so I'm running running troo de streets of Virar wid dis bull chasing chasing, he's snorting snorting, finally de cow gains on me, den digs his horns into my backside and gives one solid 'takkar' and I go flying men, land twenty feet in de air!!! Dats why I am in dis shape."
Also Read: 'She's the friend who shows up when you most need her'
I paused.
"Look. Apparently, these people were merely trying to remind us that cows are the backbone of Indian culture and rural economy," I said sarcastically.
"Dikuna men. Forget all dis 'backbone of Indian culture', at de moment I have a huge pain in my 'backside backbone', got it," Lobo Lobo said painfully, as he hobbled off.
Rahul daCunha is an adman, theatre director/playwright, photographer and traveller. Reach him at rahul.dacunha @mid-day.com