Rahim Soltani (Amir Jadidi), in prison because of a debt he was unable to repay, gets two days' leave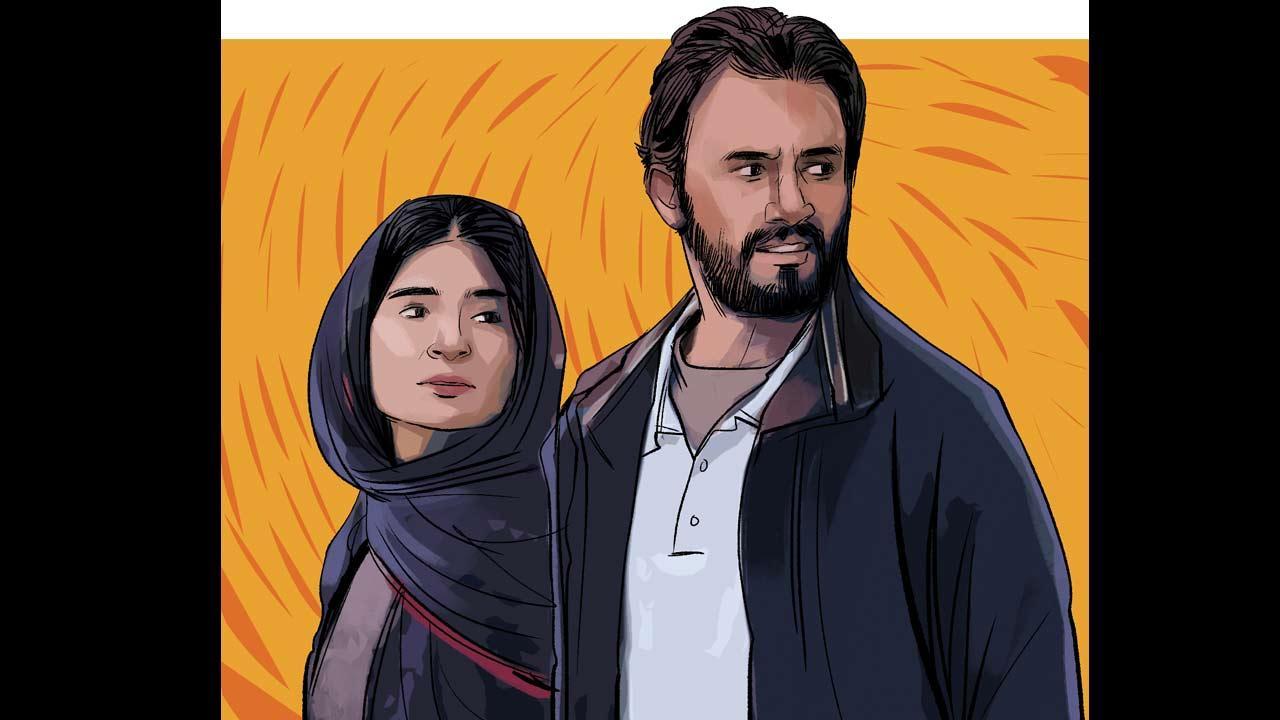 Illustration/Uday Mohite

At One time, I would be locked in a cinema in Mumbai from 9 am to 12 midnight for a couple of days, watching Oscar-winning/nominated films back to back. But those theatrical pleasures have nearly vanished. While a few such films are streaming online, Asghar Farhadi's Ghahreman (A Hero) has released theatrically in India from April 8. The much-feted Farhadi has won two Oscars for A Separation and The Salesman, and his A Hero won the Grand Prix at the Cannes Film Festival 2021, Golden Globe nomination for Best Foreign Language Film and Asia Pacific Screen Awards (APSA) for Best Director. After directing The Past, in French, with French stars Tahar Rahim and Berenice Bejo, and Everybody Knows, in Spanish, with Javier Bardem and Penelope Cruz, he returns to making a feature in Iran in Farsi. Kudos to Ashwani Kumar's Impact Films for distributing the film theatrically in over 10 cities all-India, including Mumbai, Delhi, Chennai, Kolkata, Gurgaon, Pune, Chandigarh, Hyderabad, Kochi, etc, and 10 theatres in Mumbai, see bookmyshow.
Rahim Soltani (Amir Jadidi), in prison because of a debt he was unable to repay, gets two days' leave. He tries to convince his creditor Bahram, a relative, to accept part-payment and withdraw his complaint; the debt was intended to set up a business, but his business partner vanished with the money. He is separated from his wife and coincidentally, just in time, his girlfriend Farkhondeh (a confident Sahar Goldust), finds a bag of gold coins in the street: initially they try to sell them to repay the loan, but when they find it's a fraction of the 150,000 tomans owed, Rahim decides to advertise and return the bag to its owner, a woman who claims it. His son, who stutters, lives with his sister Mali's family.
Farhadi is a master of screenplay writing, and of giving controlled homeopathic doses of information that keeps our feelings and sympathies shifting in an unpredictable way. Though desperate to repay a loan and get out of jail, when he returns the bag of gold to its owner, the jail authorities get TV to interview this good Samaritan and make him a hero, to distract from a recent suicide in the jail. A charity steps in to raise funds for his release and offers him a job. But the admin guy at the job wants proof of the bag and the woman who took it. While there is no question Rahim is a good guy who returned the bag of gold to its owner, he indulges in a few half-truths—as most of us sometimes do—because otherwise life would be hell, and pays a heavy price for it. He says he found the bag, on TV, to avoid bringing his girlfriend in the picture, as they are not yet married; he asks Farkhondeh to sign in as the woman who took the bag of gold, because the actual woman is untraceable, and without the paperwork, he cannot get the job and earn to pay back his loan. Farhadi sows seeds of doubt, as the bureaucrat, the charity and social media keep insinuating that the hero could be a fraudster. As life seems to conspire to keep a good guy down, Farhadi's story becomes universal. There's a wrenching scene where Rahim's stuttering son is forced to recite half-truths for a video to gain sympathy for his dad, that darkly comments on social media.
Director Farhadi is a master in absolute control of his craft. Towards the end, Farhadi's screenplay gets a bit too complicated and messy—as life often is—yet it ends on a poignant note. We wonder why Rahim did not hand over the bag of gold to the police; when he promised to repay the creditor 75,000 the next week, and a bag of gold coins of similar value appears just then, it is too coincidental; and we don't see the ex-wife. (Farhadi was recently indicted in a plagiarism case filed by Azadeh Masihzadeh, his former student, but the case is sub judice). The vulnerable Amir Jadidi carries the film, winning our sympathy even when he makes false moves, when unfairly trapped by life. I just realised he's the jaw-droppingly sexy hero of Mani Haghighi's electric film A Dragon Arrives that was at the Berlin Film Festival (YouTube). Cinematographers Ali Ghazi and Arash Ramezani keep it straightforward and engrossing, and Hayedeh Safiyari's editing (woman editor) keeps it relatively taut. The film is produced by Asghar Farhadi and Alexandre Mallet-Guy. Don't miss it in the theatres.
Meenakshi Shedde is India and South Asia Delegate to the Berlin International Film Festival, National Award-winning critic, curator to festivals worldwide and journalist. 
Reach her at meenakshi.shedde@mid-day.com