Advertising and design legend Elsie Nanji, and creative maven Neena Naidu, share a long relationship of fun and fulfilment
Neena Naidu and Elsie Nanji in Elsie's home. Pic/Pradeep Dhivar
Elsie Nanji, 66, creative and design consultant
Neena Naidu, 65, artist and entrepreneur
ADVERTISEMENT
They make an unstoppably dynamic pair. Ad world veteran-turned-designer Elsie Nanji envisions interiors with an unmatched sass and class. Helming iconic agencies like Ambience and Red Lion in her advertising career prime, she—of the controversial Tuff Shoes campaign shooting Madhu Sapre and Milind Soman in her Kashid house with only sneakers and a serpent on them—now contours spaces as varied as the Mahindra Museum of Living History, the Seagull Cafe at Breach Candy Hospital and the visual identity for Pehlay Akshar municipal school English classrooms with the BMC.
Painter, curator, framing gallery consultant, air stewardess, chef owner of a trendy bistro and a freshly minted block printer, Neena Kanji Naidu lives in Victoria on Vancouver Island, visiting Bombay regularly.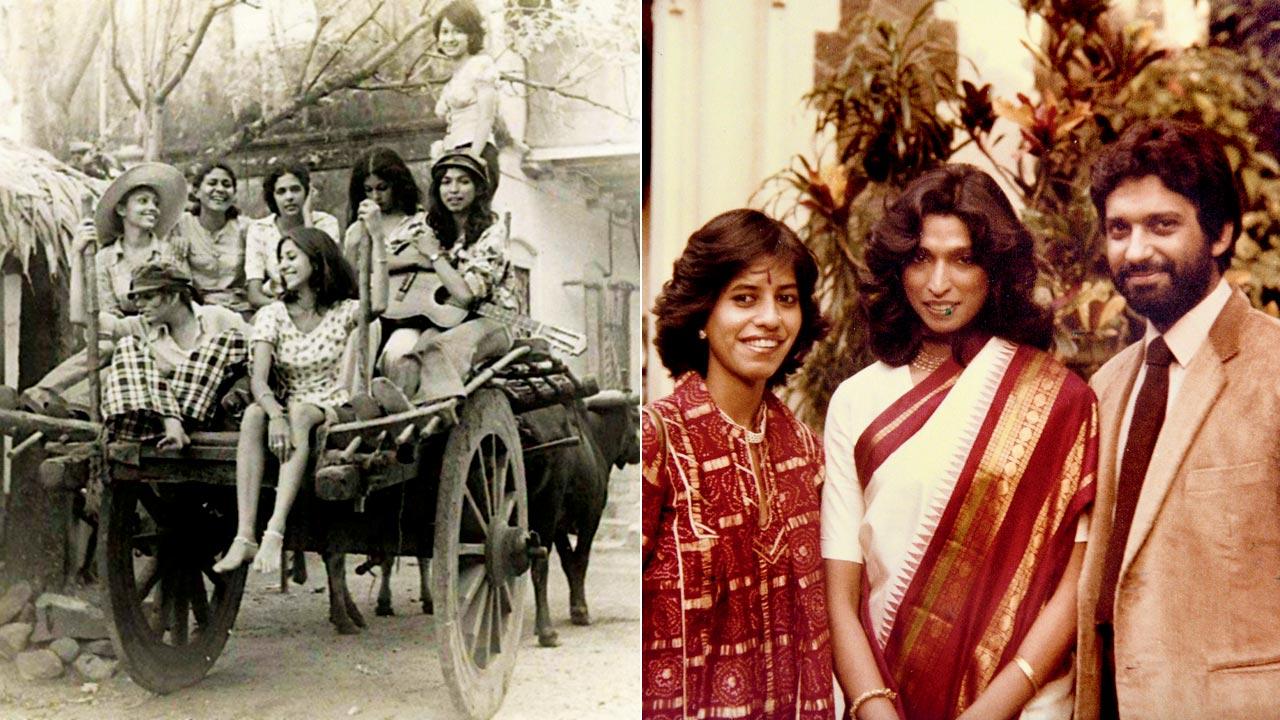 Elsie (with guitar) and Neena (seated front rightmost) at a 1977 college picnic in Gorai; (right) Neena with Elsie and Hossi at their 1983 wedding in All Saints Church
Everything they create is stylish yet functional, eclectically blending the sensibilities of diverse cultures both well-travelled companions have imbibed over the years.

Neena Kanji Naidu: We met at the art department of Sophia Polytechnic. Elsie having moved from Chennai, I felt I should take her under-wing in my city. She smiled a lot, looked cool, played the guitar, sang—all that matters at the age of 16. We also loved the same musicians, like Carole King and 
Carly Simon.
Elsie Nanji: I fought tooth and nail to study art in Bombay. Neena was impossibly slim, wore hep tied-up tops and taught me to whip coffee, the height of glamour for me. She lived close to college and introduced me to little sketching trips. All the Bombayisms came to me from her.
NN: The Sophia nuns couldn't understand why we were friends. Elsie: focused, disciplined (not rigid), punctual, tidy, respectful. Me: messy, breaking rules, arguing with professors. By our final year, I'd fully corrupted her. Earlier, she could be easily rattled. Buying train tickets home every year, her tears flowed on finding them sold out. And she ended up with a first-class special quota ticket.  
EN: I cried to get my driving licence too! We've had madcap escapades. For a college fancy dress contest, I decided we go as streetwalkers. Even Neena thought that wouldn't pass muster with the nuns. Lo, we won first prize.     
NN: During the Diwali break, I was invited to Elsie's home in Chennai. Her mother's cooking played a vital role in my future. Mine was the first Indian restaurant to serve appams in Canada. 
EN: We landed jobs in Lintas at the same time. In less than a year,  Alyque asked us to help on Man of La Mancha posters and backstage. We met the most amazing people with him.  
NN: A rolling stone I was, but gathered a wealth of knowledge and experience. The common thread was that I loved people and excelled in customer relations. I preferred fine art to advertising.
Elsie was very protective during our boyfriend days, chiding me for poor choices. My husband Harish has her to thank for the stamp of approval. Both she and I married in 1983. Me secretly, with Elsie as photographer. Air India didn't allow flight attendants to marry for the first four years. My travel passion had lured me to become one.
Emigrating to Canada, we first stayed with Elsie's sister. In 2005 we created The Bollywood Bistro in Canada. My big moment was when Elsie, her husband Hossi and kids visited. She was so happy with our achievement and loved the food. 
EN: It's creditable how Neena has brought up her daughters, completely Canadian, but with Indian values. They've gone backpacking everywhere in the country with deep interest.
NN: From Elsie I learnt to organise my surroundings. After I married, she came over to demonstrate how to arrange my closet, a lesson I passed on to my daughters. Despite being away for 35 years, my girls know who's important for me here, like Elsie and Hossi. She's the friend that shows up when you most need her. By my side right through Harish's surgeries, she was of great comfort, keeping me distracted. 
EN: As we grow in friendship, I respect her resilience and tenacity, her calm centredness while managing situations positively.  Our worlds grew apart for no other reason than physical distance, working and raising families. We didn't meet for 10 years, no FaceTime or WhatsApp then. Neena is my memory keeper, remembering everything we do in detail.
NN: My visits to Bombay became frequent over the years. With each trip I marvelled at her self-taught transition to interior styling and design. Rather than sit in a coffee shop, we both love Gujju thalis. Thakkar Bhojnalay, where we stuffed our faces for R5 in the broke student times, is where we squeeze in a meal anytime.
NN: One of our best travel memories was Rome. For Elsie's birthday I surprised her, showing up right in its centre. Recently, we met in Mexico. She meticulously planned every site to visit, researching architects whose work she admires. My job was to recce restaurants and we dined in some spectacular places. Thirty-four years since we'd vacationed together, it was seamless. Elsie was up at 5 am for meetings with her Bombay design team for the Mahindra Museum. My limitation was keeping pace with her walking several feet ahead. I have absolute admiration for my 66-year-old pal who runs the marathon, besides leading a visually impaired gentleman. 
EN: Neena has been as much of an influence throughout. Her optimism is infectious. She's always thinking about me and proud of my success. She has no less a sense of aesthetics and fashion and is a superb chef. The tables have turned. Such a perfectionist, she puts together even the most incredible scrambled egg.          
NN: With busy lives and a 12-hour time difference, connecting can be tricky. Yet, we promptly do to share ideas or on seeing anything of beauty. Bombay has shaped us individually and as friends. In this fast-changing urban jungle, old haunts quickly vanish. It's time to create new stories. 
Author-publisher Meher Marfatia writes monthly on city friendships. You can reach her at meher.marfatia@mid-day.com/www.mehermarfatia.com
"Exciting news! Mid-day is now on WhatsApp Channels

Subscribe today by clicking the link and stay updated with the latest news!"
Click here!