The best part was, I was going with a girls' gang by train to Jaipur for a "destination wedding."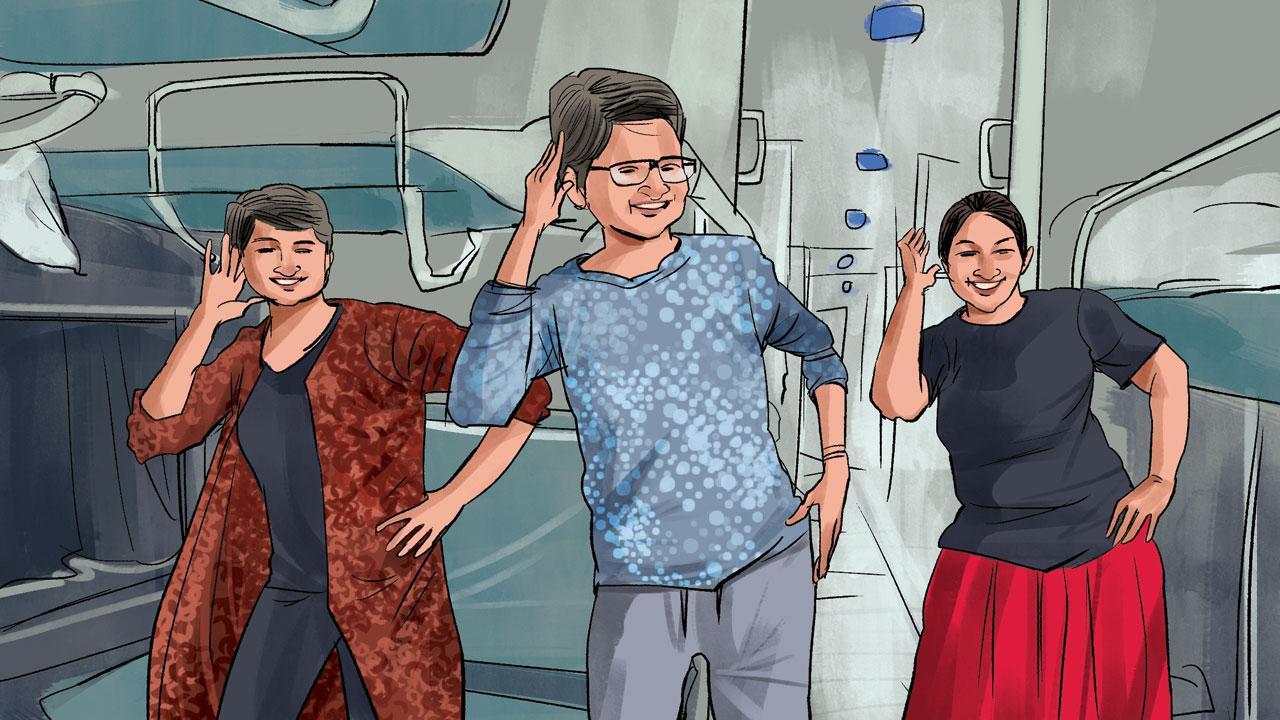 Illustration/Uday Mohite

I Intennnsely love smaller towns. Jaipur, for instance—hardly small, but smaller than Bombay. In little cracks in the facade, there are still defiant shoots and roots of a previous life—before the glitzy malls, multinational banks and Domino's Pizza flatten out what makes a city unique, rendering most big metropolises alike. Like Narayanji Gazakwale on Tonk Road, from which to buy gud gazak sweets; "LMB"—Lakshmi Mishthan Bhandar in Johari Bazaar—a Hogging HQ, specialising in pyaaz kachori, paneer ghewar and sweet lassi; where you're in a traffic jam because of an ambling camel cart; the Jantar Mantar astronomical observatory; watching elephant polo, an elegant form of animal cruelty, and more. The best part was, I was going with a girls' gang by train to Jaipur for a "destination wedding."
It has been years since I took a long-distance train, here the Hisar Duronto from Mumbai Central to Jaipur. I usually enjoy train travel immensely. My friends Priti Turakhia, Pankti and Vaani Gala and I were travelling together, but seated in adjacent bogeys, so I requested the ticket collector (TC) K Singh to please see if I could travel with my lady friends, I'd just feel safer at night. B5-seat 40 Meenakshi, na? he said, immediately. I was most impressed: he already had all the passenger details on a print-out. We did not even have to show our tickets; we just announced our names; a few offered their ID cards. He promised to do his best and left; when he returned, my neighbour, an RAC (reservation against cancellation) promptly offered him a bribe for a berth. Mr Singh was like no other TC I've met. He was impeccably turned out in a classy grey suit, he was polite, and spoke in exquisite, philosophical Urdu I can't recall exactly, but the gist was: "It is my duty to help passengers, I don't need any money. Whatever I earn is enough, it is more than I can spend." I was hassled about my overnight berth, but he soon arranged one for me close to my friends, and left. It's only later I realised the full import of his integrity. Big salute Singh Saab, TC on Hisar Duronto, January 24, Mumbai Central to Jaipur; the nation is blessed to have staff like you.
ADVERTISEMENT
Also Read: Patriotic Pathaan
I felt very inadequate going to a destination wedding without rehearsing a Bollywood shaadi dance at least, so in an emergency, we turned to my favourite, "Chura ke dil mera goriya chali," the Quick Style's terrific dance version from their Famous Wedding Show video (99 million views!). It's a popular Norwegian Bollywood dance group—Google it. We all laughed so much as we rehearsed the dance steps in the narrow space between two berths—people pushed their luggage further in to give us more room; they were patient when we lost Wi-Fi connectivity, and warmly encouraged us, even though we were pretty much all left feet, lurching dangerously in a speeding express train, and rushing to memorise new steps whenever the train halted. Sadly, we didn't dance at the wedding, as we never got a chance to rehearse properly on terra firma, and decided the bride and groom deserved better. Still, learning Bollywood dance in a speeding train is a story for my grandchildren— who cares if I have them or not?
Meenakshi Shedde is India and South Asia Delegate to the Berlin International Film Festival, National Award-winning critic, curator to festivals worldwide and journalist. 
Reach her at meenakshi.shedde@mid-day.com