Ukrainian President Volodymyr Zelensky said he doesn't think Putin is bluffing. "Look, maybe yesterday it was bluff. Now, it could be a reality," Zelensky, who had previously played down such warnings as nuclear blackmail, told CBS News on Sunday. "I don't think he's bluffing," Zelensky added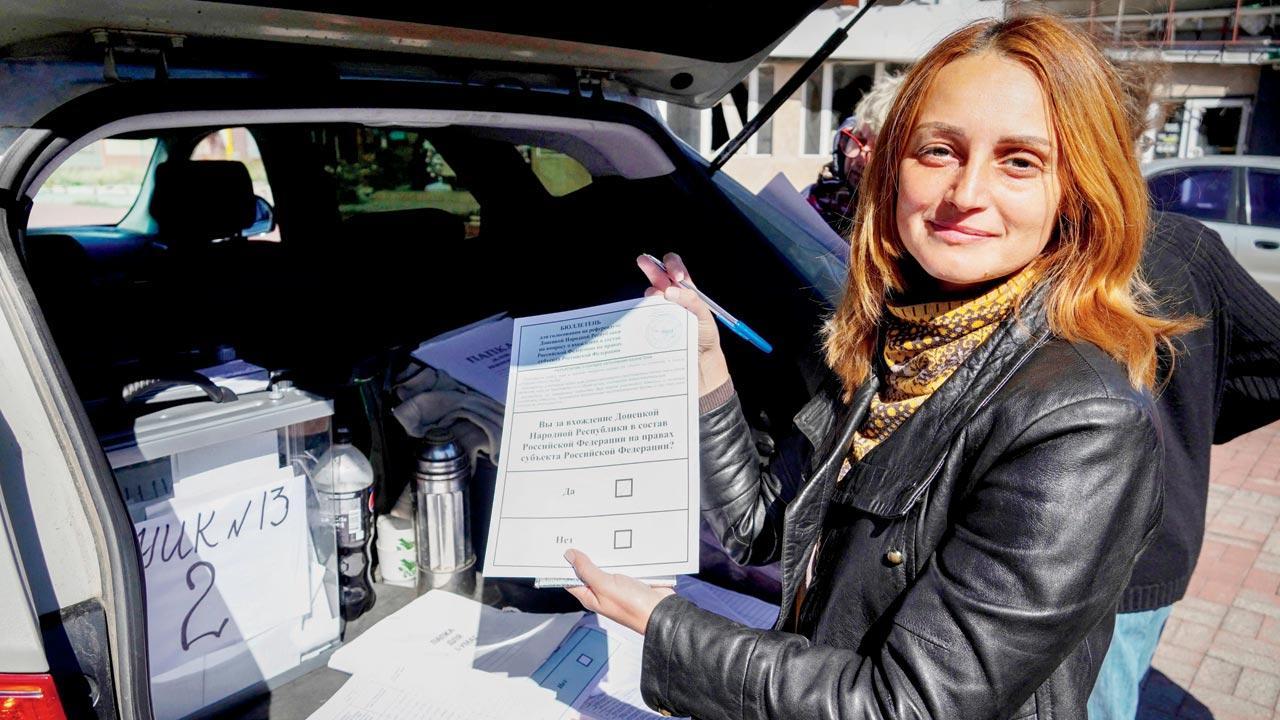 A woman shows her ballot for a referendum at a mobile voting station in Mariupol Sunday. Pic/AFP
The United States warned Moscow of "catastrophic consequences" if it uses nuclear weapons in Ukraine after Russia promised protection to Ukrainian regions it might annex following widely criticised referendums. 
Citizens in four regions of Ukraine were voting for a fourth day on Monday in the Russian-organised referendums that Kyiv and the West have branded a sham. They say the outcomes are pre-determined and even countries with close ties to Moscow such as Serbia and Kazakhstan say they will not recognise the results. But by incorporating the four regions – Luhansk and Donetsk in the east and Zaporizhzhia and Kherson in the south – Moscow could portray Ukraine's efforts to retake them as attacks on Russia itself, a warning to Kyiv and its Western allies. 
U.S. National Security Adviser Jake Sullivan said the United States would respond to any Russian use of nuclear weapons against Ukraine and had spelled out to Moscow the "catastrophic consequences" it would face. "If Russia crosses this line, there will be catastrophic consequences for Russia," Sullivan told NBC television on Sunday. "The United States will respond decisively." Sullivan did not say how Washington would respond but said it had privately told Moscow "in greater detail exactly what that would mean". His comments followed Wednesday's thinly veiled nuclear threat by President Vladimir Putin, who said Russia would use any weapons to defend its territory.
'Putin not bluffing'
Ukrainian President Volodymyr Zelensky said he doesn't think Putin is bluffing. "Look, maybe yesterday it was bluff. Now, it could be a reality," Zelensky, who had previously played down such warnings as nuclear blackmail, told CBS News on Sunday. "I don't think he's bluffing," Zelensky added.
Man shoots commandant
Protests have sparked in various parts of Russia against partial mobilisation and a young man entered a military enlistment office Monday in the Siberian city of Ust-Ilimsk and shot the military commandant. Russian media reports claimed the man walked into the facility saying "no one will go to fight" and "we will all go home now." Local authorities said the military commandant was in intensive care. 
The man, identified in the media as 25-year-old local resident Ruslan Zinin, was reportedly upset that a call-up notice was served to his best friend who didn't have any combat experience.    
This story has been sourced from a third party syndicated feed, agencies. Mid-day accepts no responsibility or liability for its dependability, trustworthiness, reliability and data of the text. Mid-day management/mid-day.com reserves the sole right to alter, delete or remove (without notice) the content in its absolute discretion for any reason whatsoever