But official says if vaccines and other tools aren't shared fairly, the tragedy of the virus, which has so far killed more than 5.5 million people worldwide, will continue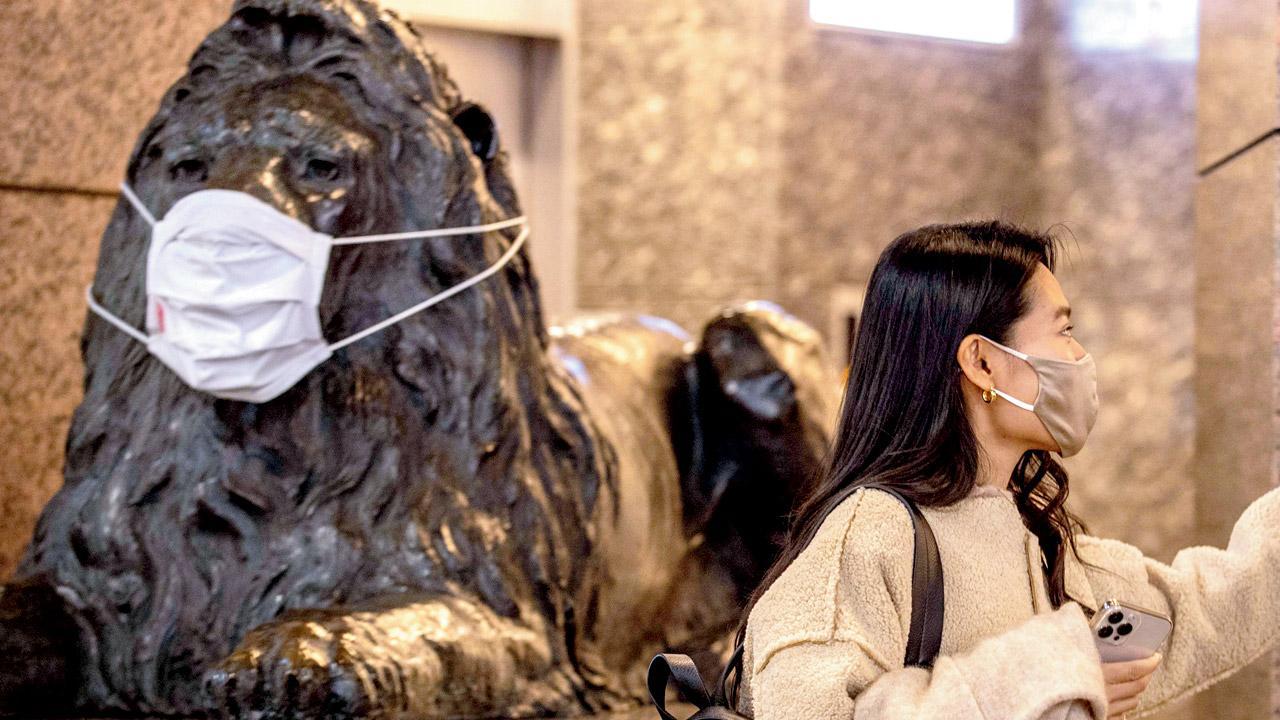 A woman stands in front of a mask-clad lion statue outside a department store in Tokyo on Tuesday. Pic/AFP
The worst of the coronavirus pandemic — deaths, hospitalisations, lockdowns — could be over this year if huge inequities in vaccinations and medicines are addressed quickly, head of emergencies at the World Health Organisation said Tuesday. Dr. Michael Ryan, in a discussion on vaccine inequity hosted by the World Economic Forum, said "we may never end the virus" because such pandemic viruses "end up becoming part of the ecosystem." 
But "we have a chance to end the public health emergency this year if we do the things that we've been talking about," he said. WHO has slammed imbalance in COVID-19 vaccinations between rich and poor countries as a catastrophic moral failure. Less than 10% of people in lower-income countries have got even one dose of vaccine.
Ryan said if vaccines and other tools aren't shared fairly, the tragedy of the virus, which has so far killed more than 5.5 million people, would continue. "What we need to do is get to low levels of disease incidence with maximum vaccination of our populations, so nobody has to die," he said. "The issue is: It's the death. It's the hospitalisations. It's the disruption of our social, economic, political systems that's caused the tragedy — not the virus."
WHO counted 18 mn cases last week 
The number of new coronavirus cases globally rose by 20 per cent last week to more than 18 million, marking a slowdown in the surge caused by the omicron variant's spread, according to the World Health Organisation.
'Omicron wave may cut severity'
The Omicron variant may reduce the incidence of severe COVID-19, and the infection may become less disruptive to individuals and society in future, according to a study by researchers from Africa Health Research Institute, South Africa. 
15,86,889
No. of new cases reported globally in the past 24 hours
32,85,32,929
Total no. of cases worldwide
55,42,359
Total no. of deaths worldwide
Source: WHO/Johns Hopkins
This story has been sourced from a third party syndicated feed, agencies. Mid-day accepts no responsibility or liability for its dependability, trustworthiness, reliability and data of the text. Mid-day management/mid-day.com reserves the sole right to alter, delete or remove (without notice) the content in its absolute discretion for any reason whatsoever