Officers and allied militiamen recapture town hall and police station, after hours of heavy fighting with the extremists
Iraqi army
Baghdad: Iraqi security forces and allied militiamen fought Islamic State (IS) militants and recaptured large parts of a town located near the major air base of Ain al-Asad which houses hundreds of US troops in Iraq's western province of Anbar on Saturday.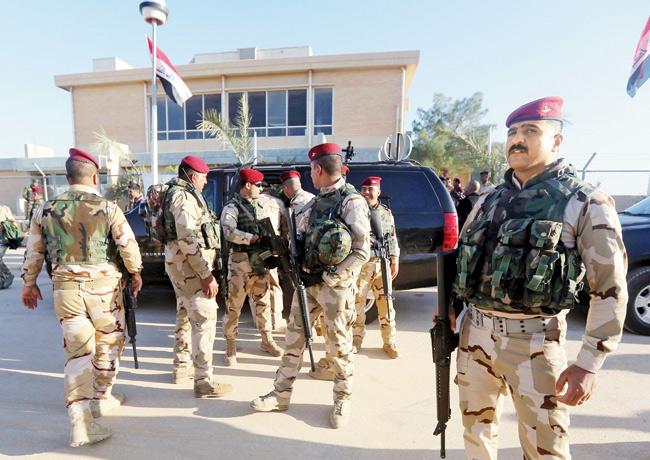 A file picture shows Iraqi army soldiers at the Al-Asad air base, in Iraq's mainly Sunni Anbar province last year. Pic/afp
The security forces and Sunni tribesmen, backed by US and Iraqi aircraft, launched an offensive early morning on the town of al-Baghdadi, 200 km northwest of Iraq's capital Baghdad, and seized the central part of the town, including the town hall and its police station, after hours of heavy fighting with the extremists. "The town is almost under the control of the security forces and the battles are under way to push back the militants with the support from the US Apache helicopters," a source added.
On Thursday, the IS militants attacked al-Baghdadi town and the nearby Ain al-Asad air base and managed to seize it, but their attack on the air base was repelled by the security forces after the troops killed seven suicide bombers. Ain al-Asad military base is used by Iraqi military forces, as well as around 300 US Marines working as military trainers and advisors. While they were in the town, the IS militants executed 33 people.
On Saturday, sporadic clashes continued, while the IS militants continued to pound the air base with mortar and Katyusha rockets since Friday night. The IS group has seized around 80 per cent of Anbar and tried to advance toward Baghdad, but several counter attacks by the security forces and Shia militias have pushed them back.
Since December last year, insurgent attacks have been continuing in the Sunni Arab heartland west of Baghdad that stretches through Anbar province, which has been the scene of fierce clashes that flared up after Iraqi police dismantled an anti-government protest site outside the city of Ramadi.
The security situation in Iraq began to drastically deteriorate from June 10 last year, when bloody clashes broke out between the Iraqi security forces and the IS group, who took control of the country's northern province of Nineveh and later seized swathes of territory in other Sunni provinces.