Ruling out an all-pace attack for the first Test, skipper Virat Kohli says India have enough firepower to win with just three fast bowlers.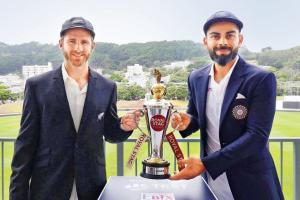 India captain Virat Kohli (right) with New Zealand skipper Kane Williamson at Wellington yesterday. Pic /BCCI
Only five Indian pacers have taken more Test wickets than Umesh Yadav (142 in 45 matches) but the Vidarbha pacer is still unlikely to make the playing XI on a seamer-friendly pitch for the first Test here against New Zealand starting tomorrow.
It is an embarrassment of riches for Indian cricket and it is hard to imagine leaving out a world-class pacer by choice to accommodate a spinner for an overseas Test.
"If it's a Johannesburg pitch [then] it's a possibility," said captain Virat Kohli, ruling out playing all four pacers.
"From the team's point of view, we have enough skills to win matches even with three fast bowlers. But if you have a world-class spinner in your midst, it's a great advantage. A world-class spinner has the ability to take wickets on any kind of pitch," said Kohli.
In all likelihood the lone spinner's spot could go to Ravichandran Ashwin, who has a terrific record against the Kiwis, claiming 45 wickets in five Tests at an average of 15.91. However, this will be Ashwin's first Test in New Zealand though. Going by Wednesday's practice session, Ashwin batted and bowled more than Jadeja.
Ever since the Indian team have landed in New Zealand, local experts have been marvelling at the quality and versatility of the Indian attack. Kohli is confident that he has got enough firepower to win a series in New Zealand. "We are not looking at the combination of other teams. We will stick to our strengths. We look to put the most lethal and balanced bowling attack.
"We have the belief that with this bowling attack, we can win matches against this [NZ] batting attack. Ours is a different bowling attack as compared to the last tour [in 2014] in terms of experience. As a group, we haven't bowled better than this. We haven't bowled out these many sides in the last two to three years. I'm sure they will repeat the same here as well," said Kohli.
Meanwhile, senior-most pacer Ishant Sharma looked in great rhythm in the practice session and there were no signs of jet leg or lack of match practice.
Live on TV
NZ v India, 1st Test: Star Sports 1 & HD, 04:00 (Fri)
Catch up on all the latest sports news and updates here. Also download the new mid-day Android and iOS apps to get latest updates