Gaurav Kapur chats with RadioCity about his show 'Breakfast of Champions' and particularly, Indian cricket team captain, Virat Kohli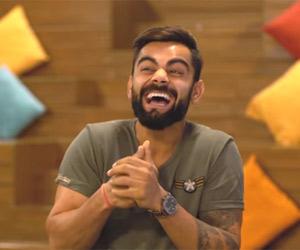 TV Host, commentator and presenter Gaurav Kapur began a new TV show called 'Breakfast with Champions' in March 2017.  On the show, Gaurav Kapoor interacts and interviews various cricketers. Gaurav Kapur has had cricketers like Steve Smith, Michael Holding, Gary Kirsten, Harbhajan Singh, Yuvraj Singh with wife Hazel Keech, Ashish Nehra, Stephen Fleming, Gautam Gambhir, Ajinkya Rahane, Dwayne Bravo, Matthew Hayden and Virat Kohli on the show. Gaurav Kapur chats with RadioCity RJ Salil Acharya about his show and particularly, Virat Kohli.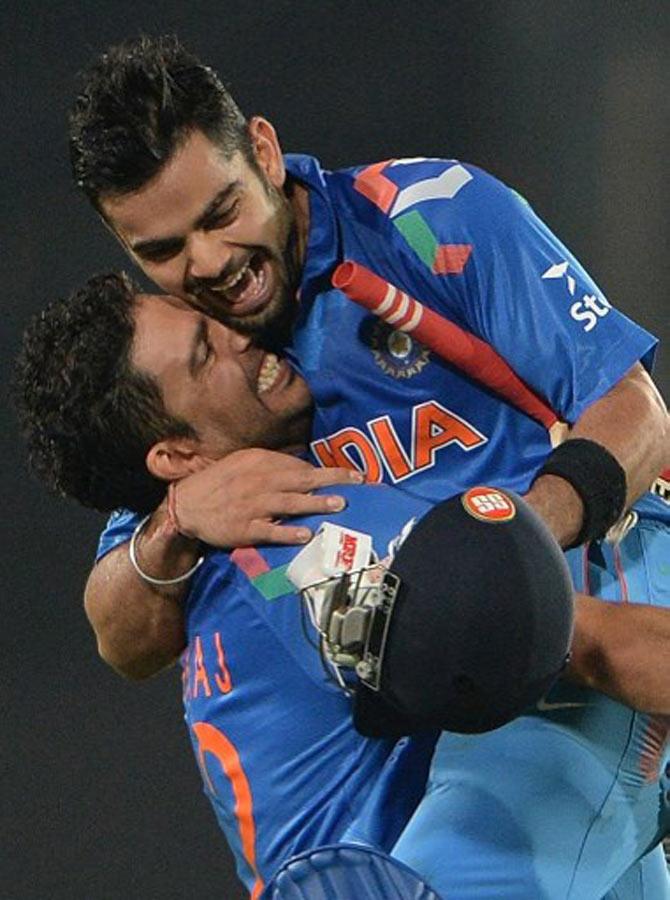 Virat Kohli and Yuvraj Singh. Pic/ AFP
We have never seen cricketers so relaxed as they appear on your show 'Breakfast of Champions'
I spent alot of time behind the scenes with cricketers - watching a match, eating, chatting. I realised the difference between sportsmen and most people is that they have a high emotional quotient. They have faced a few hard times and their emotional journey has been such that their outlook in life is amazing.
Which is the one cricketer's story that touched you in a major way?
Most of the recent cricketers come from humble backgrounds. Mohammed Siraj who is the new young fast bowler; his father is an autorickshaw driver in Hyderabad. A sport and a country like this helps dreams come true. As fans, we never know the real sides of cricketers. At journalists interviews or TV shows, they speak to the point. But should you sit them down and make them feel relaxed, where there is no agenda as such, that is what I wanted to bring to the picture.
We (India) have suddenly noticed the great camaraderie you have with Virat Kohli
After watching the 'Breakfast with Champions' episode, everyone knows Virat Kohli.
Virat Kohli is a very misunderstood person, right?
Absolutely, the job he has that of the Indian cricket team captain, is one of the toughest jobs in the country. You could say, on one half is the Indian Prime Minister and the other, the Indian cricket team captain. You see, every man in India, may not be a film of political expert, but is definitely an expert on cricket. Imagine you being the team captain and the amount of pressure on you. Poor guy is not even thirty years of age and his beard has turned white. Virat is an aggressive person by nature and is too busy playing and winning games. And he is our Delhi boy. So when I spoke to him on the show, I asked him if the one sitting was a Delhi boy or a post-match gentleman. The previous night, a laughing Virat Kohli called me up. So I asked him, 'What happened sister?'. Now, Yuvraj, me and Virat call each other sisters and it's an old thing. No story behind it. We call each other sisters as we think their bonds are stronger than brothers.
Gaurav Kapur then proceeds to tell his story with Virat. 'Virat went on praise the show as 'amazing' after seeing the episode with R Ashwin. It was over 8 months that I have been shooting for the show but never asked Virat to come on the show. This was the first time I told him to show his pretty face on the show. Virat then asked me if I was available the next day. Since Virat was shooting another show with Aamir Khan and could not do breakfast, but we could shoot for it in the evening. Now the catch was, which public place in Mumbai could I take Virat Kohli? My friend, Roshan Abbas suggested I shoot at his amphitheatre. When Virat arrived, he was in the mood for this.
Gaurav Kapur continues, 'Suddenly an idea came to mind. This started with Ashish Nehra, who announced his retirement. I thought of removing the clip of Virat talking about Nehra. Ashish Nehra is by far, one of the nicest people you will ever meet.'
Gaurav Kapur shot to fame when he hosted the IPL pre-match show 'Extraaa Innings T20'.  He is married to Tamil film actress Kirat Bhattal.
Catch up on all the latest sports news and updates here