International pacer Dhawal Kulkarni reckons permanent saliva ban on ball will affect bowlers in India; ex-bowler Karsan Ghavri lauds ICC's decision, while former Mumbai captain Raju Kulkarni feels bowlers are already used to it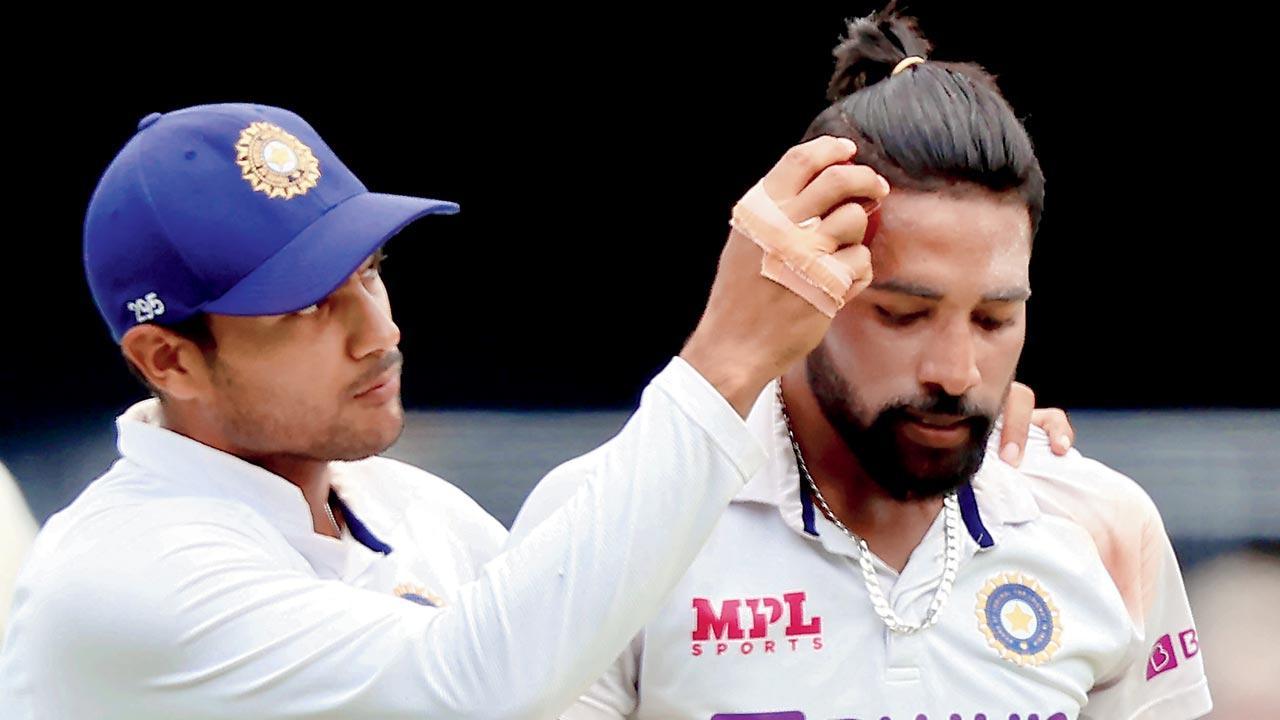 India's Mayank Agarwal (left) rubs the ball on Mohd Siraj's sweaty forehead to shine it after saliva was prohibited due to Covid-19 during the fourth Test against Australia at The Gabba in 2021. Pics/Getty Images
The use of saliva to keep the shine on the ball was a key weapon for fast bowlers. It helped them get reverse swing. All that could be history now. The International Cricket Council on Tuesday banned the use of saliva completely in its new playing conditions, which come into effect on October 1. 
India and Mumbai pacer Dhawal Kulkarni reckoned the change will especially affect bowlers in Indian conditions. Former India pacer Karsan Ghavri welcomed the decision while Raju Kulkarni, another ex-Test fast bowler, felt bowlers will be affected to an extent.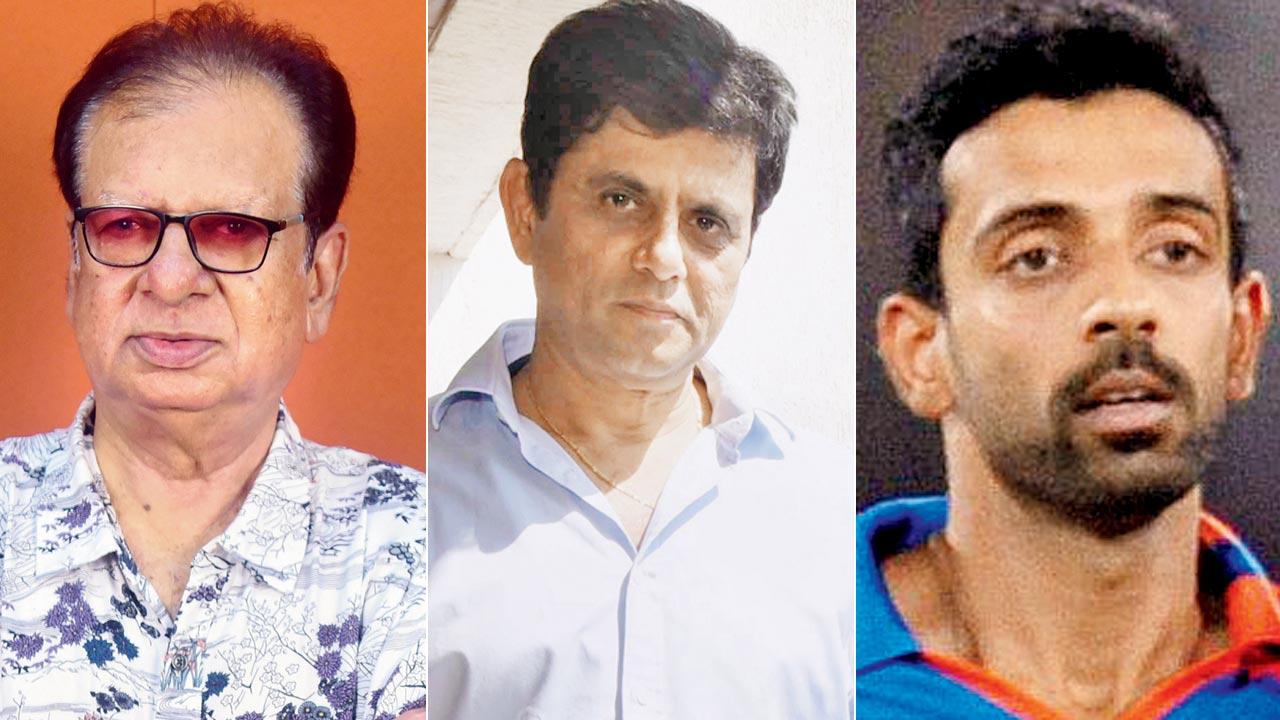 Karsan Ghavri, Raju Kulkarni and Dhawal Kulkarni
"In Indian conditions, the ball hardly swings and this rule [ban on saliva] will affect a lot of bowlers especially in red-ball cricket. You may see reverse swing going out of play. Now players have to search for new ways to shine the ball. When you apply sweat, the ball gets heavy and stops swinging," Dhawal, who claimed 19 wickets from 12 ODIs, told mid-day on Tuesday. 
Also Read: ICC adds Smriti Mandhana to its "100 per cent Cricket Superstars" list
What's the alternative?
When asked about an alternative to saliva, he said: "The pitches are good and result-oriented this season. If there are flat pitches, only batsmen will dominate the proceedings, so the focus should be more on making result-oriented pitches." 
Ghavri, 71, who took 109 Test wickets (some with left-arm spin) from 39 matches, said: "It's a very good decision in terms of fairness. But it will be only fair if each player follows and implements the rules. Bowlers need to take wickets and so they will try every possible way to do that. Just because the ICC has banned saliva, it doesn't mean bowlers will not do it. The game cannot be 100 per cent clean."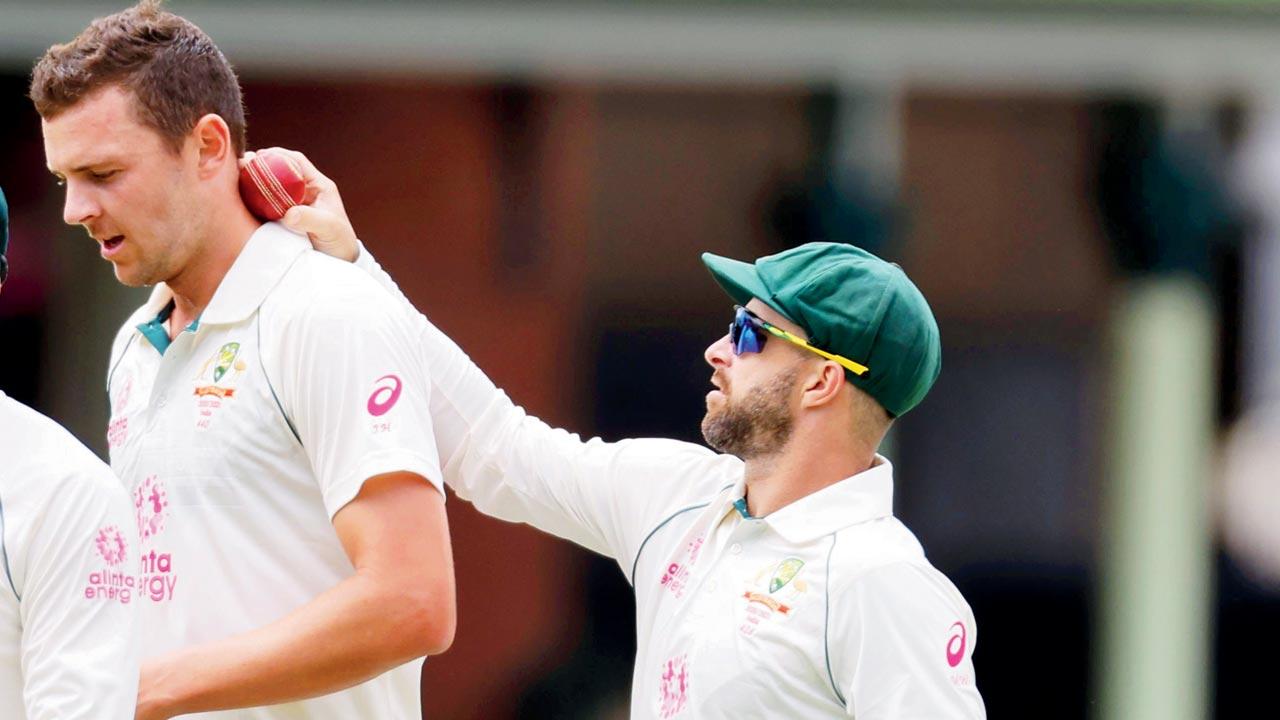 Australia's wicketkeeper Matthew Wade (right) uses the sweat on Josh Hazlewood's neck during the third Test against India at Sydney last year
The art of reverse swing
Bowlers from Pakistan are known for extracting reverse swing and Ghavri revealed how they mastered the art. "Everybody used to apply saliva, because it makes a big difference to the shine. The Pakistanis used to keep one side of the ball shining and the other rough. In those days, players kept the ball with them and not with the umpire during drink breaks. Pakistani players used to keep a bottle crown in their pocket and used it to rough one side of the ball. So, after that, the ball swung a lot," he said. 
Ghavri played two Test series against Pakistan—on their soil in 1978-79—and on home turf in 1979-80.
When asked whether a bowler's performance will be affected because of this new ruling, Raju, who represented the country in three Tests and 10 ODIs, said: "Yes, because bowlers used to get help from saliva to shine the ball. But as saliva was not allowed for the last two years because of COVID restrictions, now they have got used to the situation. So, it will not be that difficult for bowlers. The art of reverse swing is based on having one side rough and one shiny." 
Also Read: T20 World Cup: Tickets for India v Pakistan match sold out
Other key changes
. New batter will take strike irrespective of whether the two batsmen have crossed before a catch is taken
. 'Mankading' is now a run-out and will not come under 'unfair play' section
. A new batter will have two minutes, instead of three, to take strike in ODIs and Tests
. Five-run penalty for unfair field movement
. Over-rate penalty to be applied in ODIs too
. No-ball if batter ventures out of pitch to strike ball What do you make of the new Team India jersey for the ICC T20 World Cup 2022?