While England's star forward Sam Ward has excelled after recovering from a serious eye injury, India goalkeeper Baljit Singh, who suffered a similar situation in 2009, recalls being denied the opportunity to wear the India jersey again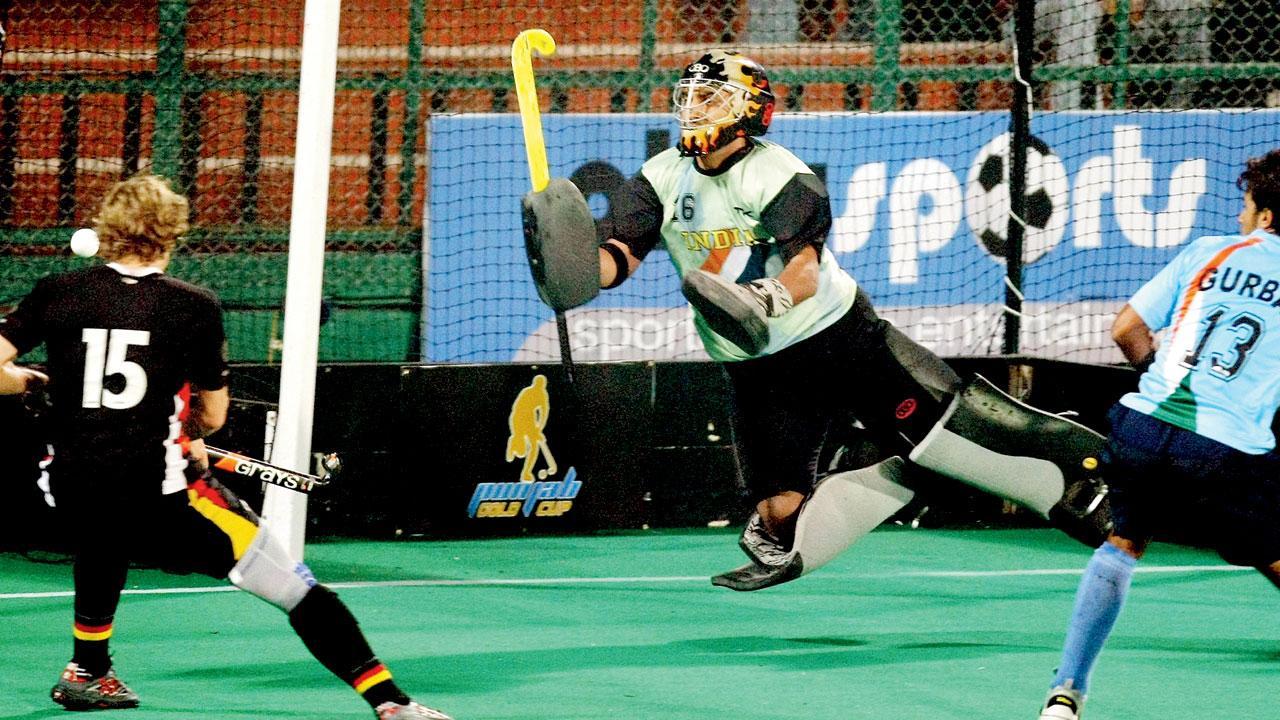 India's 'keeper Baljit Singh dives to save a shot from Germany's Jannik Otto during the Punjab Gold Cup match in 2009. Pics/AFP, hockey India
Former goalkeeper Baljit Singh and England's star forward Sam Ward share a similar story. Only, the India custodian's tale has a sad end. Baljit was on top of his game in 2009 when a golf-ball practice session with Team India in Pune saw him hit in the eye, damaging it seriously. Ward was also on top of his game in 2019, when a ball struck him in his eye during an Olympic qualifier against Malaysia. 
Baljit underwent surgery as did Ward, who also suffered other serious facial and cranial injuries. Both players recovered well, but endured from peripheral vision (the inability to see clearly from the corner of the eye). And while a face mask-wearing Ward made a successful return to international hockey and has excelled at this World Cup, Baljit, India's No. 1 goalkeeper between 2006 and 2009, was never given a chance to don the India jersey again. 
ADVERTISEMENT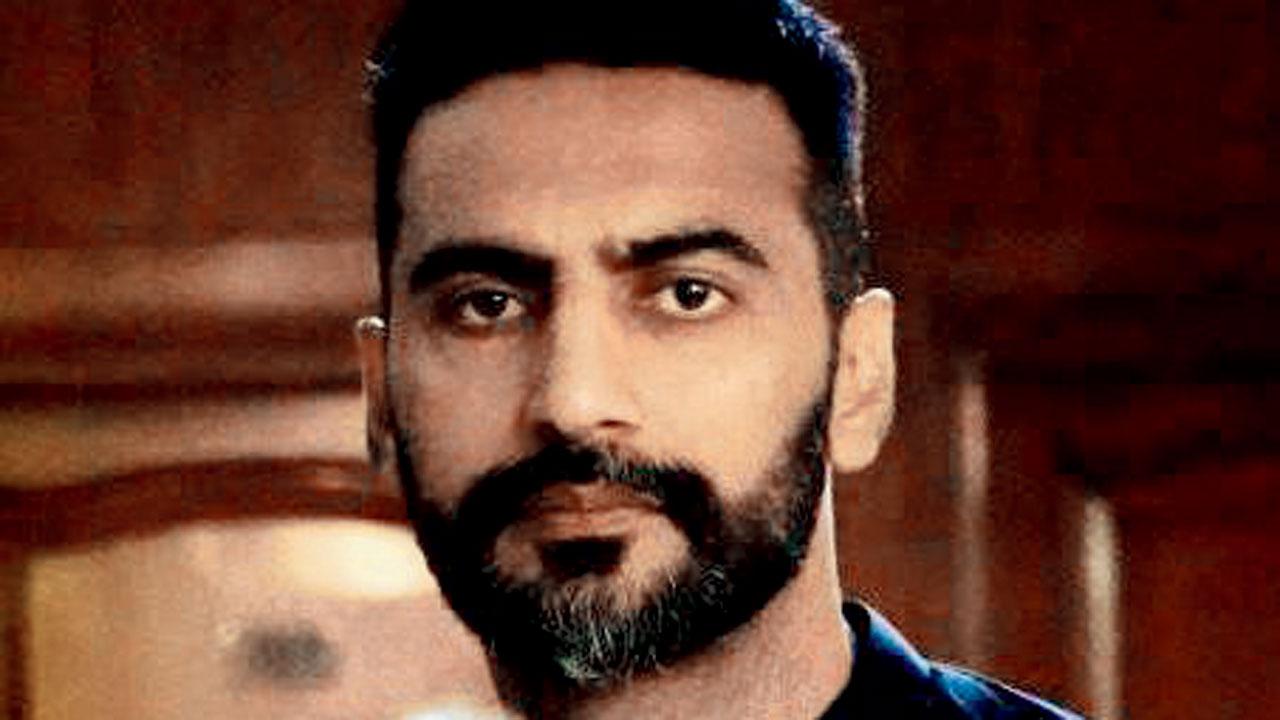 "The England hockey federation was very helpful throughout my injury. They checked on my condition at every stage, and when I was ready to play again, they were very fair in their selection despite my peripheral vision. They gave me my chance and I took it. It's as simple as that," Ward, 32, who has had a fantastic tournament here with his incisive runs and brilliant passes en route to England's quarter-final finish, told mid-day recently.
'Could've played longer'
Cut to Baljit's story and it stings you like a reverse hit. "I made a comeback within a few months and won gold at the National Championships and also the prestigious Beighton Cup, earning a call to the India camp. There, I was among the top four goalkeepers alongside Bharat Chhetri, Adrian D'Souza and Kamaldeep Singh. Then, on the final day of the trials, our main drag flicker Raghunath was instructed to deliberately flick to my right because the vision in my right eye was affected. I remember clearly, he executed around eight flicks—five to my right and three to my left—and while I saved all three on my left, two of the five on my right sneaked in, but that was due to the mistake of the post-man [goal-line defender], it wasn't my fault. Yet, I was told that I was not being selected because of my peripheral vision. I was just 27 and could've easily played for a couple of years at least and it would be no favour, but purely on merit," Baljit, a senior Human Resources manager with Indian Oil in Chandigarh told mid-day.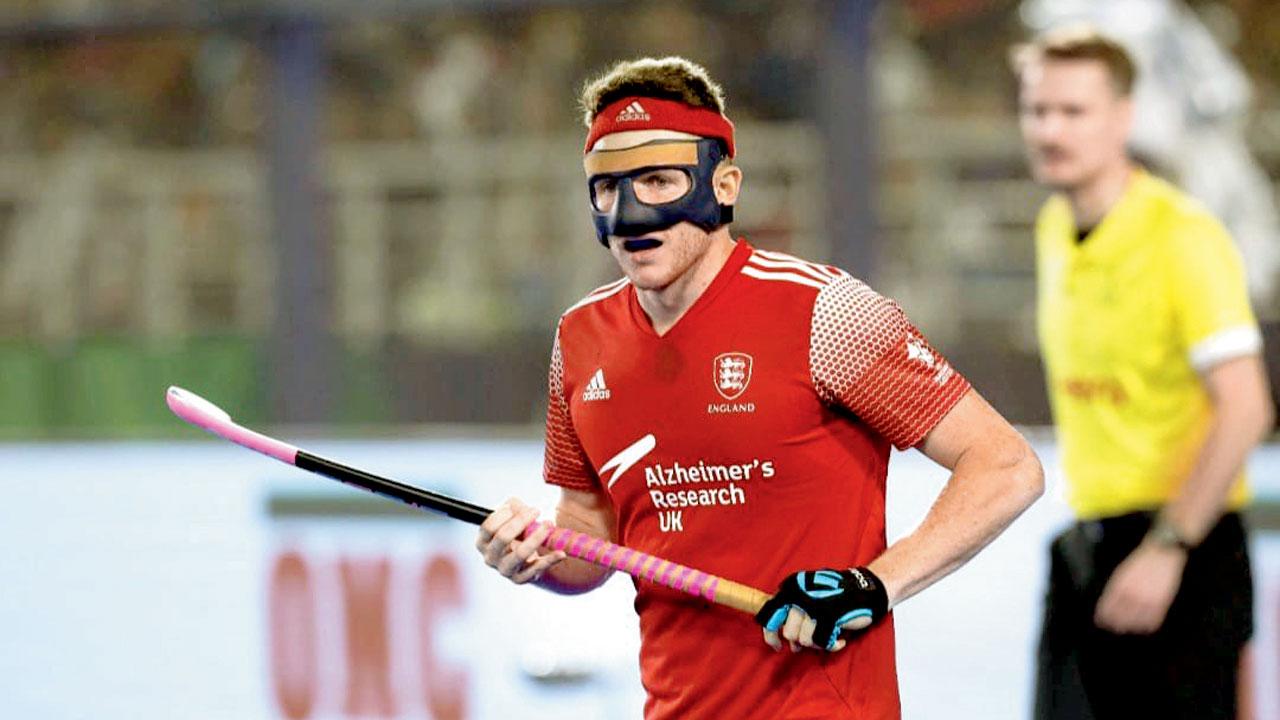 England's Sam Ward against India recently
In Ward's case, the England federation even looked after his mental health post-surgery. "I worked very closely with Team England psychologist Katie Warriner. Along with Katie, even the smallest success like getting back on my feet again or merely picking up the stick felt massive, as we worked towards my end goal of playing for England again," added Ward, who finished joint-highest scorer with six goals at the 2021 EuroHockey Championships before adding five with Team Great Britain at the Tokyo Olympics and then helping England win bronze at the 2022 Birmingham Commonwealth Games.
Also Read: Hockey World Cup 2023: India rout Japan 8-0!
'I broke down many times'
Shockingly, in Baljit's case, he nearly had a mental breakdown. "After Hockey India sent me to the USA for treatment, which was only because of the intense media pressure on them, when I returned, I was dumped and totally ignored. Forget about giving me a psychologist, I did not even receive assistance during my rehab. I was frustrated and broke down many times. Till date, I have never been invited as a guest or as a former player for any of the top tournaments in India, and we have had one Commonwealth Games [2010 in New Delhi] and three World Cups [2010 in New Delhi and 2018 and 2023 in Odisha]. I'm grateful to my employers for whom I played and excelled till 2018 when I hung up my pads. Ward is lucky, he is not playing for India," Baljit signed off.