Olympic bronze medallists recover from sloppy, goalless first-half show to pump in eight goals against Japan in 9th-16 place tie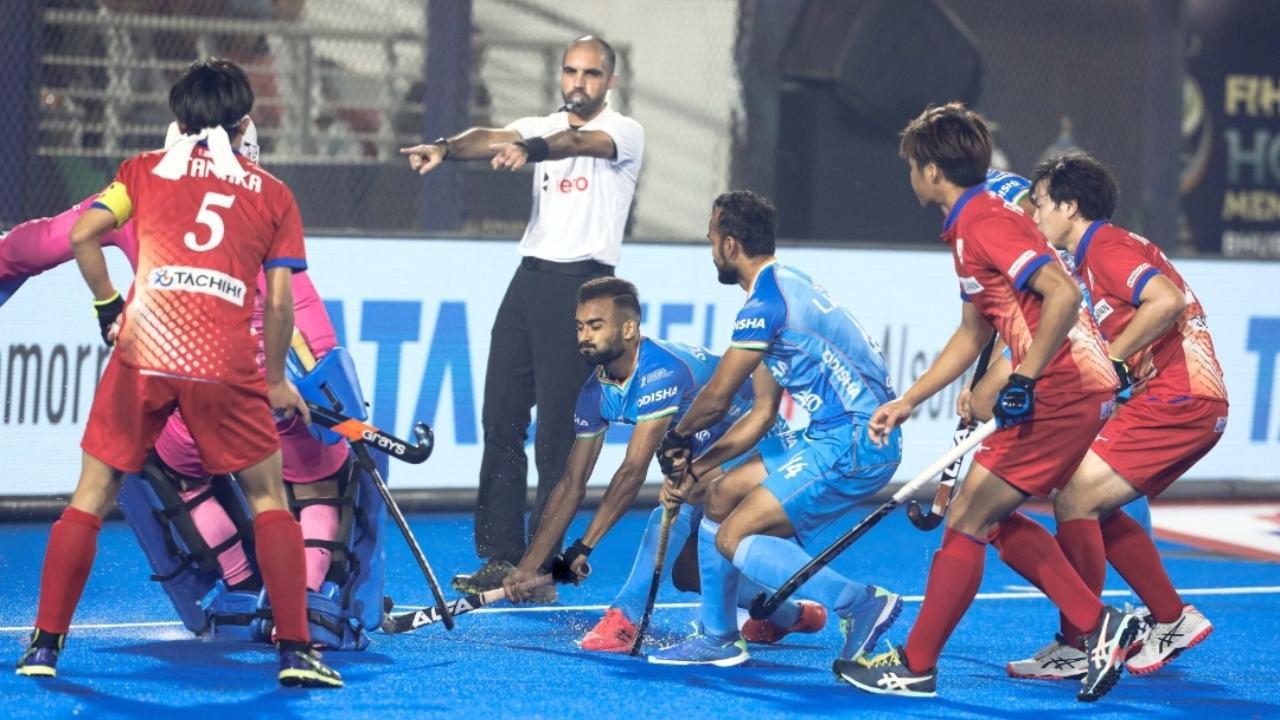 Team India earn a penalty corner during their dominant 8-0 win over Japan at the Birsa Munda Stadium, Rourkela, on Thursday. Pic/Hockey India
Team India made up for a poor show in the first half with as many as eight goals in the next 30 minutes against a hapless Japan in their 9th to 16th place classification match at the Birsa Munda Stadium here on Thursday.
In the initial moments of the game in front of a near full house, Harmanpreet Singh & Co seemed to be continuing with the poor form that saw them go down to New Zealand in the Crossover clash a few days ago.
From Lalit Upadhyay to Abhishek and Raj Kumar Pal to Mandeep Singh, even skipper Harmanpreet, everyone was guilty of making of mess of things whenever the ball fell to their stick, be it inside the Japanese striking circle or anywhere across the turf.
Thankfully, chief coach Graham Reid's one-word message at half-time on the dressing room blackboard—PATIENCE—saw them emerge sharper and a lot more effective in the second half. Two minutes into the third quarter, Harmanpreet smoothly relayed his penalty corner drag flick to Mandeep along the line of the near post and the latter deflected the ball into the roof of the Japan net for 1-0. Three minutes later, Abhishek picked up a stray ball in the Japanese circle and slammed home for 2-0. Six minutes on, a yet another Harmanpreet drag flick was blocked by the Japanese defence but the rebound fell to Vivek Sagar Prasad, who hammered a crisp shot into the board to triple the team's lead. Abhishek (43rd) then got his second goal of the match when he reverse hit a free ball into the net. Two minutes later, skipper Harmanpreet would have heaved a sigh of relief when he beat a goalkeeper for the first time in this tournament off a drag flick for 5-0. Former captain Manpreet Singh (58th) thereafter forced a hard push into the Japanese goal for India's sixth and his first of the tournament. Two minutes from the final hooter, Harmanpreet scored off a drag flick again, this time beating Japan goalkeeper Takashi Yoshikawa to his right for a change. The final goal was tapped in by Sukhjeet Singh (59th) when a Harmanpreet drag flick was blocked and the wily forward pounced on the rebound.
Also Read: Skipper Harmanpreet Singh needs to take responsibility
Incidentally, this is India's biggest victory margin in a major championship against a Top-20 team, with their previous big win being an identical 8-0 scoreline against the same opponents at the 2018 Asian Games in Jakarta.
Harmanpreet & Co next take on South Africa in a 9th to 12th place classification match on Saturday, January 28.