India pacer reveals how he mastered new weapon to return match-winning figures of 4-32 in 317-run victory over Sri Lanka in third and final one-dayer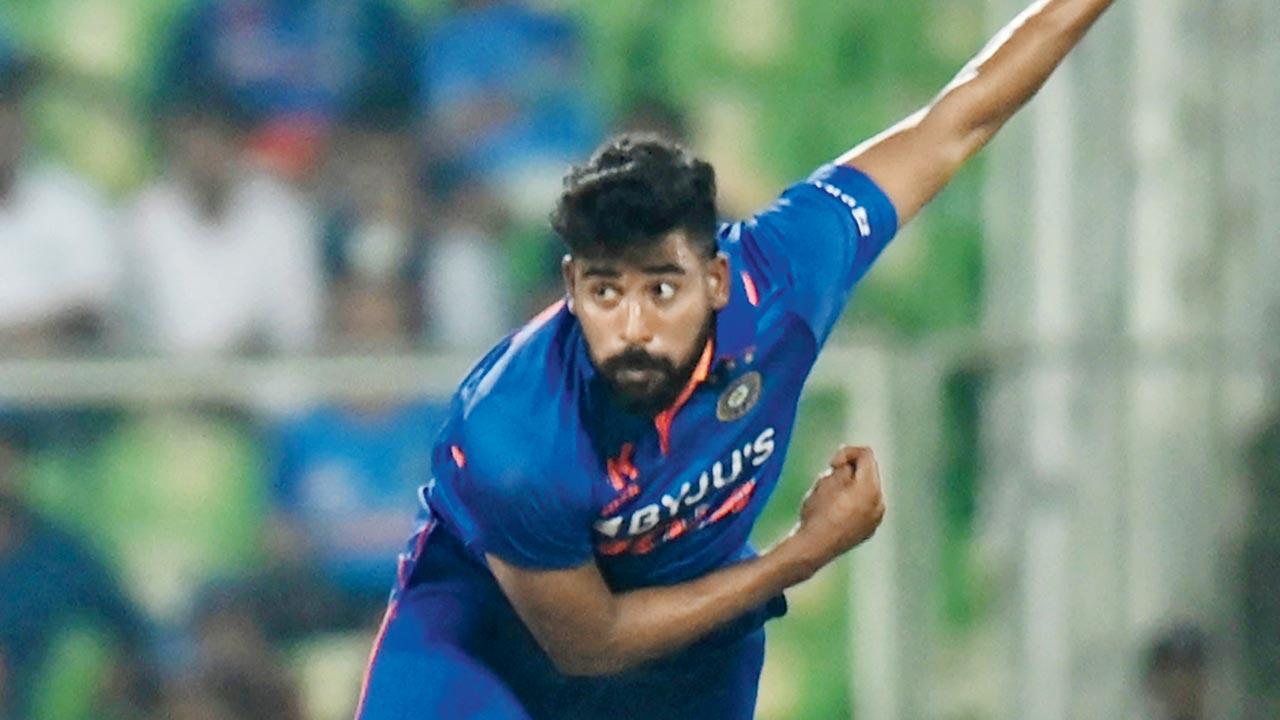 India's Mohammed Siraj during the third ODI against Sri Lanka in Thiruvananthapuram on Sunday. Pic/aFP
It's amazing how, when one door appears slammed shut, the driven break many more down. Mohammed Siraj, 28, belongs to that category, using the disappointment of one format to reinvent himself and become one of the most crucial cogs in the Indian bowling wheel.
The Hyderabadi quick had a fairly ordinary IPL 2022 for Royal Challengers Bangalore, with just nine wickets in 15 games at an economy well in excess of ten runs an over. Having cut his teeth in Test cricket, it seemed that would remain Siraj's primary format until he worked on a variation made famous by James Anderson, and today is picking up wickets for fun.
Siraj's main weapon when he broke through was a natural inswinger to the right-hander, but over time, he lost that skill. While he did develop a beautiful outswinger, he also worked on the wobbled seam delivery that has become his principal wicket-taking option.
Also Read: Harmanpreet Kaur hails new era as Women's IPL rights fetch Rs 951 crore
India's Powerplay man
In 50-over internationals over the last 12-and-a-half months, no one has used the new ball better than Siraj. He has a world-leading 23 wickets in the Powerplay since January 2022 and reiterated his value with a telling first spell of four for 20 in the final One-Day International against Sri Lanka on Sunday night, the wobbled seam well in evidence.
"With the wobbled seam, the ball cuts so much that even I don't know how much, so the batsman too will not know," Siraj said after his heroics. 
"Sometimes it can go straight, sometimes it can cut. I got success when I bowled with the wobbled seam, you would have seen that I have got a lot of wickets with the wobbled seam. It has been effective for me, so I trust the wobbled seam a lot.
Perfect practice
"I had a natural inswinger but when my inswinger went away, then I developed the outswing. I developed the wobble seam. It took a long time for me to be effective with the wobbled seam and for me to gain confidence with that delivery. I kept bowling that ball in practice and in nets, then in the IPL, and I felt that yes, I can bowl the wobbled seam ball [in match situations]."
All set for home debut
Siraj took nine wickets in the three-match series against the Lankans, and is now ready for a huge occasion, his first 
international at his home town Hyderabad when India lock horns with New Zealand in the first ODI on Wednesday.
"I'm looking forward to it, I have a lot of confidence now," he smiled. "I've only played IPL there before. My family will be there, my friends will come, my coaches too. It will feel very good to play an international match in front of them."