Opener Shubman becomes youngest Indian (23) to smash ODI double ton; powers hosts to 349-8 against New Zealand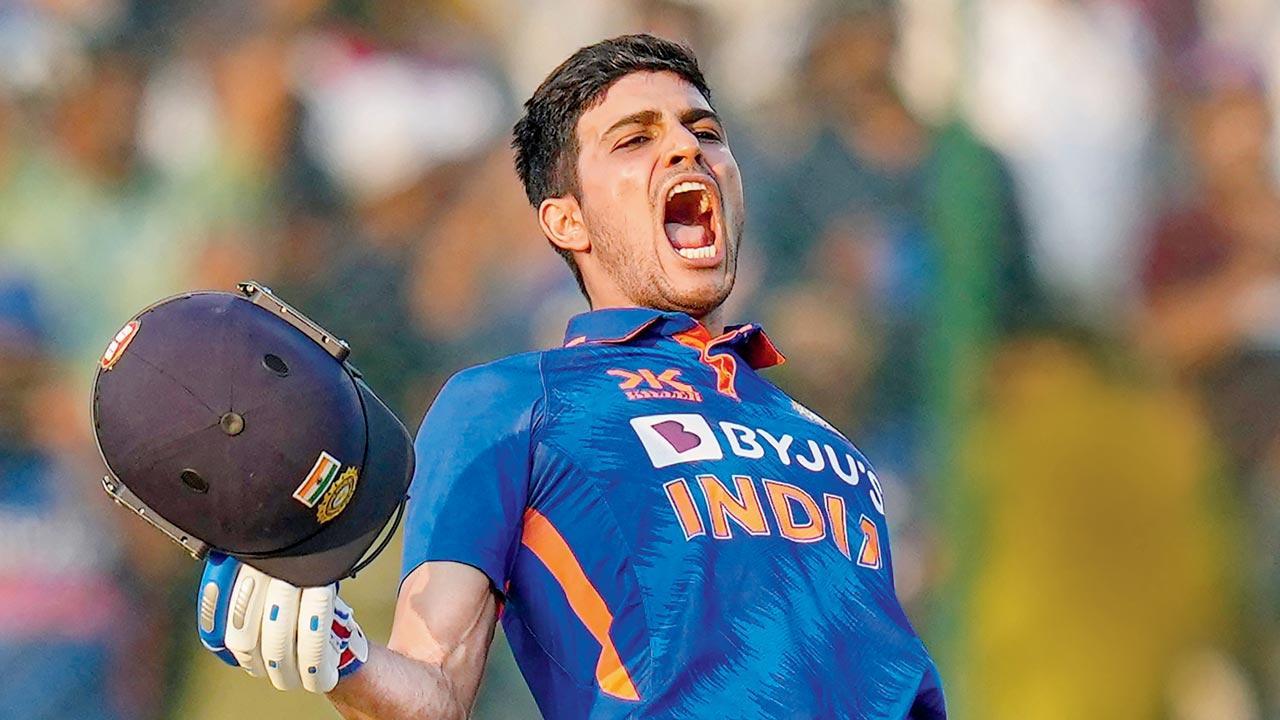 Shubman Gill is ecstatic after scoring his double century against New Zealand at Hyderabad yesterday. Pic/PTI
This was a carnage waiting to be unleashed. A little over a week back, in Guwahati in the first ODI against Sri Lanka, Shubman Gill danced to 70. Three nights back, in the final game of that series in Thiruvananthapuram, he produced an effortless 116, his second ODI hundred. On being dismissed on both occasions, he walked off disappointed, maybe even a little disgusted, that he hadn't gone on to bigger things.
On Wednesday afternoon at the Rajiv Gandhi International Cricket Stadium, the right-handed opener took all his frustrations out on the No.1-ranked 50-over side in the world. Batting with the composure and assurance of someone in the middle of an excellent run and hungry for more, Gill uncorked a magnum opus on his way to becoming the youngest double-centurion in ODI history.
NZ impress in chase
At the time of press, New Zealand were 314-8 in 47.2 overs in response to India's 349-8.
New Zealand were singularly unprepared for the untold destruction wreaked by Gill's mellifluous willow. After Rohit Sharma elected to bat, Gill dealt primarily in boundaries early on, scoring just one single from his first 30 deliveries. It should perhaps have been construed as a sign.
Three successive sixes
Bossing not just the Kiwis, but the Indian innings of 349 for eight, Gill ended up with a stunning 208, off just 149 deliveries with 19 fours and nine sixes. He went from 182 to 200 with three successive sixes off Lockie Ferguson during a crazy 10-ball phase when he lashed six sixes. Lashed is certainly inappropriate; Gill directed the ball to that part of the ground he deemed fit with minimum of effort and plenty of effect, the 31,500-plus spectators eating out of his hands. His penchant for the horizontal-bat strokes either side of the wicket is no secret, but Gill showcased other facets too, not least subliminal driving through the covers and down the ground, the latter mainly aerially. He was put down twice, 45 and 124, but otherwise he alone of the Indian batsmen seemed to have the measure of the pitch. The next highest score was Rohit's 34, which perfectly illustrates the hold Gill had on proceedings. The constant in several alliances, the sum of whose parts contributed to a greater whole, Gill fell in the final over but by then, the 23-year-old had stamped his authority in no uncertain terms.
Kiwis lose early wickets
New Zealand's chase found no momentum or direction, hometown hero Mohammed Siraj and Kuldeep Yadav delivering killer blows. At 131 for six when skipper Tom Latham was dismissed by Siraj, they appeared headed for a hammering when spin twins Michael Bracewell and Mitchell Santner turned the game on its head with a rollicking 100-plus alliance. The left-handed Bracewell unfurled a spectacular flurry of powerful strokes that left India searching furiously and with mounting worry for answers.
Also Read: India vs NZ: Michael Bracewell's sensational 140 in vain as India win by 12 runs
415
No. of runs scored by Shubman Gill in four ODIs this year
Brief scores
India 349-8 in 50 overs (S Gill 208, R Sharma 34, S Yadav 31; D Mitchell 2-30, H Shipley 2-74) v New Zealand (scores incomplete)