IND vs WI 2nd T20I Highlights: Skipper Hardik Pandya along with his deputy Suryakumar Yadav would expect to put a far improved batting show -- both individually as well as collectively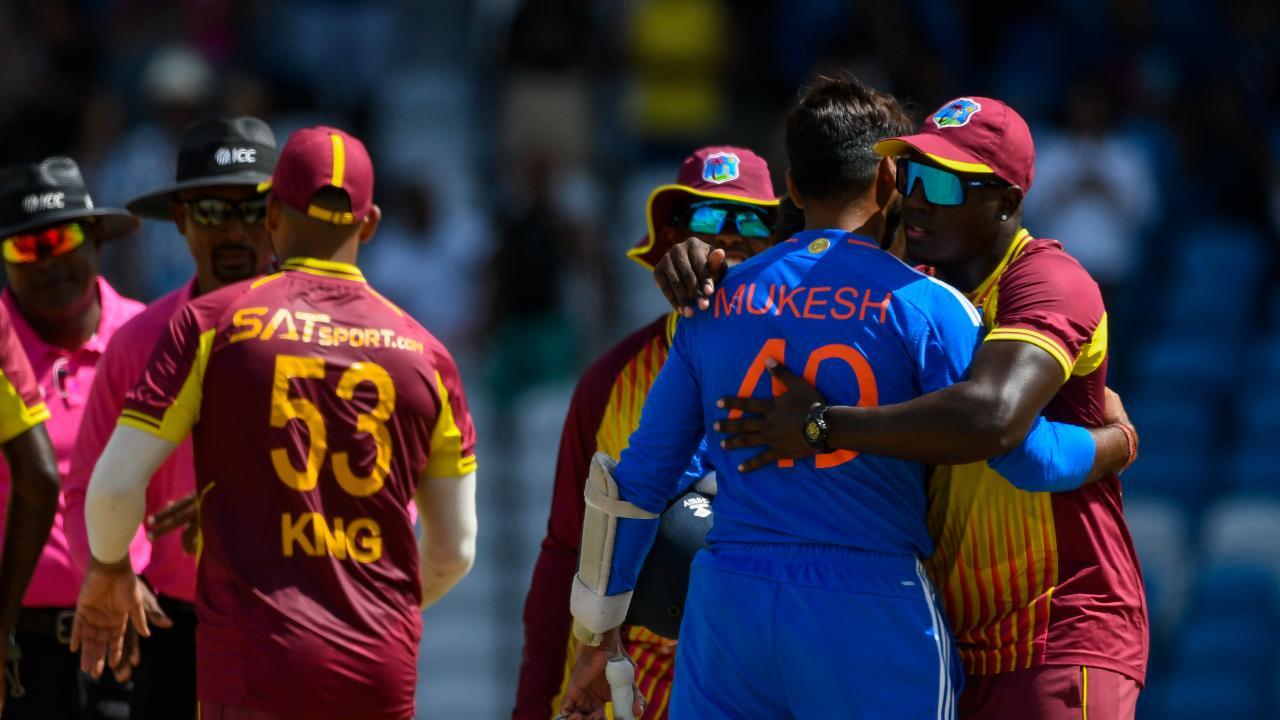 India and West Indies players (Pic: AFP)
Listen to this article
IND vs WI 2nd T20I Highlights: West Indies defeat India by 2 wickets, lead series 2-0
x
IND vs WI 2nd T20I Highlights: West Indies won by 2 wickets.
India's most sought-after IPL stars will have a reputation to defend and parity to restore when they face a quality West Indies side for the second time in the ongoing T20 International of the five-match series at the Providence Stadium on Sunday.
ADVERTISEMENT
India had lost by 4 runs in the 1st T20I in Tarouba where West Indies prevailed on a slow batting track with an impressive bowling effort at the back-end.
Also Read: IND vs WI 1st T20I Highlights: Bowlers shine as West Indies win by 4 runs against India
Skipper Hardik Pandya along with his deputy Suryakumar Yadav would expect to put a far improved batting show -- both individually as well as collectively.
A better batting effort in the back-10 would be top priority at a venue where the West Indies haven't had a great T20I record. Out of 11 matches played at this ground, three didn't produce result due to rain and in the remaining eight, West Indies lost five games.
IND vs WI 2nd T20I: Dream11 Prediction
Wicketkeepers: Nicholas Pooran, Ishan Kishan
Batters: Shubman Gill, Shimron Hetmyer, Suryakumar Yadav, Tilak Verma
All Rounders: Hardik Pandya, Jason Holder
Bowlers: Kuldeep Yadav, Arshdeep Singh, Yuzvendra Chahal
IND vs WI Toss Update
Indian skipper Hardik Pandya won the toss and chose to bat against West Indies.
IND vs WI 2nd T20I: Confirmed Playing XI
India: Shubman Gill, Ishan Kishan (wk), Suryakumar Yadav, Tilak Varma, Hardik Pandya (C), Sanju Samson, Axar Patel, Ravi Bishnoi, Yuzvendra Chahal, Arshdeep Singh, Mukesh Kumar
West Indies: Kyle Mayers, Brandon King, Johnson Charles, Nicholas Pooran (wk), Shimron Hetmyer, Rovman Powell (C), Jason Holder, Romario Shepherd, Akeal Hosein, Alzarri Joseph, Obed McCoy
Catch all the live updates of the match below.
11:39 PM: WI 155/8 in 18.5 overs
Mukesh Kumar on attack. A single off the first ball. SIX off the second ball by Alzerri Joseph! Every mistake will cost India now. A single and a double of the next two balls. And Akeal Hosein does it! He strikes a FOUR to lead WI to victory. West Indies beat India by 2 wickets.
11:33 PM: WI 141/8 in 18 overs
The match is at a very interesting point right now. West Indies managed to score 12 runs off the last two overs after facing a devastating fall of wickets. They need 12 runs of 12 balls. 
11:17 PM: WI 128/7 in 16 overs
Yuzvendra Chahal bowls the 16th over. WICKET on first ball. Shimron Hyetmer hits the ball towards deep mid-wicket. Romario Shepherd looks to score a second run when Axar Patel throws the ball to keeper. Shepherd is run out. Another WICKET! Jason Holder is stumped by Ishan Kishan. Shimron Hyetmer OUT! India appeal for lbw but are turned down. Hardik Pandya takes review and the batter goes out. Chahal has replicated 1st T20I's heroics. What a turn of events for India!
11:05 PM: WI 126/5 in 14 overs
West Indies have managed to score consistent runs in the last few overs with some boundaries here and there. India need a breakthrough if they are to win the match. And here it is! Nicholas Pooran OUT! Caught by Sanju Samson off Mukesh Kumar's ball. WI have lost a crucial wicket at tis point of the game. They need 27 runs off 36 balls. Romario Shepherd walks in next. 
10:55 PM: WI 106/4 in 12 overs
A lot of near-misses in terms of wickets in this innings. Ravi Bishnoi bowls the 11th over. Shubman gill takes Nicholas Pooran's catch but it is later declared that the ball touched the ground. Hardik Pandya bowls the 12th over. West Indies complete 100 runs with a four by Hetmyer. 7 runs off the over.
10:43 PM: WI 91/4 in 10 overs
West Indies' star players Nicholas Pooran and Rovman Powell complete 50-run partnership. Hardik Pandya bowls the 10th over. Nicholas Pooran takes a single on first ball and completes a half-century. Rovman Powell hits a FOUR! OUT! Powell is caught by Mukesh Kumar. Hardik Pandya completes a 3-wicket haul. This is a crucial wicket. Shimron Hyetmer walks in next.
10:34 PM: WI 72/3 in 8 overs
Yuzvendra Chahal bowls the 7th over. First ball wide. Ishan Kishan collects and appeals but Rovman Powell's foot was on the ground. Just saved. 7 runs off the 7th over. Ravi Bishnoi makes recovery in the 8th over as he concedes only 4 runs. India's chances of winning the match are dimishing iwth every ball.
10:22 PM: WI 61/3 in 6 overs
It's raining FOURS and SIXES. Nicholas Pooran is wreaking havoc on Indian bowlers. Mukesh Kumar concedes 10 runs in the 5th over while Ravi Bishnoi concedes 18 runs in the 6th over. India are in a tough position as WI seem to be on the path to easily achieve the target.
10:12 PM:  WI 33/3 in 4 overs
Arshdeep Singh on attack. A FOUR and a SIX by Kyle Mayers. And he gets OUT on the next ball. LBW! He takes a review but the decision is upheld. Captain Rovman Powell walks in next. 12 runs off the over.
10:05 PM: WI 21/2 in 3 overs
Arshdeep Singh bowls a tight 2nd over. OUT! NOT OUT! Nicholas Pooran escapes dismissal as review reveals that the ball had missed the stumps. And he immediately replicates his style from the 1st T20I as he strikes a SIX and a FOUR in Hardik Pandya's 3rd over before Kyle Mayers hits a FOUR. 17 runs off the 3rd over. West Indies have made a strong comeback.
9:55 PM: WI 2/2 in 1 over
Hardik Pandya to Brandon King. OUT! Magic on the field as Suryakumar Yadav takes a stunning catch to dismiss Brandon King. Johnson Charles walks in next. 2 runs off the second ball. OUT! Second wicket for Hardik Pandya as Tilak Varma's catch dismisses Charles. Nicholas Pooran walk in. India need to be careful of the WI's in-form batter. 
9:50 PM: Run chase begins!
Brandon King and Kyle Mayers open for West Indies. Hardik Pandya bowls the first over.
9:45 PM: IND 152/7 IN 20 overs
Romario Shepherd, who bowled a tight last over in the 1st T20I preventing India from completing the chase, is back again in the 20th over. First ball and WICKET! Axar Patel departs. Arshdeep Singh walks in. He hits a FOUR on his first ball. Ravi Bishnoi hits a SIX. India finish with 13 runs off the over. Arshdeep and Bishnoi lead India to a strong finish. West Indies need 153 to win in 20 overs.
9:30 PM: IND 129/6 in 18 overs
Alzarri Joseph on attack. Axar Patel scores a single off the 1st ball. SIX by Hardik Pandya on next ball. OUT! India lose skipper Hardik Pandya. Joseph bowls a yorker and it hits the toe of the stumps. India have lost yet another crucial wicket. A gritty effort by WI bowlers. Ravi Bishnoi walk in next.
9:20 PM: 115/5 in 16 overs
Akeal Hosein on attack. Hardik Pandya strikes a SIX. A dot and a single in the next two balls. Tilak Varma OUT! Tilak hits the ball and it goes towards the left of deep square leg where Obed McCoy takes a catch. A major setback for India as they lose their star player. Axar Patel walks in next.
9:11 PM: IND 106/4 in 15 overs
Obed McCoy on attack. SIX! In-form Tilak Varma contributing significantly to India's score. And with that, the team completes 100 runs. Tilak scores a single on last ball and gets his first half-century. What an impressive performance! 12 runs off the over.
9:08 PM: IND 94/4 in 14 overs
West Indies are keeping India in check. Pandya and Tilak can lead the visitors to a decent total given they manage to save the wickets. Tilak Varma hits a FOUR in 14th over. 9 runs off the over.
8:59 PM: IND 79/4 in 12 overs
Tilak Varma is a ray of hope for India. He hits two boundaries in the 11 over. Akeal Hosein on attack in the 12th over. OUT! Sanju Samson stumped. He leaves scoring just 7 runs. Pressure is on the Indian team. Skipper Hardik Pandya walks in next. 
8:48 PM: IND 65/3 in 10 overs
Romario Shepherd on attack. Tilak Varma manages a single on first ball. SIX! Ishan Kishan pulls the ball over deep square leg for a maximum. OUT! Kishan dismissed on the next ball as it hits the top of off stump. India face a setback but a crucial wicket for West Indies. Sanju Samson is the next man in. FOUR! Samson hits a boundary after a dot ball. India is at 65/3. They need a better performance in the remaining 10 overs.
8:38 PM: IND 49/2 in 8 overs
Kyle Mayers on attack in 8th over. Tilak Varma hits a FOUR. Another FOUR by Ishan Kishan. 12 runs off the over.
8:29 PM: IND 34/2 in 6 overs
Tilak Varma easing into his form. Hits a boundary in 5th over. It's crucial for India to maintain a steady partnership to set a big target for West Indies.
8:20 PM: IND 19/2 in 4 overs
Obed McCoy on attack. SKY manages a single after a dot ball. McCoy to Kishan. He hits it towards mid-wicket and runs for a single. OUT! Kyle Mayers' direct throw runs out Suryakumar Yadav. A short journey for SKY. India seem to be repeating 1st T2OI as they lose quick wickets. Tilak Varma walks in next. 2 runs off the over.
8:14 PM: IND 17/1 in 3 overs
Alzarri Joseph on attack. Over begins with a wide ball. Shubman Gill hits his first SIX of the match after 3 dot balls. He pulls the short ball to deep mid-wicket for a maximum. OUT! Shubman Gill caught by Shimron Hetmyer. India lose their first wicket. Suryakumar Yadav walks in next.
8:09 PM: IND 9/0 in 2 overs
India get off to a slow start as McCoy bowls a tight first over, conceding only 1 run. Akeal Hosein comes in for 2nd over. SIX! Ishan Kishan's first boundary. He hits the ball towards deep square leg. 8 runs off the 2nd over.
8:00 PM: First innings begins
Ishan Kishan and Shubman Gill open for India. Obed McCoy bowls the first over.
7:32 PM: Ravi Bishnoi comes in
India have made one change in their squad -- Ravi Bishnoi coming in for Kuldeep Yadav. The latter got hit on the hand on Saturday.
"Exciting news! Mid-day is now on WhatsApp Channels

Subscribe today by clicking the link and stay updated with the latest news!"
Click here!