Indian Twitterati respond to Javed Miandad abusing Narendra Modi and ranting against India by reminding the former Pakistan cricketer of his family ties with terrorist and underworld don Dawood Ibrahim
Indians remind 'war-monger' Javed Miandad of his 'criminal connection'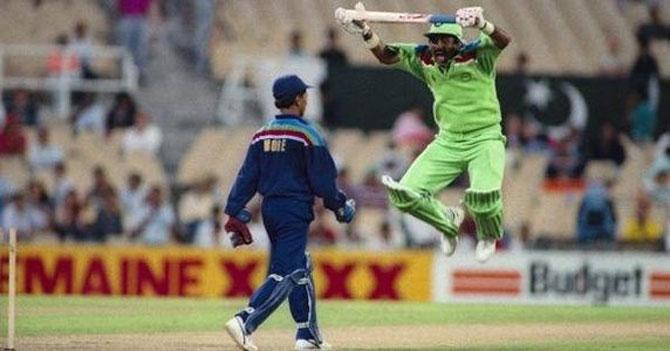 Pakistan's Javed Miandad jumps as he attempts to imitate Indian wicketkeeper Kiran More during the 1992 World Cup match. Pic/Video grab
Former Pakistani cricketer Miandad is famous for his rants and controversial behaviour, both on and off the field. The ex-cricketer has said that Pakistan was ready for an all out war against India.
Talking to a Pakistani news channel about India's surgical strike across the Line of Control (LoC), Miandad said, "We are ready for martyrdom. Our nation cannot be cowed down by hollow threats."
"Ye laaton ke bhoot baaton se baaz nahi aate, inko laate hi maarni padengi (Pakistan shouldn't get scared India's empty threats, it should respond in action),"Miandad was quoted as saying by the channel. "They (Indians) are cowards. Action is the best reaction," he added.
In an interview with Samaa TV, Miandad ranted on, "I want to tell the people of India that there are some people in your country who can get you killed. You should come together and unite against such people..."
He then abused Indian Prime Minister Narendra Modi. Miandad said, "I have travelled a lot in India during my cricketing days. I know that the general public is not like that. But there are people like Narendra Modi, who is an egg. An egg who doesn't know about his father or mother."
He carried on, "He doesn't know who he is threatening. We are ready for war. We are ready for martyrdom. Every Pakistani, even every child is ready to fight and die for this holy war."
The explosive right-handed batsmen is famous for the heated altercations he had with opposition cricketers during his playing days. His on-field spat with Indian wicketkeeper Kiran More during the 1992 World Cup group match is one of the most famous slapstick moments of cricket history.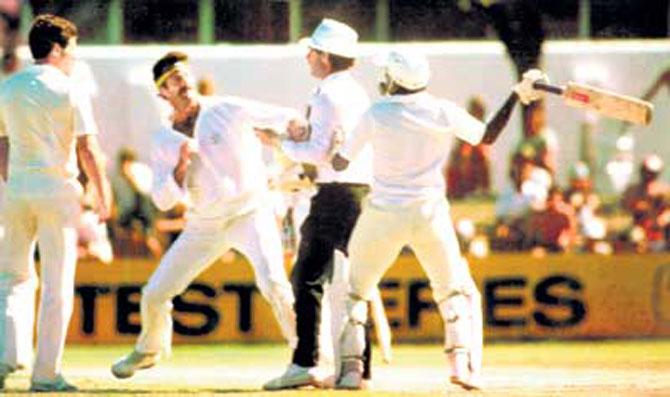 Javed Miandad attacks Dennis Lillee with his bat in November 1991 at Perth. Pic/Video grab
He also famously went after former Australian paceman Dennis Lilee with a bat after he had enough of the fast bowler's sledging. 
Well, Indian Twitterati couldn't just sit by and let Miandad have the last word. So they took to the micro blogging site and decided to remind the former cricketer of his familial connection to terrorist and underworld don Dawood Ibrahim.
HERE'S THE VIDEO OF MIANDAD'S RANT AGAINST INDIA:
Every Pakistani, even every child, is ready for martyrdom: Pakistani cricketing legend Javed Miandad after India's 'surgical strikes' claim pic.twitter.com/ykzuQpSkCw

— SAMAA TV (@SAMAATV) September 29, 2016
HERE'S WHAT TWITTERATI HAD TO SAY:
Some people should only be seen on cricket field, never heard off it. Javed Miandad rant is disgraceful: Dawood ka sambandhi after all.

— Rajdeep Sardesai (@sardesairajdeep) October 4, 2016
Ugly mind can get purified at AJMER SARIF. Leave criminal Nawaz Sarif https://t.co/bAP1M3LoGI via @timesofindia

— Gouri Bhattacharya (@gouri411956) October 4, 2016
With Dawood as his daughter's pa-in-law, yeah obviously Javed Miandad wants to go to war with India. It's become a family business

— Perfidious Dog (@jarringtruths) October 4, 2016
Remember?? his daughter married to Dawood Ibrahim!!! https://t.co/Z2HGgbrMek

— Ruchi (@CS_Ruchi) October 4, 2016
Javed Miandad is the biggest Nincompoop I have come across. Ignorance has limits...but his challenges the word itself.

— ARTHUR CARDOZO (@CARDOZO66) October 4, 2016
Javed Miandad calls for an all out war against India.

Kiran More begins cleaning his gun, muttering "Finally"#JavedMiandad

— Ministry of Humor (@MinistryofHumor) October 4, 2016
Now we have a relative of Dawood talking about martyrdom and that is considered a sixer by someðÂÂÂÂÂu00c2u009fÂÂÂÂÂu00c2u0098ÂÂÂÂÂu00c2u0092seriously?ðÂÂÂÂÂu00c2u009fÂÂÂÂÂu00c2u0098ÂÂÂÂÂu00c2u0092 #JavedMiandad

— Sundeep Gopal (@gopalsunny) October 4, 2016
What can one expect from someone who chose #DawoodIbrahim to be his relative. #JavedMiandad spits venom agnst India https://t.co/LJISctcrgp

— shadab ahmed (@shady2k8) October 4, 2016
All those guys looking for Dawood Ibrahim are advised to contact Javed Miandad: dawood bhai mele rishtdal hai, phil se game utha dey!

— Naila Inayat (@nailainayat) May 5, 2015
#JavedMiandad Shut up War Monger Uncle

— Bhavatarini (@Sonali1109) October 4, 2016
#Javedmiandad is a coward man who scares of dying so he talks nonsense.
Basically that terrorist #Dawood relative has no guts @SAMAATV

— Jeeva from Bokaro (@Bokaro_boy) October 4, 2016
#JavedMiandad who? Oooooo the one who's relative Is the most wanted terrorist ?

— Pushpak mokadam (@Yesimpm) October 4, 2016
#JavedMiandad obviously will speak against #India his #Samdhi is #Dawood so he has been directed to do so

— Karan Ravi (@simkilll) October 4, 2016