The ICC also gave the Narendra Modi Stadium pitch in Ahmedabad, the venue for the fourth Test, an 'average' rating for the slow batting deck where both teams had one completed innings each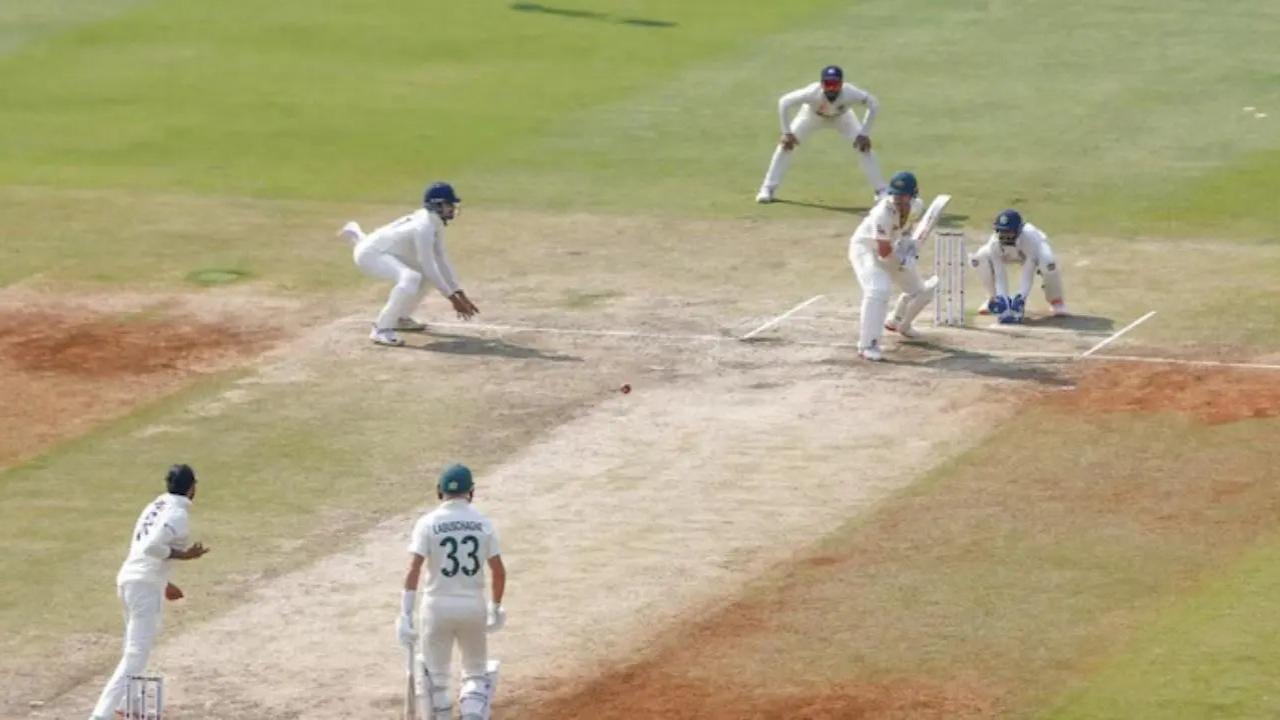 Indore Test (Pic Courtesy: AP)
The pitch rating for the third Test between India and Australia on Monday was changed following a BCCI appeal. The International Cricket Council (ICC) has changed the rating of Indore's Holkar Stadium to 'below average' from 'poor'. 
Meanwhile, the ICC also gave the Narendra Modi Stadium pitch in Ahmedabad, the venue for the fourth Test, an 'average' rating for the slow batting deck where both teams had one completed innings each. The Test match had concluded in a tame draw, with India ultimately sealing the series 2-1. While at Indore, Australia had defeated India by nine wickets inside three days of the Border-Gavaskar Test to confirm their spot in the World Test Championship final.
ADVERTISEMENT
Also Read: BCCI challenges ICC's 'poor' rating for Indore pitch during 3rd Test against Aus
Upon reviewing the earlier decision of the match referee Chris Broad, the ICC appeal panel found that there was not enough excessive variable bounce to warrant the 'poor' rating. In that case, the pitch will now only get one demerit point against three that it initially received. 
"The footage from the Test was reviewed by an ICC appeal panel consisting of Wasim Khan, ICC General Manager ¿ Cricket, and Roger Harper, ICC Men's Cricket Committee Member. Both were of the opinion that, while the guidelines had been followed by the Match Referee in accordance with Appendix A of the Pitch Monitoring Process, there was not enough excessive variable bounce to warrant the 'poor' rating," said ICC in an official statement on Monday.
"The panel, therefore, concluded that the pitch should be rated 'below average', meaning the Holkar Stadium will receive only one demerit point instead of the original three."
The Holkar Stadium pitch offered plenty of help to the spinners, with 14 wickets falling on the first day and, out of the 31 wickets to fall in the Test, 26 were surprisingly picked up by spinners.
The ICC match referee, however, gave 'very good' rating to the the Wankhede Stadium and Dr. YS Rajasekhara Reddy ACA-VDCA Cricket Stadium, Visakhapatnam pitches, where the first two ODIs between India and Australia were played.
(With PTI inputs)