IRE vs IND 2nd T20I live updates: Ruturaj Gaikwad and Rinku Singh's heroics helped India beat Ireland by 33 runs in the second T20I and seal the series with a game to spare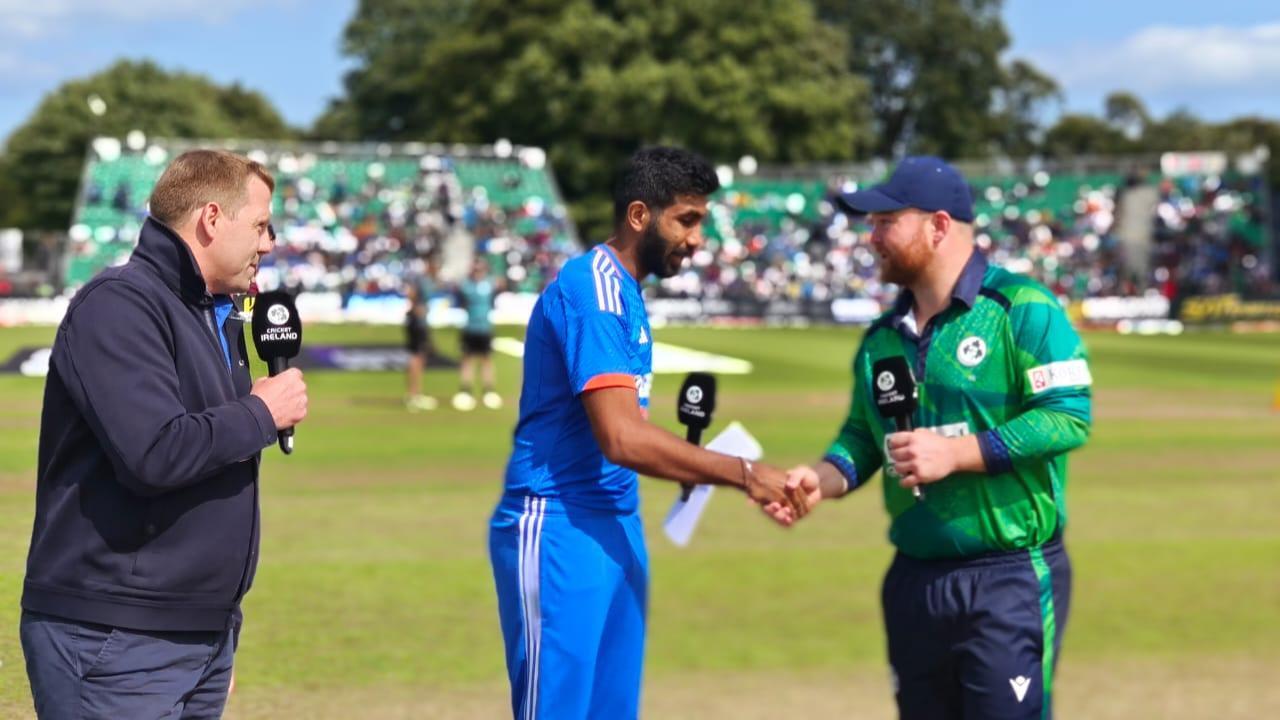 Ireland won the toss and opted to field first (Pic: @BCCI/X)
Buoyed by Jasprit Bumrah's impressive return, fancied India will hope for better weather and a chance for the team's young batters to show their mettle in the second T20 International against Ireland on Sunday.
After the Jasprit Bumrah-led bowling attack impressed to restrict Ireland to 139 for seven in the series opener, incessant rain denied the middle-order batters an opportunity to prove their worth.
ADVERTISEMENT
India were declared winners by two runs via the Duckworth/Lewis method and both the teams will hope that they get to play a full match in the second game. 
Expected to lead the Indian batting in the coming years, the likes of Shivam Dube, Ruturaj Gaikwad and Rinku Singh will hope they get a chance to spend sufficient time in the middle.
Having got out after getting a good start in the first match, opener Yashasvi Jaiswal will look for a big score and so will Tilak Varma, who was dismissed for a golden duck days after his stupendous performance in the West Indies.
IRE vs IND 2nd T20I: Full squads
India: Jasprit Bumrah (captain), Ruturaj Gaikwad (vice-captain), Yashasvi Jaiswal, Tilak Varma, Rinku Singh, Sanju Samson (wk), Jitesh Sharma (wk), Shivam Dube, Washington Sundar, Shahbaz Ahmed, Ravi Bishnoi, Prasidh Krishna, Arshdeep Singh, Mukesh Kumar, Avesh Khan.
Ireland: Andrew Balbirnie (captain), Harry Tector, Lorcan Tucker, Ross Adair, Mark Adair, Curtis Campher, Gareth Delany, George Dockrell, Fionn Hand, Josh Little, Barry McCarthy, Ben White, Craig Young, Theo van Weorkom
IRE vs IND 2nd T20I: Dream11 Prediction
Wicketkeepers: Lorcan Tucker, Sanju Samson
Batsmen: Tilak Varma, Paul Stirling, Ruturaj Gaikwad, Harry Tector
All-rounders: Washington Sundar, Curtis Campher
Bowlers: Arshdeep Singh, Ravi Bishnoi, Jasprit Bumrah

Also Read: Team India's 'Big Three' and the inevitability of succession
IRE vs IND 2nd T20I: Predicted Playing XI
India: Yashasvi Jaiswal, Ruturaj Gaikwad, Sanju Samson (wk), Tilak Varma, Rinku Singh, Shivam Dube, Washington Sundar, Ravi Bishnoi, Jasprit Bumrah (C), Arshdeep Singh, Prasidh Krishna
Ireland: Paul Stirling (C), Andrew Balbirnie, Harry Tector, Gareth Delany, Curtis Campher, George Dockrell, Lorcan Tucker (wk), Benjamin White, Joshua Little, Mark Adair, Craig Young
IRE vs IND 2nd T20I: Toss update
Ireland wins the toss and opts to field first against India.

IRE vs IND 2nd T20I: Confirmed Playing XI
Ireland: Andrew Balbirnie, Paul Stirling(c), Lorcan Tucker(w), Harry Tector, Curtis Campher, George Dockrell, Mark Adair, Barry McCarthy, Craig Young, Joshua Little, Benjamin White
India: Yashasvi Jaiswal, Ruturaj Gaikwad, Tilak Varma, Sanju Samson(w), Rinku Singh, Shivam Dube, Washington Sundar, Prasidh Krishna, Arshdeep Singh, Jasprit Bumrah(c), Ravi Bishnoi
10:57 PM: 148/7 (19.1)
Prasidh Krishna returns to the attack. Mark Adair showcases his power hitting with two consecutive sixes, one over long-on and the other straight down the ground, but it's too late now. Adair then drove to long-off without taking a run. Joseph noted the similarities between this match and another involving India and Ireland, as both saw some explosive hitting.
10:36 PM : 123/6 (15.5)
Arshdeep Singh produced a game-changing moment as he sent a fuller ball just outside off to Andrew Balbirnie. The tension was palpable as Balbirnie took a swing at it, only to find the faintest of edges. Sanju Samson, behind the stumps, made it look easy as he safely pouched the catch. This wicket, Balbirnie's, could very well be the killer blow for the opposition. It's a significant milestone for Arshdeep Singh as well, as this marks his 50th T20I wicket. Balbirnie departs after a remarkable knock, amassing 72 runs from 51 balls, which included five fours and four massive sixes.
10:24 PM: 94/4 (13)
Balbirnie smacks a well-timed four with a slog sweep. 14 runs come off from the over. Shivam Dube concedes two sixes, one by Balbirnie with a pull and another with a slap over cover. Balbirnie and Dockrell keep going!
10:12 PM: 63/4 (10)
Campher's dismissal by Ravi Bishnoi was a caught-and-bowled affair, expertly pouched by Shivam Dube stationed at the point. This marked Ravi Bishnoi's second wicket, and it was a crucial breakthrough as Ireland lost a well-set batsman. Campher departed after scoring 18 runs, including one six.
10:06 PM: 57/3 (9) 
11 runs come off the ninth over. Campher pulled for one, Balbirnie nudged for one, missed cover hit, defended a back-of-length ball, and placed a shot for two. Campher hit a six in the previous over by Ravi Bishnoi.
9:58 PM: 42/3 (7)
Washington Sundar concedes only 7 runs. Balbirnie hit two well-placed fours, one past long leg and the other to deep square. Campher contributed a single and a run to the total. Ravi Bishnoi bowled giving away just a single to Campher. Campher's cut found point, and in the 5.4 over, he managed to get two runs despite a mistimed slog sweep.
9:49 PM: 28/3 (5.2)
Ravi Bishnoi claims Tector's wicket, clean bowled. A well-flighted delivery, Tector aimed for a heave but misjudged the line. It turned out to be a googly, Tector attempted to play across but failed to make contact. He departs for 7 runs, including one boundary. The third wicket falls.
9:38 PM: 19/2 (3)
Prasidh strikes again as Tucker departs, caught by Gaikwad. A short-pitched delivery led Tucker to attempt a pull shot, but he mistimed it badly. The fielder at mid-on made an easy catch, although the ball arrived faster than expected. Tucker falls for a mere 0 runs from 3 balls.
9:27 PM: 19/1 (2.5)
Stirling falls to Prasidh, caught by Arshdeep Singh at fine leg. A short ball prompted Stirling to attempt a pull, resulting in a significant top-edge. Arshdeep sprinted in, making a challenging catch as the ball swirled in the air. Stirling departs for a mere 4 runs.
9:16 PM: 8/0 (1)
In Bumrah's over, Balbirnie faced a mix of deliveries. He managed to take three runs on the first ball. Then, he missed a heave and faced two dot balls. A review was taken but stayed with the umpire's decision. A wide and a defensive shot followed. Bumrah impressed with a challenging delivery outside off on the final ball.
9:00 PM: 185/5 (20)
India managed to score an impressive 42 runs in the last two overs, raising questions about how crucial this late surge might prove to be. The game seemed to be slipping away from India after Gaikwad was dismissed in the 16th over, but Rinku Singh and Dube had different intentions.
8:48 PM: 129/4 (15.1)
McCarthy strikes once more. He goes on to produce a slower full delivery outside off. Gaikwad then attempts to loft it straight down the ground but misinterprets and lets it off the cue end of the bat. Tector tracks back for an excellent catch at long-off.
8:44 PM: 113/3 (14)
Rinku Singh joins the forces. Gaikwad, after the fall of Samson, is now playing at a slower rate than he would like.
8:31 PM: 105/3 (12.2)
Benjamin White bowls a deceptive top-spinner wide off, to which Samson attempts a forceful cut from the back foot but ends up dragging it onto his own stumps. He departs for 40 from 26 balls, with 5 fours and 1 six.
8:22 PM: 81/2 (10)
Mark Adair opts for a mixture of deliveries to Ruturaj Gaikwad and Sanju Samson. Gaikwad manages singles with precise shots while Samson hit a well-timed boundary. Benjamin White bowls the eighth over with variations, and the batsmen took singles, maintaining a steady run rate.
8:12 PM: 68/2 (8.1)
Ruturaj Gaikwad and Sanju Samson score 8 runs. Gaikwad hit two fours with a powerful pull and drive, while Samson contributed with singles and a flick. Craig Young returned to the attack, and Benjamin White bowled some varying deliveries. Gaikwad's aggressive pull shot resulted in a four.
8:03 PM: 47/2 (6)
In the 5th over, Joshua Little conceded 3 runs. Samson and Gaikwad managed singles and a boundary. After 5 overs, India is 37-2, with Gaikwad at 15 and Samson at 2. Barry McCarthy bowled well, with 1 wicket for 11 runs in 2 overs.
7:55 PM: 34/2 (4.1)
Tilak Varma faces another early exit, mirroring his golden duck in the previous game. Attempting a pull to a short delivery around off, he skies it. Dockrell, stationed at deep square, sprints backward and takes a spectacular tumbling catch just inside the boundary rope.
7:48 PM: 29/1 (3.4)
Jaiswal falls again to Craig Young's bowling, struggling to score against him in this series. This time, he departs on the second delivery, caught by Campher. Jaiswal managed 18 runs, including 2 fours and 1 six, all series.
7:42 PM: 26/0 (3)
McCarthy to Jaiswal and Gaikwad. Jaiswal hits a six and a four, Gaikwad gets a boundary as well. Little bowled a short ball, Jaiswal smacks a six. Gaikwad scores a four off a leg-side delivery.
7:37 PM: 2/0 (1 over)
Jaiswal defends and later leaves out the first two balls, then scors a run with a clip to mid-wicket. Gaikwad manages only a single with a drive to mid-on.
7:30 PM: Match begins!
Mark Adair opens the attack for Ireland. Jaiswal-Gaikwad walk out to bat.
"Exciting news! Mid-day is now on WhatsApp Channels

Subscribe today by clicking the link and stay updated with the latest news!"
Click here!