Warne deserved credit for putting 'rockstar' Ravindra Jadeja, 'tornado' Kamran Khan and 'Goan Cannon' Swapnil Asnodkar on cricket's global map almost overnight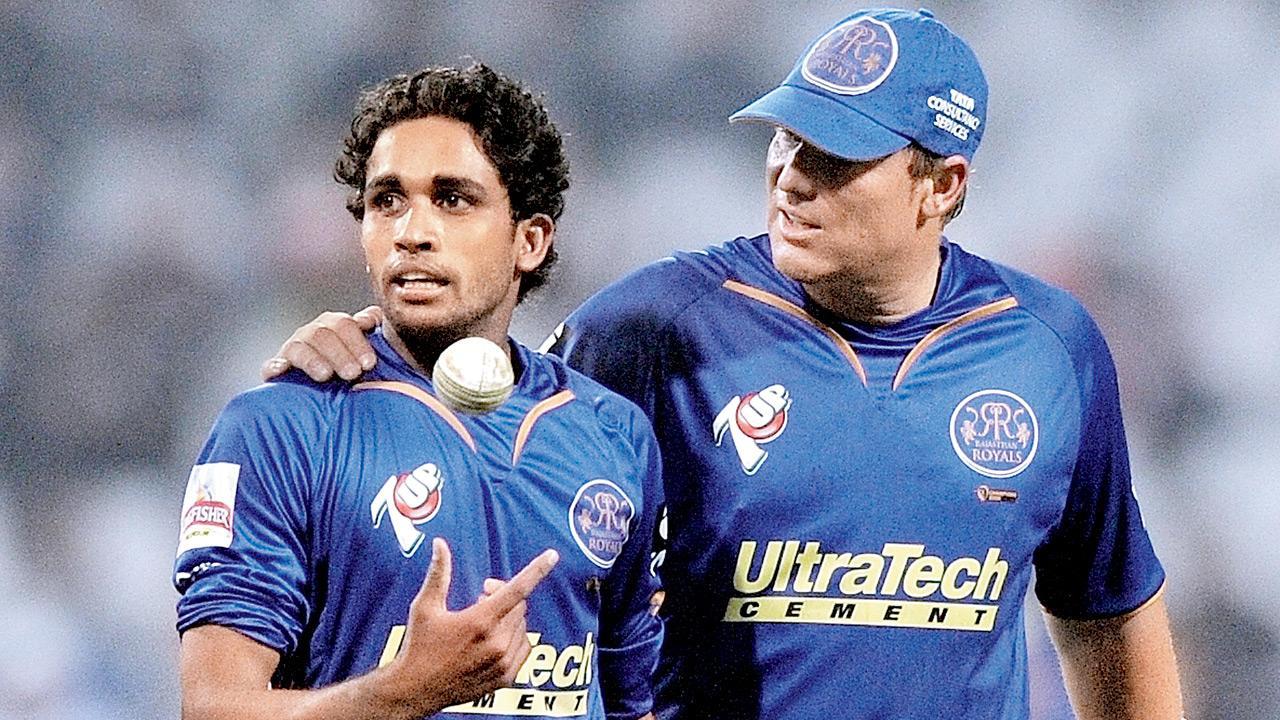 Shane Warne with Rajasthan Royals teammate Kamran Khan
Shane Warne was not just a magician with the ball, but also a master in unearthing true potential of players. It was a pity he never captained Australia, but his leadership qualities came to the fore as he led underdogs Rajasthan Royals to maiden Indian Premier League (IPL) triumph during the inaugural edition in 2008.
Warne deserved credit for putting 'rockstar' Ravindra Jadeja, 'tornado' Kamran Khan and 'Goan Cannon' Swapnil Asnodkar on cricket's global map almost overnight. In fact, the WhatsApp status of Kamran, who was a rookie tennis-ball bowler when picked by RR, till date is 'Tornado'—a name given to him by his captain Warne.
'I fell in shock'
"I just fell on the couch when my family called to inform me about Warne sir's sudden demise. I just could not believe it. For us, this loss is like a death in our own family. It is very shocking," says an emotional Kamran, requesting us to call back after a while to get back his composure. For Kamran, Warne was "everything". "For the first time, I realised the power of self-belief. I felt I could achieve anything with the amount of belief and trust he had in me. In his company, I never doubted my abilities. He was always encouraging and supportive," says the left-arm seamer.
Kamran claimed six wickets and conceded 124 runs in five matches during the 2009 IPL season played in South Africa. He bowled the first Super Over of the IPL as Warne's faith in the rookie pacer turned out to be a masterstroke with RR beating Kolkata Knight Riders at Cape Town. He conceded 15 runs while bowling to KKR big-hitters Chris Gayle and Brendon McCullum. Kamran was with RR for another season where he claimed three wickets in three games, but was never the same bowler after being reported for chucking in the same season. He moved to Pune Warriors India where he played just a couple of games.
'We kept in touch'
Though Kamran slipped into oblivion, Warne continued to encourage his ward. "We were always in touch. He would always reply whenever I messaged him. I always sought his blessings in my messages to him. I would sometimes update him about my game, fitness or an important event. We last chatted seven months ago when he also enquired about my family during the COVID-19 lockdown. My entire family hails Warne sir. Whatever I have been able to achieve is all because of him. He was the only one who believed in me. There are so many legends in Indian cricket, but no one has bothered to even find out where has Kamran Khan disappeared? What happened to a talented bowler? This pains me," says Kamran.
"I will never forget Warne sir's advice, 'to keep working hard, never give up and make the most of that one opportunity whenever it comes'. I will continue doing it and hopefully, one day, I will get my reward. I want to prove Warne sir right that he backed a genuinely talented cricketer," Kamran signs off.