IPL 2021-winning franchise's chief executive Kasi Viswanathan on how they ignored Dad's Army jibe and went about concentrating on getting back to winning ways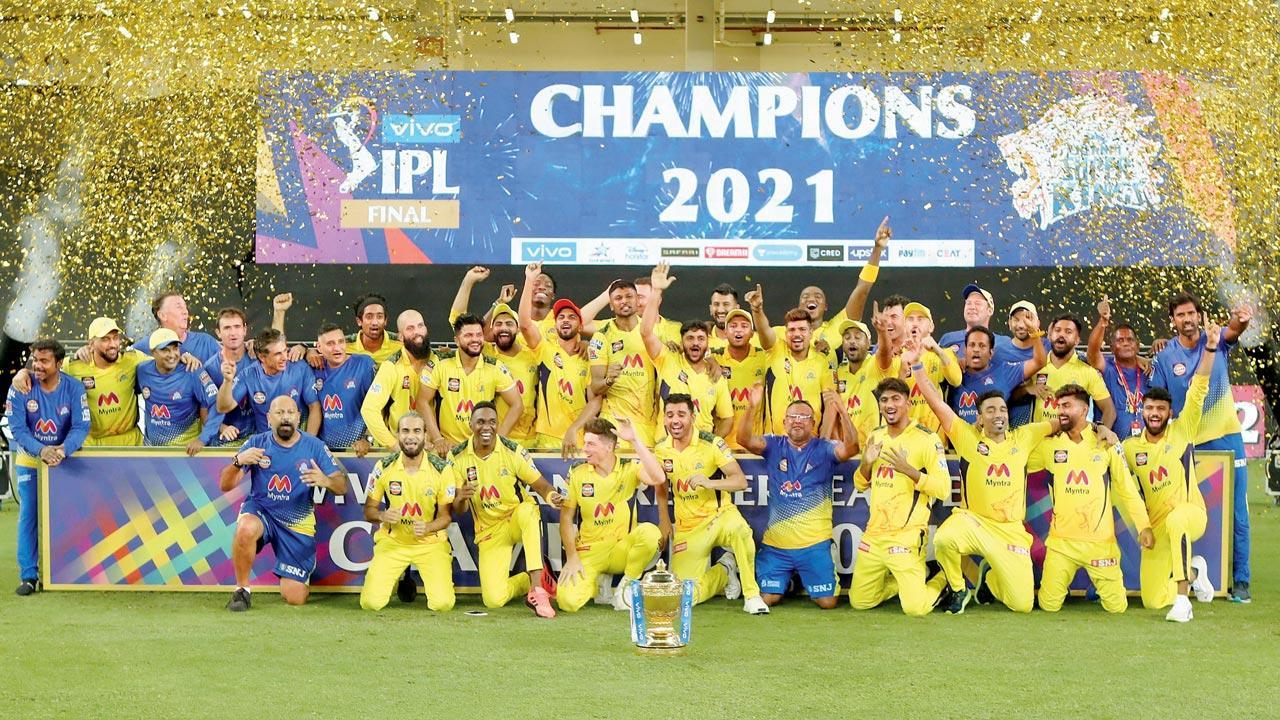 Chennai Super Kings celebrate winning the IPL final against Kolkata Knight Riders at Dubai on Friday. Pics/BCCI, IPL
When Chennai Super Kings failed to make it to the play-offs last year (for the first time in the Indian Premier League's history), the knives were out with several experts suggesting a complete overhaul of the team. 
MS Dhoni's Dad's Army urgently requires infusion of young talent, many reckoned.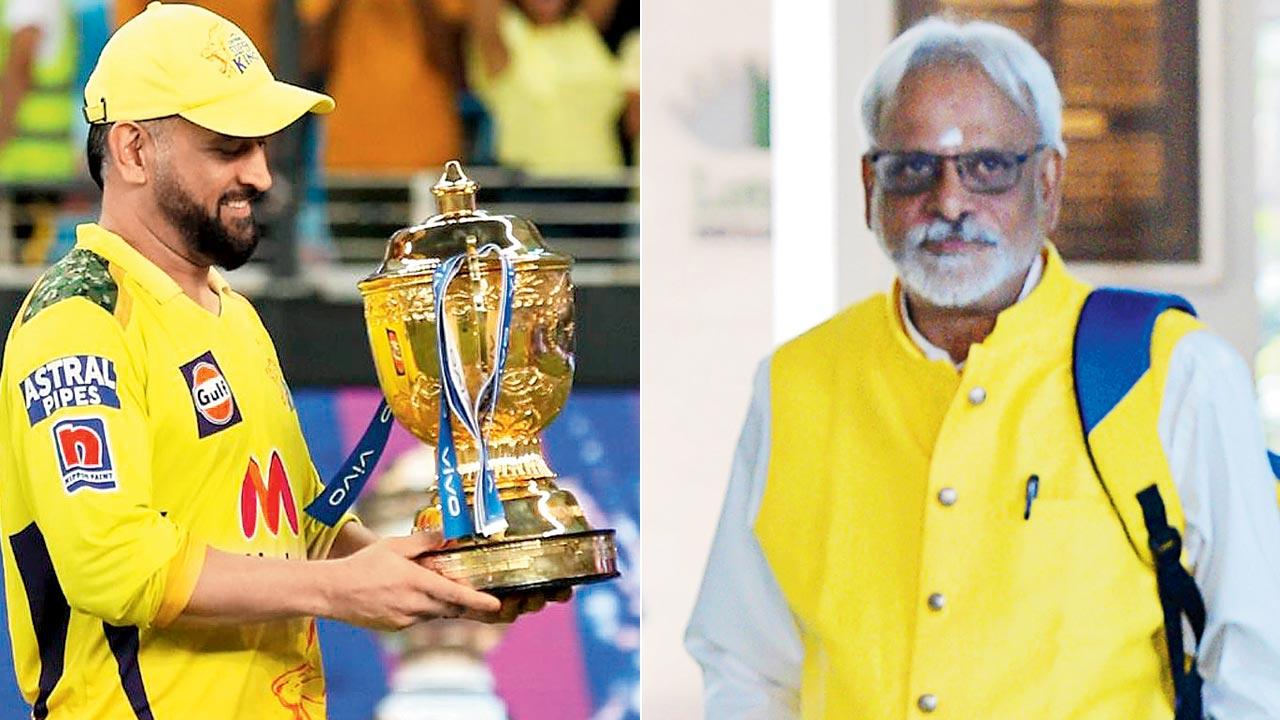 MS Dhoni and Kasi Viswanathan
However, all they did at the 2021 auction was buy six players—three capped players [K Gowtham, Moeen Ali, Cheteshwar Pujara] and three uncapped players [K Bhagath Varma, C Hari Nishaanth and Harisankar Reddy].  
And with almost the same squad, CSK provided a fitting reply to their critics with a fourth IPL title when Dhoni's men beat Kolkata Knight Riders by 27 runs in the final on Friday at Dubai.   
Keeping the faith
CSK's chief executive Kasi Viswanathan said there was never any thought about rejigging their squad after just one bad season "We had full faith in the team. We had just one bad year, which happens to any team. We never lost confidence in our players. We knew they had the potential to do well. The process which we normally follow, was followed this time too. We are very happy to finish on the winning side. The team worked very hard and the results are there for everyone to see," Viswanathan told Sunday mid-day from Dubai.  
Also Read: MSD on IPL 2022: Have to decide what's good for CSK, franchise shouldn't suffer
Captain Cool Dhoni's policy aligned with the team management. "He [Dhoni] knew the team's potential. There was no panic in the side, which is important to know. In 12 years, just one bad year is fine even by the law of averages," Viswanathan said.  
"We also wanted to show that age is only a number. The important thing is how you perform. Experience also matters a bit. So, with experience and a bit of youth in the side, we expect to do consistently well. That is our motto," he added.
When CSK clinched the one-sided contest against KKR in the summit clash, there was no over-the-top celebration. There were just handshakes and ample mutual respect for the losing team. "We normally don't have celebrations except for a small dinner. We just have handshakes...that's our normal thing. It is not necessary that we have to show [our joy] by running on to the field. Nothing wrong with that, but it is not in our team culture. We don't express ourselves in that manner," said Viswanathan. 
The CSK team culture is also pretty cool like their captain. "Whether it is the final or the first game, we take each game on its merit. We don't put pressure. The captain keeps things very simple. I will not say there is no pressure to perform, but each one is given a role and they are expected to perform their best in that role," said Viswanathan.
Dhoni's future for the next IPL has come under immense speculation. At the presentation ceremony after the final, Dhoni once again kept his cards close to his chest. "I've said it before, it depends on BCCI. With two new teams coming in, we have to decide what is good for CSK. It's not about me being there in top three or four. It's about making a strong core to ensure the franchise doesn't suffer. The core group, we have to have a hard look to see who can contribute for the next 10 years," Dhoni said. When asked about the legacy he has left behind, Dhoni remarked: "Still I haven't left behind [laughs]."
'Dhoni will play'
Viswanathan is confident Dhoni will play for CSK in the next IPL where two new teams will be added. "We have not discussed anything on these lines with MS because we are not clear what the BCCI policy will be as far as retention is concerned. We would always want that he remains with us." When asked whether he would play, Viswanathan said: "He will. I don't think there is any problem. It's my personal view." 
Also Read: Faf's experience proved invaluable