Elaborating on the association's plan, Fr Rodrigues said: "We can conduct the Harris Shield [U-16] and Giles Shield [U-14] inter-school cricket tournaments with only the top 16 teams from the Elite Group. We could possible add four more promising teams and make it 20 and have a knockout tournament."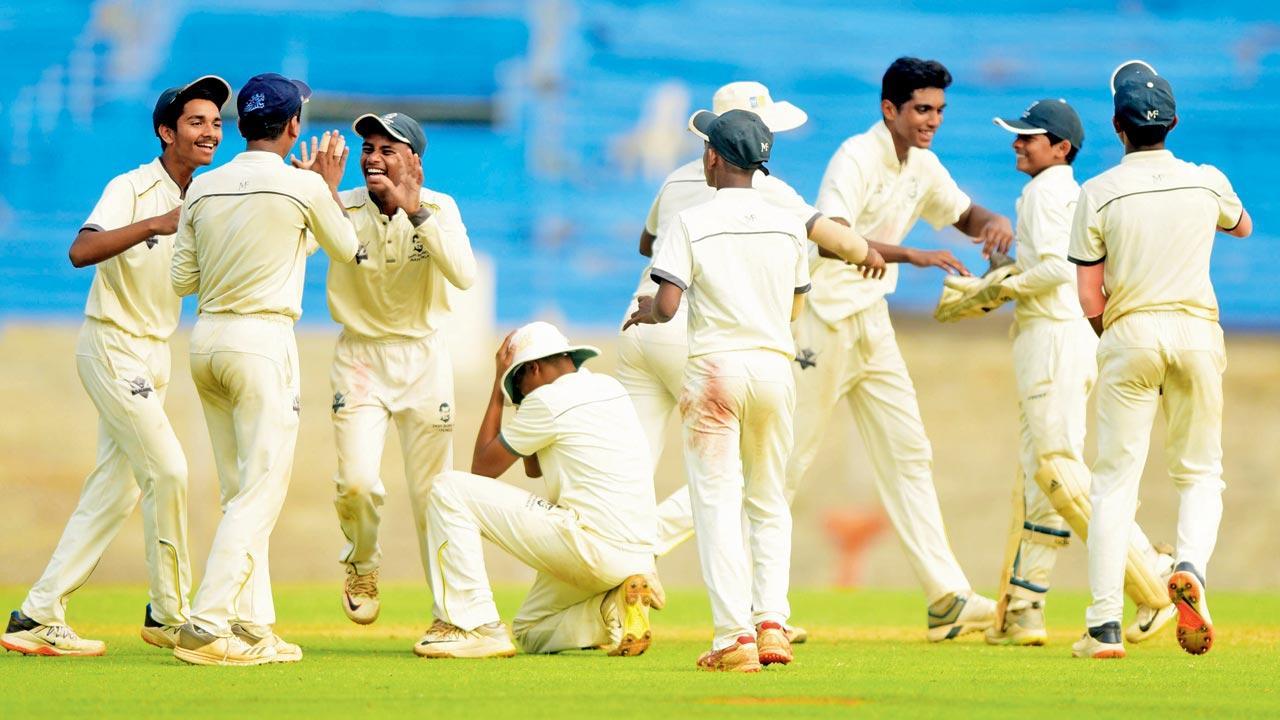 Don Bosco High School Matunga bowler Zaid Patankar ( 3rd from right) celebrates the wicket of Husaain Shakh of Al Barkaat High School Kurla in the second day of the Harris Shield 2020 finals played at Brabourne Cricket Stadium. Pic/Suresh Karkera
As sport limps back to normalcy in the city after the Coronavirus-forced break that lasted nearly a year, the Mumbai Schools Sports Association (MSSA) is hopeful of conducting a few tournaments subject to permission from the state government.
"A lot of children, coaches and parents have asked me why we are not conducting tournaments and while I feel sad, I am helpless. The state government has not yet authorised us to conduct school tournaments but I assure you, as soon as we get the nod from the state authorities, we will try and conduct at least a couple of tournaments. The academic year ends around April, so we don't have much time," Fr Jude Rodrigues told mid-day recently. 
Mumbai Schools Sports Association chief Fr Jude Rodrigues
Elaborating on the association's plan, Fr Rodrigues said: "We can conduct the Harris Shield [U-16] and Giles Shield [U-14] inter-school cricket tournaments with only the top 16 teams from the Elite Group. We could possibly add four more promising teams and make it 20 and have a knockout tournament."
MSSA was also thinking about a quick knockout U-16 football tournament but they feel there is a strong possibility that schools may not authorise their students to go out and compete at a time when they are not permitting them to enter classrooms. 
"There was an age-group rink hockey tournament in Andheri recently but our school did not participate. The school authorities told me that the kids could play but the school would have nothing to do with it, so obviously the parents backed out," a hockey coach of a prominent school told mid-day on condition of anonymity.
"MSSA is also open to conducting competitions in non-contact sports like table tennis and badminton, but here again, we can only do it once the state permits us and if the schools agree to send in entries, said Fr Rodrigues.