Radha Yadav lives in a 225 sq ft home in Kandivli, behind her father's makeshift stall that sells veggies and bread. The teenaged spinner-batswoman becomes an India cricketer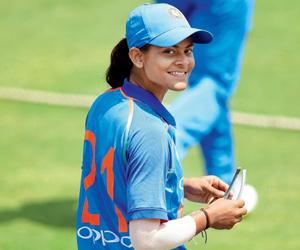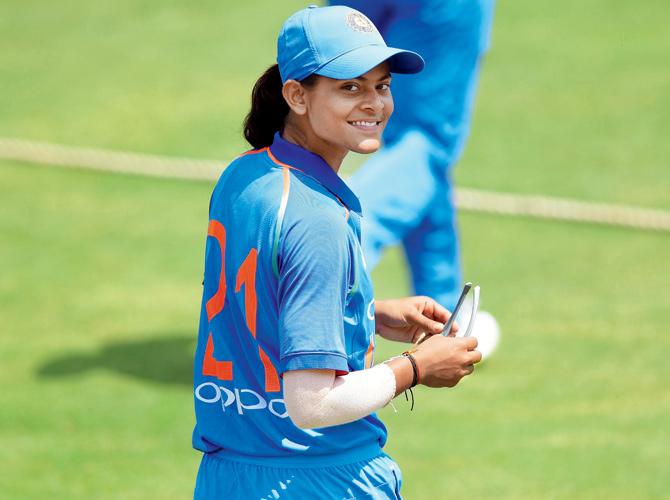 Radha Yadav during the India 'A' women's match against England at the Brabourne Stadium recently. Pic/Suresh Karkera 
At the conclusion of our 30-minute chat with Radha Yadav, 17, the newbie in the Indian women's cricket team at a five-star hotel earlier this week, we asked her for directions to reach her home in Kandivli (West).
"Ask anyone in the vicinity where Radha lives and they'll guide you," the left-arm spinner-batswoman assures. Her response is surprising because she is just two T20 Internationals old in terms of fame after making her debut in the South Africa series last month which India won 3-1. As we reached the Anandibai Damodar Kale Vidyalaya landmark, we did what Radha asked us to do with regards to directions and it worked just like she said. We were guided to a makeshift stall on the footpath, its makeshift shade resting on a red electricity meter box.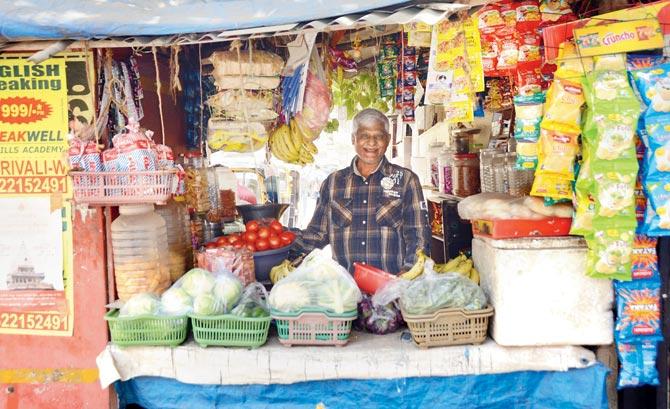 Radha Yadav's father Omprakash at his makeshift shop on a footpath in Kandivli (West). Pics/Satej Shinde
The shop is located outside the society which was redeveloped under the Slum Redevelopment Area (SRA) scheme — a stone's throw away from the Sachin Tendulkar Gymkhana in Kandivli. The Yadavs live in a 225 sq ft house in the society. The shop, managed by Radha's father, Omprakash, has everything from masalas to breads; cigarettes to vegetables. Since it is not an authorised space to do business, Radha's father is constantly under stress, fearing a Brihanmumbai Municipal Corporation (BMC) demolition.
Yadav Sr tries his best to keep his youngest daughter away from these fears and hardships, but Radha can't help thinking about him and cannot be immune to the problems her family faces. "I check with my father every day whether he faced any problem from the BMC. His response is always positive. He ensures my cricket stays unaffected by all these problems, but I know he is under a lot of stress. He wakes up at 4 am to stock the shop and every night he takes the items back home," says Radha, providing only a glimpse of the daily hardships endured by her father.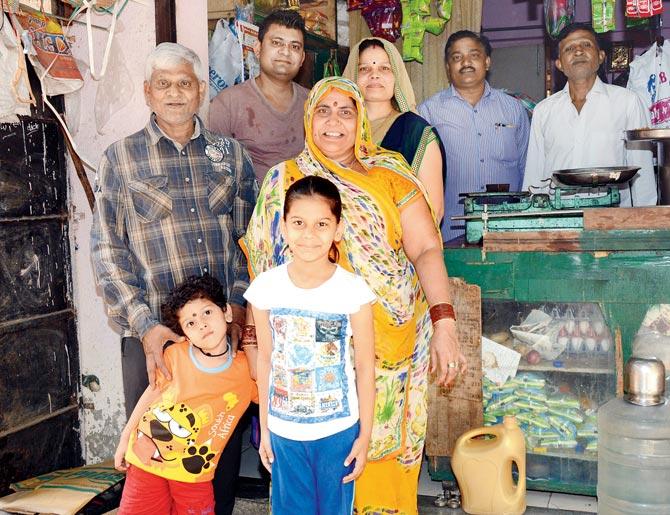 Radha Yadav's family
Premature birth
Omprakash has played a critical part in Radha's life, right from the time when she was born prematurely in the seventh month to learning the nuances of the game at the Shiv Seva ground in Borivli under the tutelage of Praful Naik. Yadav Sr's biggest worry was paying the coaching fees and buying equipment. After all, running a shop didn't provide him a fixed income. "I never had a problem with Radha playing cricket, but my worry was meeting expenses. When Sir (Naik) said that he would look after all the expenses, I did not think twice," he recalls.
Of course, it all started with cricket in the compound where, in Radha's words, "Main sab ko bohot dho rahi thi (I was smashing all bowlers). "Sir (Naik) was watching me and he was impressed. He asked someone, who turned out to be my father, about me. He then asked my father whether I would play hard-ball cricket. He willingly agreed."
The first thing Naik did was to shift Radha from Anandibai Damodar Kale Vidyalaya to Our Lady of Remedy (Borivli) in 2013. "Initially, I would use other players' kit. I got my own only when my coach was convinced that I could play hard-ball cricket," says Radha, who also played kabbadi and kho-kho at her new school. In less than two years, Radha got picked for Mumbai in the 2014-15 season. When Naik shifted base to Baroda, Radha tagged along to pursue her dream of playing for India.
"I never watched cricket on TV until the 2011 World Cup. I never even knew that women played at the international level and I had never heard of Mithali Raj or Jhulan Goswami when I started playing the game. I thought I would play with boys, but later realised that it would not be possible," says Radha, not coy to reveal her ignorance about the game. Back to Kandivli. A small home that houses nine family members (Father, mother, one brother with wife and two kids, another brother, sister and Radha) is sure uncomfortable, but there is a place reserved for her kitbag. Radha's eldest brother, Deepak now shares his father's workload while her other brother Rahul is employed as a security guard in a multi-national company. There's sister Soni too, who Radha reckons was a better cricketer than her, but Soni couldn't pursue the game due to domestic problems.
Emotional debut
The big moment arrived when Radha was picked for the T20I series against South Africa last month. The selectors took into account her nine wickets and an unbeaten 32 in six T20 matches for Baroda. "I always hoped to achieve something in cricket. I always backed myself. My only wish was to wear the India jersey and sing the national anthem. So, when all this was happening, I couldn't control my tears," says an emotional Radha, recalling her international debut in Potchefstroom. In both her T20I matches against South Africa she finished with figures of 0-21.
Last week, she was part of the India 'A' team that played a couple of practice games against the England women's team at Brabourne Stadium. On Friday, Radha replaced the injured Rajeshwari Gayakwad for the on-going T20 tri-series. "Firstly, I want to become a regular of the Indian team. This will help me buy a proper shop for my father," she hopes.
Whether that happens depends on how the rest of the road pans out for her. There could be more obstacles to conquer, bumpy stretches to recover from, and then, there is the uncontrollable destiny factor. For us, Radha has already done her share of the hard yards. It's not a rags-to-riches story as yet, but surely one of determination, dedication and discipline.
Also read: Radha Yadav replaces injured Rajeshwari Gayakwad in India Women's squad
Catch up on all the latest sports news and updates here. Also download the new mid-day Android and iOS apps to get latest updates