Today is former India batsman Raman Lamba's 56th birth anniversary. Kim Lamba, his wife says, that the 'scars are too deep; the vacuum too vast'. Excerpts from a 2015 interview with mid-day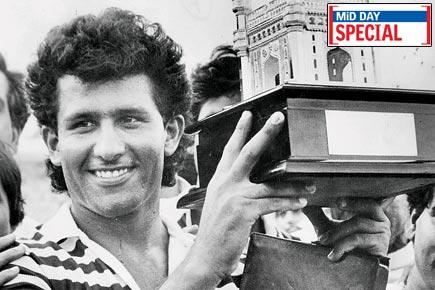 Final Fling: Raman Lamba chats with Delhi team manager Maninder Singh Jaggi (left) while Bengal captain Sourav Ganguly listens during Lamba's last Ranji Trophy game at the Kotla in Feb 1998. Pic/MiD DAY Archives.
MiD DAY interviewed his wife on the 16th death anniversary of Raman Lamba, who died three days after suffering a head injury while fielding for Abahani against Mohammedan in a club match at Dhaka, Bangladesh in 1998.
In Pictures: Gone too soon - Cricketers who died at a young age
Here is remembering the late Indian batsman.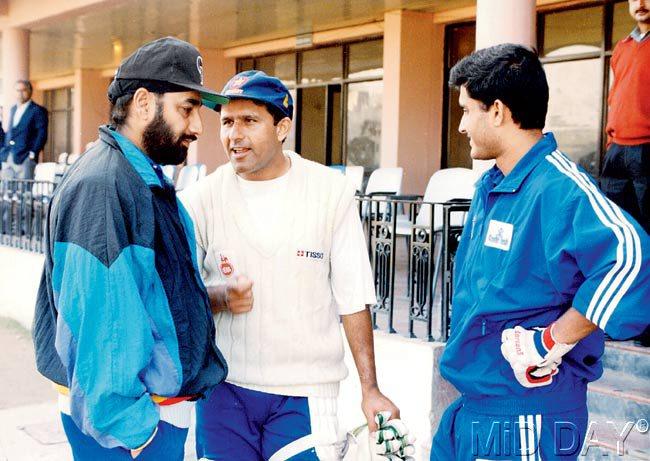 Final Fling: Raman Lamba chats with Delhi team manager Maninder Singh Jaggi (left) while Bengal captain Sourav Ganguly listens during Lamba's last Ranji Trophy game at the Kotla in Feb 1998. Pic/MiD DAY Archives.
The bitter truth is that his family and friends still cannot get over the fact that the gregarious former India batsman is not in their midst. Raman was not wearing a helmet when Mohammedan's Mehrab Hossain's shot struck him on the temple and rebounded to wicketkeeper Khaled Mashud. Raman walked off the field never to return to play his much-loved sport.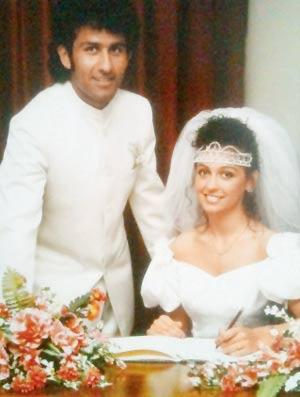 Wedding Day: Raman and Kim on Sept 7, 1990. Pic/Kim Lamba.
His Irish wife Kim, who has now settled down in Portugal with their children Jasmyn (21) and Kamran (19), spoke to MiD DAY on her departed husband.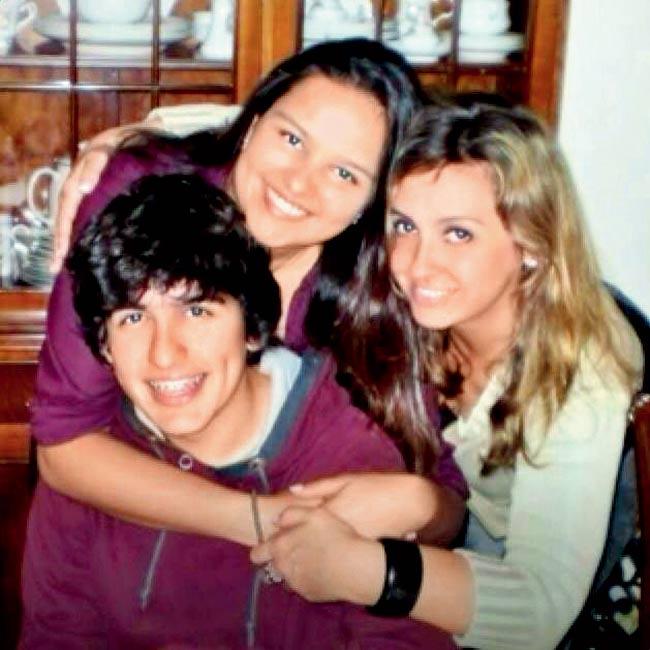 Lamba clan: Kamran, Jasmyn (centre) and Kim. Pic/Kim Lamba.
Excerpts:
Each of Raman's death anniversaries must evoke sad memories. How do you see the bright side?
The only way to deal with something like this is to believe that Raman had completed the duration of his magnificent and very full life, and be so thankful that for 10 years I was blessed to be part of it resulting in our two wonderful children Jasmyn and Kamran.
Have you truly got over this tragedy?
That is not a possibility. The scars are too deep and the vacuum is too vast.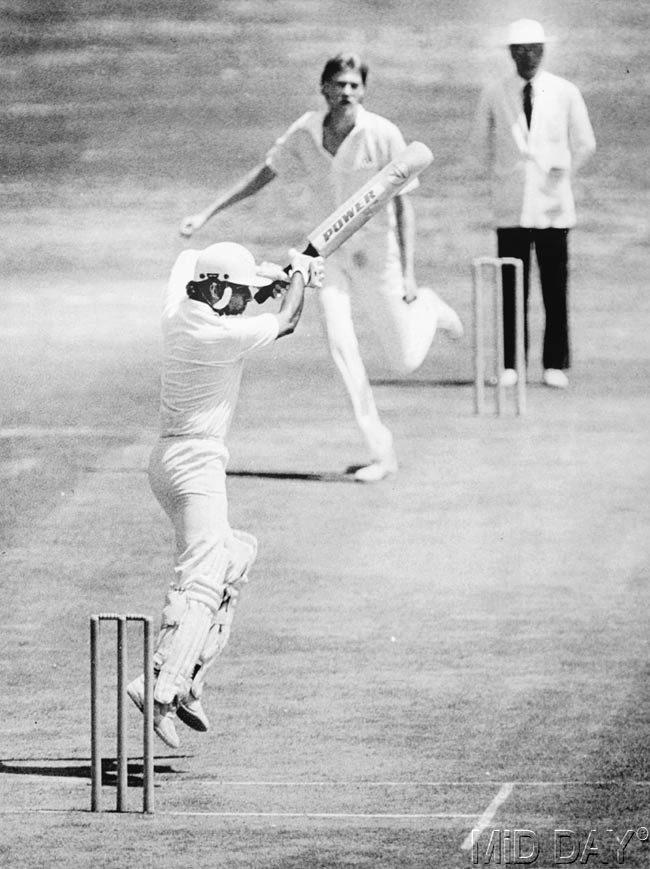 1986: Raman Lamba attacks Australia's Bruce Reid. Pic/MiD DAY Archives.
How did you get the news of his injury that day in 1998?
I was preparing to go to the airport to pick him up from his flight when I received a very frantic call from Bangladesh delivering news that no one would ever want to hear. The living nightmare began.
Do you often think… what if Raman had worn a helmet?
I tried my best from the beginning not to go down the road of the 'what ifs'. After overthinking for hours on end every day in my anxious state, I persuaded myself it was futile to look for answers. I knew there were none. Because I had to focus on our little ones — Jasmyn then aged five and Kamran then aged three, I had to find a way to be able to function in the hell I had been catapulted into. So I turned to working really hard, bringing up our two children the best that I could. Meditation calmed all the 'what ifs' in my mind and became an addictive habit of mine for years.
How did you meet Raman?
Completely by chance. Our eyes met across a crowded room and he came straight over to talk to me. We were together since that first meeting.
Was it love at first sight?
It was. He said he immediately knew he had met his future wife.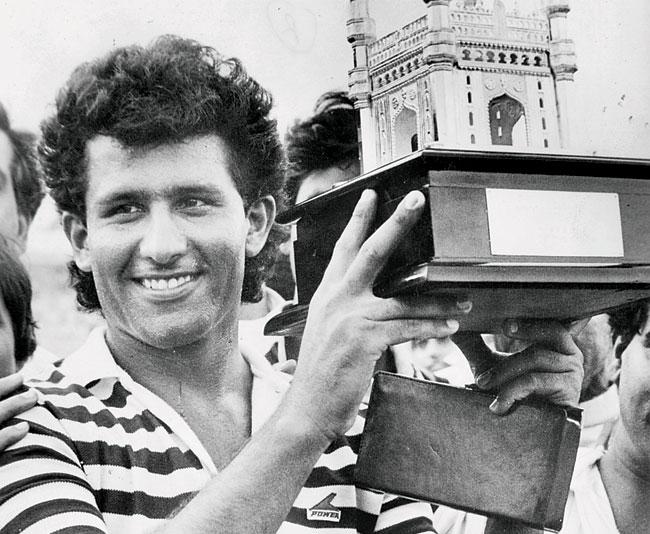 ONE-DAY WONDER: A delighted Raman Lamba receives the man-of-the-series trophy against Australia at Rajkot in 1986-87. PIC/MiD DAY ARCHIVES
Sunil Gavaskar reacted to Raman's death by saying, 'someone who loved life so much was deprived of it.' Can you give me an example of Raman's zest for life?
I can vouch for that. Raman lived life to the max. He felt very blessed with his life and prayed every day. He was so thankful to God to be able to play his cricket and to have and enjoy his family. He was such a romantic and a brilliant family man. He completely adored his Punjabi Tiger Kamran and his Princess Jasmyn. He always smiled when he woke up and always said, 'smile at the day and the day will smile back.' Even when he had worries, he believed in positivity and faith. He was a force. He exercised everyday without fail, didn't smoke or drink, never abused his consumption of food, watched his diet. He planned on having a very long, full and healthy life.
Did Raman ever complain to you that he deserved to play more than four Tests and 32 one-day internationals for India?
In all honesty, it saddened me that he did feel slighted and overlooked at times especially as he worked so hard. He never complained or whined 'poor me', but he did talk about the injustices when asked.
Some used to say he was outspoken and this cost him dearly. To that I say, Raman could have said a lot more, but he often refrained. He always measured his words and actually some 'got off' very lightly indeed. Despite the politics that cocooned cricket, he never lost faith. He maintained his dignity and he just kept going, always giving his cricket his 100 per cent and ever hungry for new opportunities.
Why did you decide to stay in Portugal?
Four years after Raman's passing, I was still not doing well. My life was still so empty without Raman and I was living solely for my children and my work. I started to consider a life outside of Ireland and India in the hope that I could breathe again. I had the opportunity to work in a newspaper for one year in Madeira.
So we all embarked upon this new adventure with great enthusiasm. Within months Jasmyn and Kamran were fluent in Portuguese and adored their new life and surroundings. I also enjoyed the change of scenery and lifestyle very much during that first year, so it seemed a great idea to stay. We three have happily been together here ever since and visit India and Ireland periodically. Jasmyn is working with me in the family business and Kamran is studying at University.
What is your profession?
I am the director of my business: BOOK-it-HERE! It's an adventure sports and leisure activities reservations office.
What's the one thing you have in your house which perpetuates the memory of Raman?
His favourite cricket ball sleeps under the mattress of my bed and I always carry with me — in my purse — the last rupee coin he handled. This has private significance to us both and these are just two little things that make me feel well.
Have you preserved any of his equipment?
I donated some items to some less financially fortunate young, aspiring cricketers and my father keeps everything that remains private and in great order.
How should India remember Raman Lamba?
For everything that he was. He was a unique force — a wonderful example and inspiration to every aspiring cricketer — a great ambassador and credit to the game. An absolute credit to India.