India skipper Rohit Sharma will be counting on the "massive" home support his team will receive to win the ODI World Cup on home soil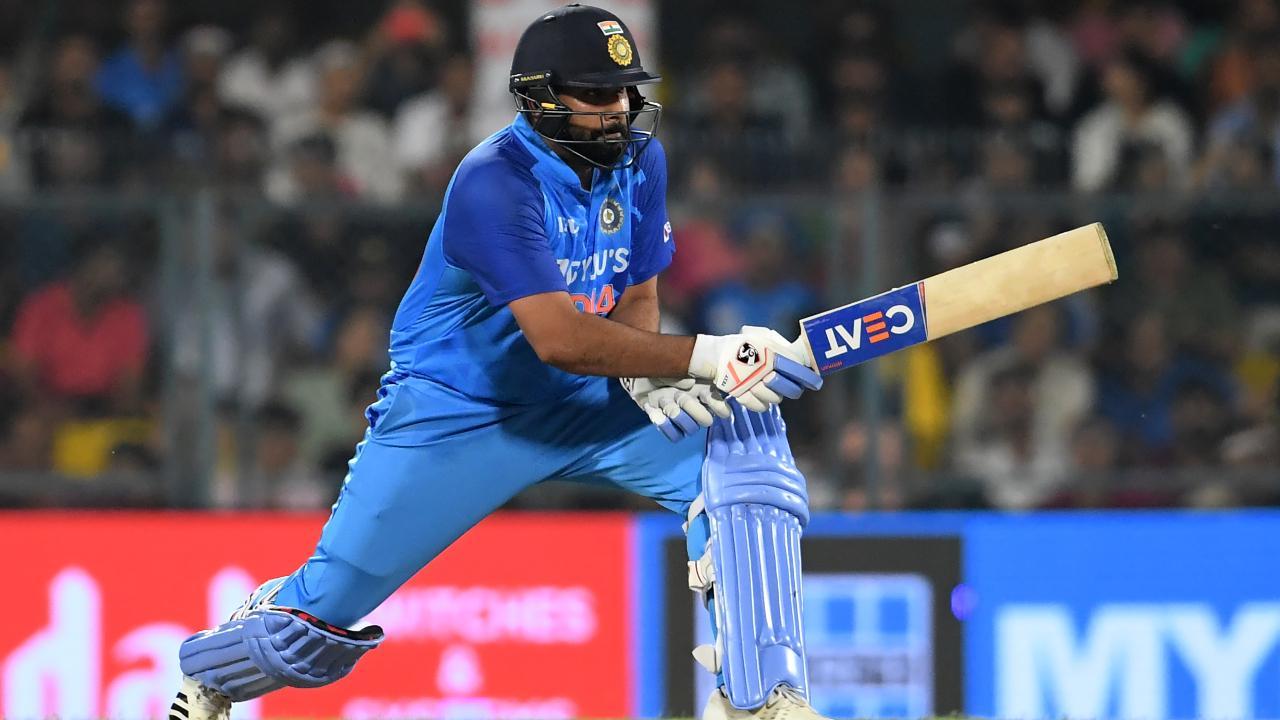 Rohit Sharma (Pic: AFP)
Listen to this article
Skipper Rohit Sharma banks on home support to win ODI World Cup after 12 years
x
India skipper Rohit Sharma will be counting on the "massive" home support his team will receive to win the ODI World Cup on home soil.
India's last ODI World Cup title came at home in 2011 when the Indian cricket team led by MS Dhoni lifted the coveted trophy.
ADVERTISEMENT
"I've never seen it so close. Even when we won in 2011, I was not part of the squad. But yeah, it looks beautiful, so many memories behind the trophy as well, the past, the history.
"Yeah, so, it looks beautiful and hopefully we can lift it, fingers crossed," Rohit, who is currently in the United States, was quoted as saying by the ICC.
The quadrennial tournament beginning October 5 will be played across 10 venues in India.
"I know for a fact that every ground, every venue that we will be travelling to will get massive support. You know, it's the World Cup, so everyone is looking forward to this and the World Cup coming back to India after 12 years."
"...you know 2011 was the last time we played a 50-over World Cup. We played a 20-over World Cup in 2016 but a 50-over World Cup after 12 years in the country, people are quite excited and we can see the buzz already back home. I'll be looking forward to playing in all venues."
Reminiscing his memories of the World Cup, Rohit said: "In 2003, India played really well up until the finals. You know, Sachin Tendulkar was amazing with the bat, scored so many runs.
"And then comes the 2007 World Cup where we didn't have a great time, didn't even qualify after the league stage, so that was quite unfortunate.
"2011 was a memorable one for all of us, I remember watching it from home, every single match, every single ball which was being bowled and that was being played.
"There were two kinds of emotions, one was obviously I was not a part of it, so I was a little disappointed. I decided I was not going to watch the World Cup, but again, the second memory I remember was that India was playing so well, quarter-finals onwards."
Rohit had excelled in the 2019 edition in which he amassed five centuries.
"And 2015 and 2019, I was a part of it, which felt really good to play the World Cup. We went to the semi-finals, tried everything we could to go to the finals and play well in the finals, but again, a very unfortunate incident where we couldn't go through to the finals," he said.
"But hopefully, you know, we are back home again, so hopefully we can turn things around and it's still a long way to go. And you know you can't win the World Cup in one or two days. You got to play well for an entire month, month and a half, and be consistent," said Rohit.
Also Read: ODI World Cup 2023 calling, is Team India really ready?
Rohit feels the key to emerge victorious in the showpiece would be to start fresh in every game.
"I know every day is a fresh day. Every day is a fresh start, it's not like Test match cricket where you have the momentum with you and you carry the momentum to the next day.
"One-day cricket, limited overs format is like that, that's where the challenge comes. You've to start fresh every day and you know that's where I was (in 2019)," he said.
(With PTI inputs)
"Exciting news! Mid-day is now on WhatsApp Channels

Subscribe today by clicking the link and stay updated with the latest news!"
Click here!